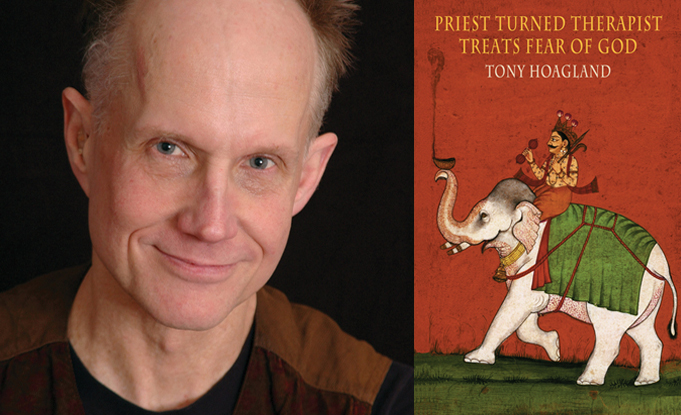 Tony Hoagland tribute event at Poetry in Aldeburgh
'Tony Hoagland was one of the most important and influential poets and poetry teachers in the United States from the 1990s up until his death last year, and without a doubt his poems will continue to be read, and taught, and talked about.' - Kathryn Maris, introducing Poetry in Aldeburgh's tribute event for Tony Hoagland, November 2019.
A wonderful tribute event to Tony Hoagland took place at the Poetry in Aldeburgh Festival in November 2019. Josh Weiner, Peter Sansom, Tony's close friend Martin Shaw and his widow Kathleen Lee remembered Tony and read his poems. Moderated by Kathryn Maris.
Listen to the podcast here.
The American poet Tony Hoagland died on 23 October, aged 64. He published three books of poetry with Bloodaxe in the UK, with a fourth published posthumously in June 2019. A provocative poet, critic and literary figure, he was American poetry's hilarious 'high priest of irony', a wisecracker and a risk-taker whose disarming humour, self-scathing and tenderness were all fuelled by an aggressive moral intelligence. His poems poke and provoke at the same time as they entertain and delight. He pushed the poem not just to its limits but over the edge.
Tony Hoagland was born in Fort Bragg, North Carolina. His father was an Army doctor, and Hoagland grew up on various military bases throughout the South. He taught at the University of Houston and in the low residency MFA program at Warren Wilson College. He lived in Santa Fe, New Mexico, and was married to the writer Kathleen Lee.
He was introduced to UK audiences by Aldeburgh Poetry Festival in 2004, after which the Poetry Trust took him on tour to several other venues with Henry Shukman, an early champion of his work, and Michael Rosen. Bloodaxe made copies of his first UK selected poems, What Narcissism Means to Me, available early for these readings. Despite the burden of his long illness, he made further trips to the UK, returning to Aldeburgh in 2015, again touring with a new Bloodaxe collection, Application for Release from the Dream, this time with fellow American Kim Addonizio, and the Brazilian poet Adélia Prado, whose work he had earlier recommended to Bloodaxe (as had the Poetry Trust also). He was a popular poet-in-residence at Ledbury Poetry Festival in 2017, reading with Thomas Lynch, giving a lecture on the American poetic voice (see videos below) and giving poetry workshops which participants described as highly original and inspiring.
He published his first collection, Sweet Ruin, in 1992, winner of the Brittingham Prize in Poetry. His second, Donkey Gospel (1998), won the James Laughlin Award of The Academy of American Poets. The third, What Narcissism Means to Me (2003), was shortlisted for a National Book Circle Critics Award. His first UK book of poems, What Narcissism Means to Me: Selected Poems (Bloodaxe Books, 2005) drew upon these three collections, and was followed by Unincorporated Persons in the Late Honda Dynasty (2010) and Application for Release from the Dream, published by Graywolf Press in the US in 2015 and by Bloodaxe in Britain in 2016. is final two collections, written over the same period, were a small collection, Recent Changes in the Vernacular (Tres Chicas Press, 2017), and Priest Turned Therapist Treats Fear of God (Graywolf Press, 2018). The Bloodaxe UK edition of Priest Turned Therapist Treats Fear of God, published in June 2019, also includes some poems from Recent Changes in the Vernacular.
[12 May 2020]