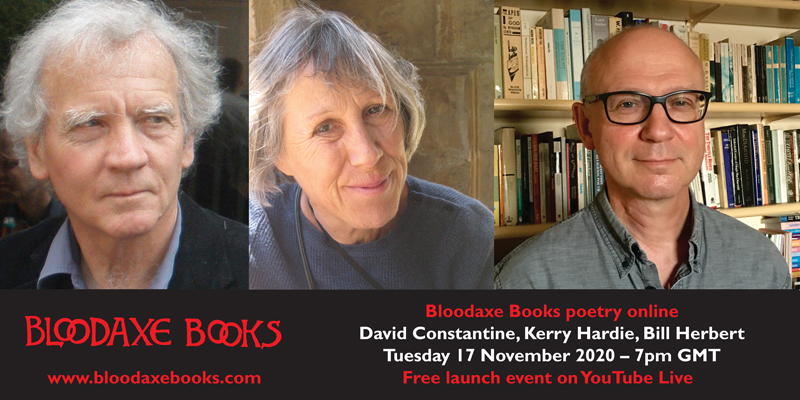 Launch reading by David Constantine, Kerry Hardie & Bill Herbert
David Constantine, Kerry Hardie and W.N. (Bill) Herbert launched their new poetry collections on 17 November 2020.
Hosted by editor Neil Astley from his home in Northumberland, this event was streamed live through the Bloodaxe Books YouTube channel on Tuesday 17th November. Wonderful readings by all three poets were followed by discussion and a Q&A with the online audience.
David Constantine: Belongings
David Constantine's poetry is informed by a profoundly humane vision of the world. His title, Belongings, signals that these are poems concerned with our possessions and with what possesses us, with where we belong. Another kind of belonging is also challenged: our relationship with the planet to which we belong, but which does not belong to us.
Kerry Hardie: Where Now Begins
Kerry Hardie's new poems are the work of time and the cycles of growth, they are songs about saints and scholars, the natural world, exaltation and suffering and ordinary joy, the quiet accumulation of the slowly learned lessons of a lived life. There are narratives of the wondrous bewilderments of life as well as homages to the dead and the dying.
W.N. Herbert: The Wreck of the Fathership
When Bill Herbert was made Dundee Makar (or City Laureate), he intended to write about his home town in both its native tongues. Then within six months his much-loved father died, and that civic idyll was thrown into crisis. This is his Dundonian Book of the Dead, in which he explores both his own grief and the encroachment of a new intolerance.
To order copies of the poets' books direct from Bloodaxe, please click on these links:
David Constantine: Belongings
https://www.bloodaxebooks.com/ecs/product/belongings-1235
Kerry Hardie: Where Now Begins
https://www.bloodaxebooks.com/ecs/product/where-now-begins-1240
W.N. Herbert: The Wreck of the Fathership
https://www.bloodaxebooks.com/ecs/product/the-wreck-of-the-fathership-1234
[02 November 2020]