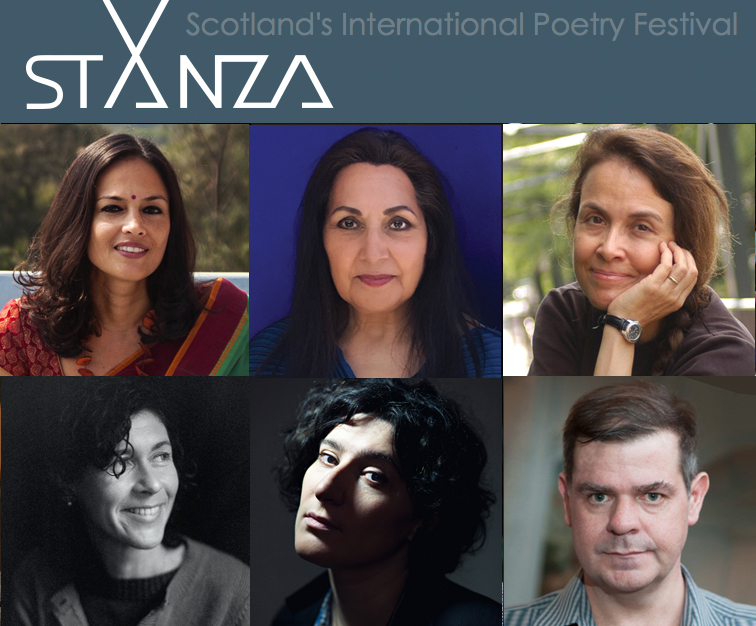 Bloodaxe poets at StAnza 2021
StAnza: Scotland's International Poetry Festival will take place in digital form this year. Bloodaxe poets will be joining from their homes in India, the US, Russia and the UK. A special tribute event will celebrate the life and work of Scottish poet Roddy Lumsden, who died last year.
StAnza: Scotland's International Poetry Festival: 6-14 March, 2021
Sunday 7 March, 18:30 - 20:00
A Tribute: Roddy Lumsden
Poets and friends celebrate the life and work of a son of St Andrews, Roddy Lumsden, who died last year. His enormous contribution to contemporary poetry was noted in tributes and obituaries. Bloodaxe's tribute to Roddy Lumsden is here.

Live Webcast via StAnza Zoom
Free/Ticketed - book via the Byre Theatre here.
Tuesday 9 March, 15:30 - 16:15, Live Webcast
Round Table: Imtiaz Dharker
A special session with Imtiaz Dharker

An intimate audience with Imtiaz Dharker, holder of the Queen's Gold Medal for poetry and also acclaimed as an artist and filmmaker. Luck is the Hook (Bloodaxe Books, 2018) is the most recent of her many collections published in India and the UK. Her poems are on the British GCSE and A Level English syllabus, and she reads with other poets at Poetry Live! events all over the country to more than 25,000 students a year.
£7
Click here for more information. SOLD OUT!
Tuesday 9 March, 19:30 - 20:30

Poetry Centre Stage
Reading: Naomi Shihab Nye, Tim Liardet
Naomi Shihab Nye and Tim Liardet kick off StAnza's strand of main readings. A multiple prize-winning American poet, with Palestinian, German and Swiss heritage, Naomi Shihab Nye served as a Chancellor of the Academy of American Poets from 2010 to 2015, and is currently Young People's Poet Laureate of the United States. Much of her work reflects her experience of cultural difference and her sympathy for connections between diverse people and different perspectives. Naomi's poetry is published in the UK by Bloodaxe in her 2015 retrospective Tender Spot: Selected Poems.
British poet Tim Liardet has twice been shortlisted for the T.S. Eliot prize. His collections have reflected on personal loss, love and family trauma, as well as his experience teaching creative writing to prison inmates. He is a Professor of Poetry at Bath Spa University.

StAnza Online
FREE
Watch live here.

Friday 12 March 2021, 14:00 - 14:45

Round Table with Tishani Doshi

An intimate audience with Indian poet and journalist Tishani Doshi, on a welcome return to StAnza. A pre-publication event for A God at the Door.

Please be aware that Round Table events are very limited in capacity and generally sell out quickly.
Live Webcast via StAnza Zoom
£7
Click here for more information. SOLD OUT!
Saturday 13 March 2021, 4-5pm

Reading: Maria Stepanova with translator Sasha Dugdale, Aileen Ballantyne

Poetry Centre Stage reading. Taking to the virtual stage first is Aileen Ballantyne, a well-kent face in Scottish poetry, whose writing has won a number of major awards. Her debut collection, Taking Flight, reflects upon flight in all its aspects and offers a moving exploration of grief. Aileen's reading will be accompanied by music by composer Max Gibson.
This is followed by Russian poet Maria Stepanova, reading alongside her translator Sasha Dugdale. Her work – experimental, lively and deeply pleasurable – has won a number of awards in Russia and internationally, and 2021 looks set to cement her reputation in the UK, with a poetry collection and a documentary novel appearing with Bloodaxe Books and Fitzcarraldo respectively. This is a pre-publication launch event for Maria Stepanova's first full English-language collection War of the Beasts and the Animals, which is published by Bloodaxe on 25 March.
A profile of Maria Stepanova ran in The Guardian of 11 February 2021. Read the article here.
Free online event.
Click here to view the event live and to find out more.
[11 February 2021]