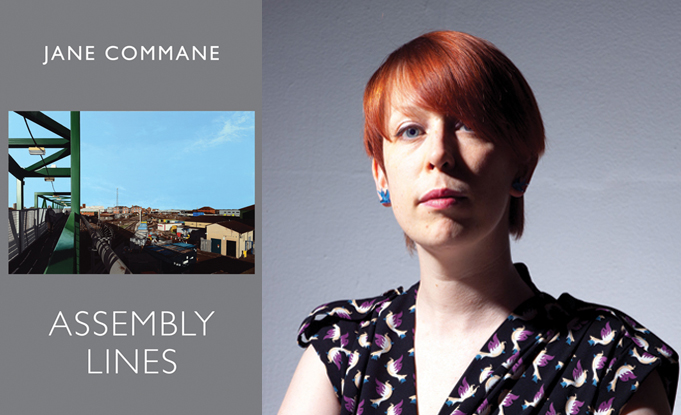 Jane Commane Readings
Jane Commane's first full collection Assembly Lines echoes the life of post-industrial towns and cities of the Midlands. It was launched at the Verve Poetry Festival in Birmingham on 17 February followed by a London launch at Waterstones Tottenham Court Road on 15 March. Jane also appeared at Cheltenham Poetry Festival on 29 April at Ledbury Poetry Festival in July.
Hear Jane discuss industry and read from
Assembly Lines
on Radio 4's
Start the Week
of 21 May 2018
here
(from 9.06 & at other points in the programme).
2018 EVENTS FOR ASSEMBLY LINES
Swindon Poetry Festival 2018

Workshop: Editing with Jane Commane of Nine Arches Press
7th October Holiday Inn - 10 – 12 (HOLIDAY INN)
Want to polish up your poems for publication? Then this is the workshop for you! With editor and poet Jane Commane, explore ways to refine and redraft your poems, spot cliches and troubleshoot problems, as well as order them into a manuscript, This workshop aims to give you the editor's toolkit and to see your poems in a fresh, new light. Please bring two copies of one poem - it is helpful if this is a draft that you'd like to work on and edit in the workshop.


READING with Jane Commane & Claire Dyer
7th October; 17:00 - 18:00, TENT PALACE OF THE DELICIOUS AIR
Jane Commane is a poet, writer and editor based in the Midlands. Her debut collection of poems, Assembly Lines, was published by Bloodaxe Books in February 2018. Jane is also co-author (with Jo Bell) of How to Be a Poet, a creative writing handbook and blog series. Jane is the Editor of Nine Arches Press and co-editor of Under the Radar magazine. Claire Dyer's latest novel, The Last Day, is published by The Dome Press. Her previous novels are published by Quercus and her poetry collections are published by Two Rivers Press. She is a regular guest on BBC Radio Berkshire's Radio Reads, co-ordinates Reading's Poets' Café, teaches creative writing and runs Fresh Eyes, an editorial and critiquing service.
Poetry in Aldeburgh, Sunday 4 November 2018, 10-11am, Jubilee Hall

JINX ASSEMBLY OF FIRST COLLECTIONS

Abigail Parry, Susannah Hart, Tim Richardson, Jane Commane

Readings by four poets, all with recent first collections, with two books published by Bloodaxe and two by Live Canon. Former toy maker Abigail Parry's Jinx has been shortlisted for the Forward Prize for 'Best First Collection'. Susannah Hart, board member of Magma, won the Live Canon first collection competition, as did Tim Richardson, who is the founder of the Chelsea Fringe garden festival. Jane Commane is the founder and editor of Midlands-based Nine Arches Press. Her first collection Assembly Lines was published by Bloodaxe in February 2018.
Tickets: £10
Click here to book.
Fire and Dust Coventry, Thursday 6 December 2018, 19:30–22:00
The Big Comfy Bookshop, Fargo Village, Far Gosford Street, CV1 5ED

Fire & Dust MEETS Jane Commane and Peter Raynard
Monthly poetry open mic event. All welcome - poets, performance poets, slammers, MCs and anyone happy to listen to some poetry. Open mic slots available on the night (approx. 5 minutes). Bring friends, bring poems, or just come along for a listen.

Tea/coffee/beer/wine/pop and cakes available for purchase.
More information on facebook here.
Carol Rumens discusses Jane Commane's poem 'Our Old Lady of the Rain' from Assembly Lines in her online Guardian Poem of the Week column for 19 March 2018
Click here to read.


[20 September 2018]