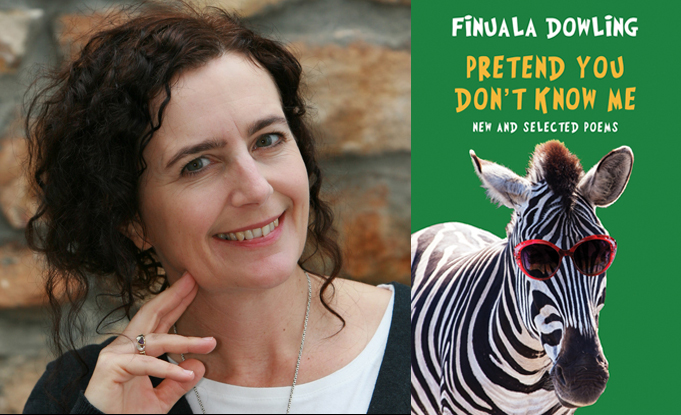 Finuala Dowling on tour
Finuala Dowling
is one of South Africa's most popular poets and novelists. Her poetry has been praised as revealing 'the domestic sublime', while her novel,
The Fetch
, was described as a book that 'in years to come, will bear testimony to the maturity and intelligence of South African culture and literature'. Her first book-length UK publication,
Pretend You Don't Know Me: New and Selected Poems
, is published by Bloodaxe on 27 September, and launched at a series of readings across the North in early October:
Sunday 7th October
Humber Mouth | Hull Literature Festival (with Helen Mort)
Central Library, Hull HU1 3TF.
7.30pm, tickets £7/£5.
Monday 8th October
Manchester Literature Festival (with Maura Dooley)
Martin Harris Centre for Music and Drama, Bridgeford Street, Manchester M13 9PL.
7.30pm, tickets £7/£5.
Tuesday 9th October
Off the Shelf Festival of Words, Sheffield (with Elizabeth Barrett)
The Printhouse, 21/23 North Church Street, Sheffield S1 2DH.
7.30pm, tickets £6/£5.
Wednesday 10th October
Ilkley Literature Festival (with Gillian Clarke)
Ilkley Playhouse (Wharfeside), Weston Road, Ilkley LS29 8DW.
8.30pm, tickets £7/£5
Thursday 11th October
Newcastle Centre for the Literary Arts (with Ailbhe Darcy)
Culture Lab, Newcastle University, Grand Assembly Rooms, King's Walk, Newcastle upon Tyne NE1 7RU
7.15pm, free but ticketed
Finuala Dowling was born in Cape Town, South Africa in 1962, the seventh child in a family of eight. She started to write poetry only once she turned 40, but has since become one of South Africa's most popular poets and novelists. She divides her time between writing and her role as senior lecturer in the Centre for Extra-Mural Studies at the University of Cape Town. She has previously read twice at Aldeburgh Poetry Festival, selling out a chapbook produced for the festival on the second occasion, when her poetry was otherwise unpublished in the UK.
Renowned for her poetry's accessibility, humanity and wit, as well as her beguilingly honest stories of home, parenthood, love, loss and desperation, Finuala has won many new converts to poetry in her native South Africa. At the heart of her book are the funny and poignant connections we make with other people, and the lifelong effort to stay whole.
[02 September 2018]