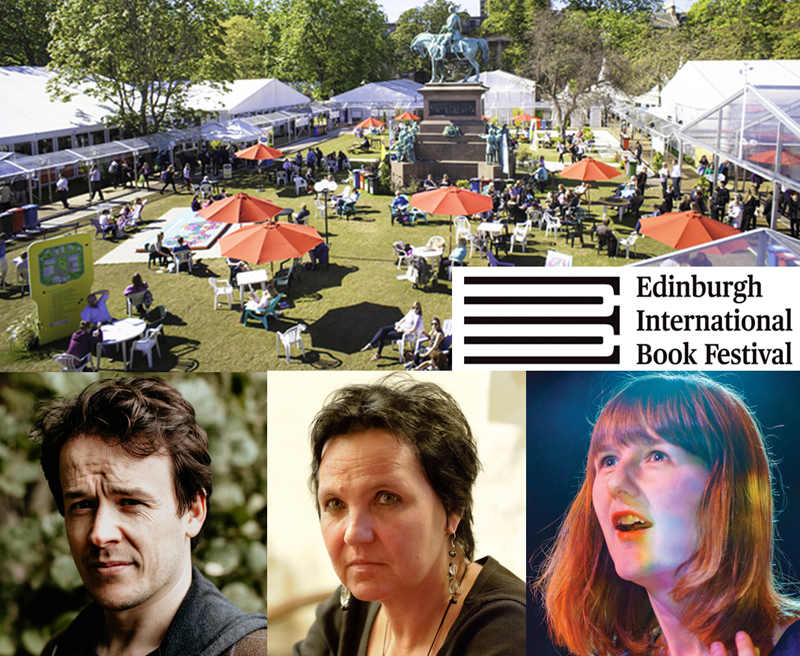 Bloodaxe Poets at EIBF 2019
EDINBURGH INTERNATIONAL BOOK FESTIVAL, AUGUST 2019
Sunday 11 August, 18:30 - 19:30
Writers' Retreat
Niall Campbell & Roseanne Watt
Rising stars of Scottish poetry

Shetlandic poet Roseanne Watt won the 2018 Edwin Morgan Poetry Prize for work that's 'a celebration of language, place and the mystery of being alive'. She returns to the Book Festival with her assured debut collection, Moder Dy, joined by South Uist's Niall Campbell — the first to scoop the award in 2014. His new collection Noctuary sees him reconnect with the landscapes of his youth while getting to grips with fatherhood. Chaired by André Naffis-Sahely.
Niall Campbell's second collection Noctuary is shortlisted for the Forward Prize for Best Collection 2019.

£8.00, £6.00.
Click here to book.
Wednesday 14 Aug 2019, 15:30 - 16:30
Writers' Retreat
Sylva Fischerová & Alan Spence

Meeting of Poetical Minds

Two prolific European poets come together. Edinburgh Makar Alan Spence adds to his illustrious career of novels, short stories and poems with two new pamphlet collections Zenscotlit and Thirteen Ways of Looking at Tulips. Prague's City Poet Sylva Fischerová is one of the most formidable Czech writers of her generation. The novelist, short story writer and children's author has recently published The Swing in the Middle of Chaos: Selected Poems in English.

£8.00, £6.00.
Click here to book.
Saturday 17 August 2019, 12:30 - 13:30
Garden Theatre
Janette Ayachi, Liz Berry, Toria Garbutt & Clare Pollard

Motherhood: Four Poets

A new wave of acclaimed and award-winning contemporary poets who write about motherhood come together to present their latest work. Through four captivating readings, Janette Ayachi, Liz Berry, Toria Garbutt and Clare Pollard bring their bold, resonant and unique voices to the often unarticulated nuances of maternity in all its forms: tender, anguished, joyful.
Clare Pollard will be reading from her fifth collection Incarnation (Bloodaxe in 2017), which draws on her own experience of motherhood, but also explores ideas of innocence and responsibility, and what it means to bring new human beings into this world.

Part of EIBF's Babble On - Spoken Word series of events.

£12.00, £10.00.
Click here to book.

Wednesday 21 August, 13:00 - 14:30
Writers' Retreat
Nothing But the Poem on Niall Campbell

Reading Workshop

Niall Campbell is a multi award-winning Scottish poet originally from South Uist. His work explores the landscapes, myths and memories of the Outer Hebrides and the altered states of fatherhood. This workshop, led by Samuel Tongue from the Scottish Poetry Library, takes a close look at the voices and themes of Campbell's poetry. No experience necessary: everyone welcome and poems are provided.
£15.00, £12.00

Click here to book.
[10 July 2019]