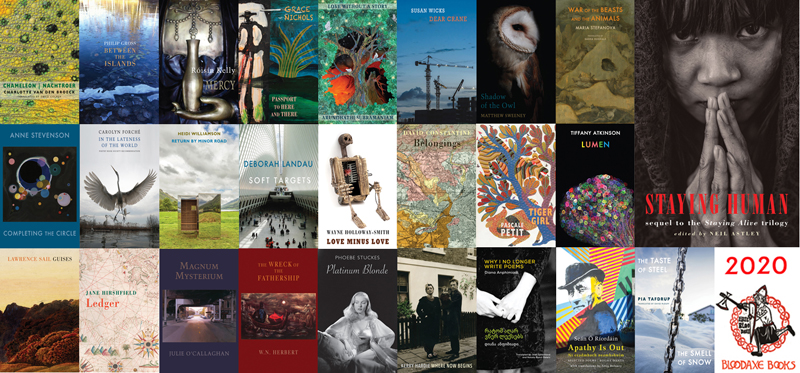 COVID-19

'Poetry can be the bridge that connects us during these difficult times.' – Mary Jean Chan
In common with the rest of the publishing industry, Bloodaxe Books is scaling back its operation over the next few months due to the coronavirus outbreak. We have postponed publication of our spring titles from our April books onwards. Our four March books have already been published, and are available direct from Bloodaxe or via other online booksellers.

We are currently still taking orders via our website, and greatly appreciate all the orders and kind messages we have been receiving over the past few weeks. Books are now being sent out (with a longer turnaround) by our distributor GBS, for as long as they remain open. Please do continue to order books direct from Bloodaxe while it is still possible (we'll amend this notice as soon as it is not).

Publication of all new books has been postponed until we are in a position to print and promote them.
The four new collections originally scheduled for April have been printed, but have not been sent out for review. They will be rescheduled – with a new publication date – once we're able to do this. These four books will be the first to be sent out once things are back to normal – ­whenever that might be. If journalists would like to be sent PDFs of these or any other titles in the meantime, please email publicity@bloodaxebooks.com.

Readers wanting to order what will now be pre-publication copies of these books can do so direct from our website – where they are still currently listed as April titles ­– for as long as we're still able to take orders. Links to all four books are here.

Grace Nichols: Passport to Here and There
Julie O'Callaghan: Magnum Mysterium
Deborah Landau: Soft Targets
Heidi Williamson: Return by Minor Road
Many bookshops are still taking telephone and online orders even if their doors are closed to the public. E-books are available via Amazon for most of our new books published over the last five years, as well as for many backlist titles. Amazon is currently deprioritising printed book sales at the moment as they are prioritising medical and other emergency supplies, so if a title is showing as unavailable on Amazon, please do not assume that it is out of print. Try Bloodaxe, The Book Depository, Waterstones online or your local bookshop instead.
Bloodaxe staff are all working remotely, and are contactable via email. Details on our contact page.

Wishing you all well at this very difficult time.
[18 March 2020]