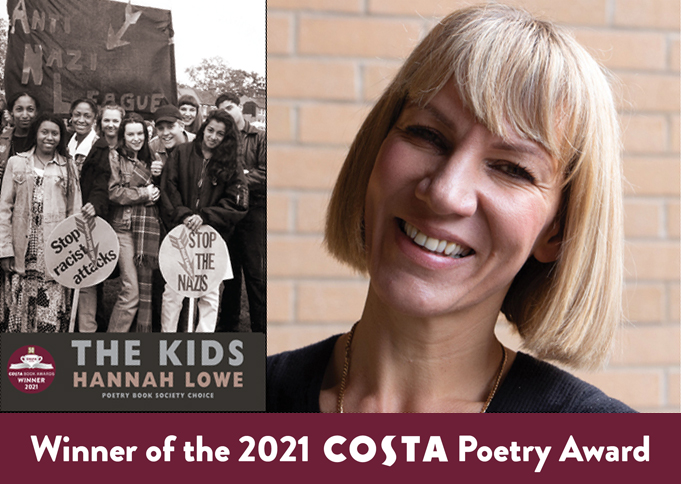 Hannah Lowe's The Kids wins 2021 Costa Poetry Award
'The Kids is the real deal. A page turner about the experience of teaching and being taught, it made us want to punch the air with joy.' - Costa Poetry Award Judges Rishi Dastidar, Ian Duhig and Maya Jaggi
Hannah Lowe's third collection The Kids, a book of sonnets about teaching, learning, growing up and parenthood, has won the 2021 Costa Poetry Award.
The winners of the five categories in the Costa Book Awards were announced on BBC Radio 4's Front Row on the evening of 4 January 2022. Presenter Samira Ahmed was joined by Chair of Judges Reeta Chakrabarti, who announced the category winners for First Novel, Novel, Biography, Poetry and Children's, and spoke about each of the books.
'This is such a fresh and original volume, it really made me sit up... Lowe writes with tremendous wit and verve and poignancy. Her poems are fluent and rhythmic. They're about the politics of race and of class, of what she learns from her pupils as well as vice-versa.' - Reeta Chakrabarti on The Kids
Listen here (1st item is on the Costa Book Awards. The Kids is discussed from 06.20.)
The judges for the 2021 Costa Poetry Award are Rishi Dastidar, Ian Duhig and Maya Jaggi. They commented:
'The Kids is the real deal. A page turner about the experience of teaching and being taught, it made us want to punch the air with joy... A contemporary book that buzzes with life while re-energising the sonnet that Shakespeare would recognise. All readers will find something of themselves here.'
Full details of the category winners and shortlisted titles are on the Costa Book Awards website here.

The winner of the £30,000 Costa Book of the Year will be announced on Tuesday 1st February 2022 at an in-person ceremony in London. Each category winner will receive £5000.
Hannah Lowe was interviewed on Radio 4's Front Row on Thursday 6 January at 7.15pm. Listen here (Hannah features from 19:15).
Hannah Lowe was interviewed on Times Radio on 4 January 2022 following the announcement that her third collection The Kids had won the Costa Poetry Award. She spoke to Darryl Morris (standing in for Phil Williams) and Natalie Jamieson (co-host of the Bestsellers podcast) about her response to winning this prestigious award, and about her time spent teaching in an inner-city London sixth form college. She read her poem 'The Art of Teaching II'. Listen here (from 1:07:10)
~~~~
Hannah Lowe's third collection The Kids was published by Bloodaxe in September 2021. It won the 2021 Costa Poetry Award, was the Poetry Book Society's Choice for Autumn 2021 and was shortlisted for the 2021 T S Eliot Prize.
Hannah Lowe taught for a decade in an inner-city London sixth form. At the heart of this book of compassionate and energetic sonnets are fictionalised portraits of 'The Kids', the students she nurtured. But the poems go further, meeting her own child self as she comes of age in the riotous 80s and 90s, later bearing witness to her small son learning to negotiate contemporary London. Across these deeply felt poems, Lowe interrogates the acts of teaching and learning with empathy and humour. Social class, gender and race – and their fundamental intersection with education – are investigated with an ever critical and introspective eye. These boisterous and musical poems explore the universal experience of what it is to be taught, to learn and to teach.
Her previous two Bloodaxe collections are Chick (2014), winner of the 2015 Michael Murphy Prize, and Chan (2016).
~~~~
Hannah Lowe was a guest on BBC Radio 3's Free Thinking on 16 September 2021. She was discussing ideas of belonging with host Shahidha Bari and fellow guests Akram Khan, Tash Aw and Eleanor Lybeck, and read from her just-published third collection The Kids. Hannah contributes at 2.56 and 29.02. She is interviewed from 15.31. Listen here.
Links to other interviews with Hannah and reviews of The Kids are on Bloodaxe's news page here.
Details of forthcoming readings and videos of recent events with Hannah Lowe are here.
[04 January 2022]