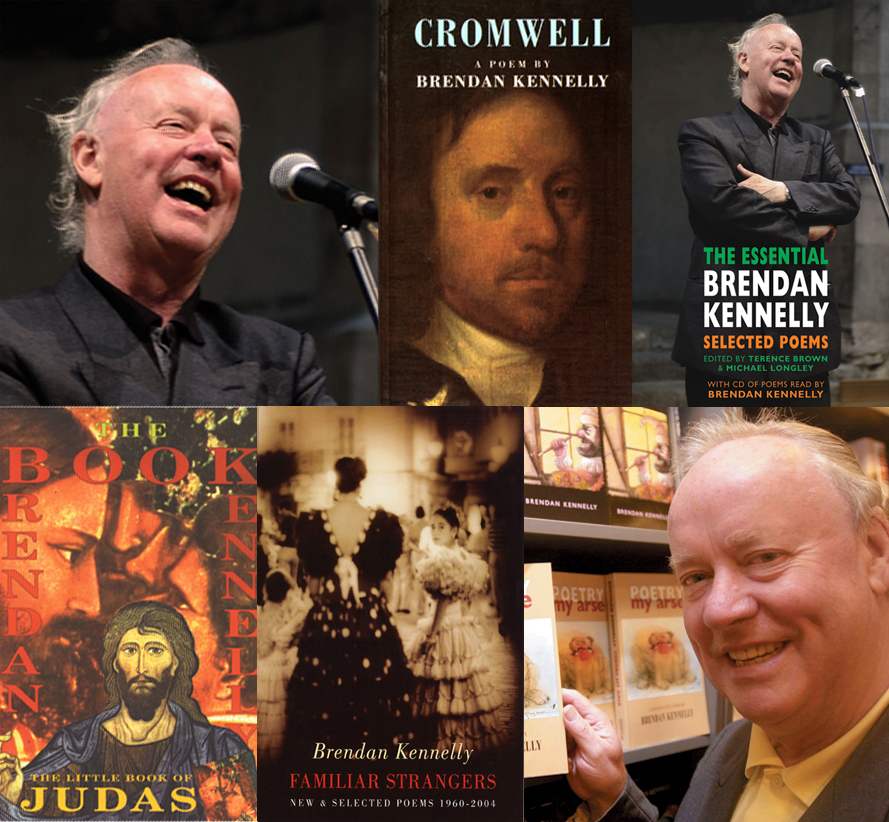 Brendan Kennelly RTE Radio Feature
Brendan Kennelly celebrated his 80th birthday on Sunday 17th April 2016. Sadly, he has been in hospital in Dublin for much of this year, but we wish him good health. It is now 20 years since he had major heart surgery, a quadruple bypass in 1996, the experience which produced his visionary book-length poem, The Man Made of Rain.
Brendan is one of Ireland's most distinguished and best loved poets, as well as a renowned teacher and cultural commentator. Born in 1936 in Ballylongford, Co. Kerry, he was Professor of Modern Literature at Trinity College, Dublin for over 30 years, and retired from teaching in 2005.
He has published more than 30 books of poetry, including
Familiar Strangers: New & Selected Poems 1960-2004
(2004), which includes the whole of
The Man Made of Rain
(1998). He is best-known for two controversial poetry books,
Cromwell
, published in Ireland in 1983 and in Britain by Bloodaxe in 1987, and his epic poem
The Book of Judas
(1991), which topped the Irish bestsellers list: a shorter version was published by Bloodaxe in 2002 as
The Little Book of Judas
. His third epic,
Poetry My Arse
(1995), did much to outdo these in notoriety. All these remain available separately from Bloodaxe, along with his more recent titles:
Glimpses
(2001),
Martial Art
(2003),
Now
(2006),
Reservoir Voices
(2009),
The Essential Brendan Kennelly: Selected Poems
, edited by Terence Brown and Michael Longley (2011), and
Guff
(2013).
To mark his 80th birthday, we have posted audio recordings of five of his most popular poems on SoundCloud, which you can hear by clicking on the links below:
These recordings are taken from
The Essential Brendan Kennelly
, which is published both in paperback with an accompanying audio CD and as an enhanced ebook with audio, both editions including 36 audio files of Brendan reading his poetry.
You can also see Brendan reading five poems, including 'Begin', on
this video link
, and reading at Dublin's Abbey Theatre from his collection
Reservoir Voices
on
this video link
.
His available books are all shown
here
.
RTE marked Brendan Kennelly's 80th birthday with a repeat broadcast of his version of
The Trojan Women
by Euripides on
RTE Drama on One
on Sunday April 17th 2016 at 8pm. This is included in his book
When Then Is Now: Three Greek Tragedies
(Bloodaxe Books, 2006).
The Poetry Programme: Brendan Kennelly Special, RTÉ Radio 1, Saturday 30 April 2016, 7.30pm
To mark Brendan Kennelly's 80th birthday,
The Poetry Programme
celebrated his life and poetry. Julien Clancy visited Ballylongford and spoke with Brendan's family and friends. The programme also featured archive clips of Brendan speaking on RTÉ Radio and poetry readings from the CD accompanying his Bloodaxe title
The Essential Brendan Kennelly
.
Click here to listen
[29 April 2016]