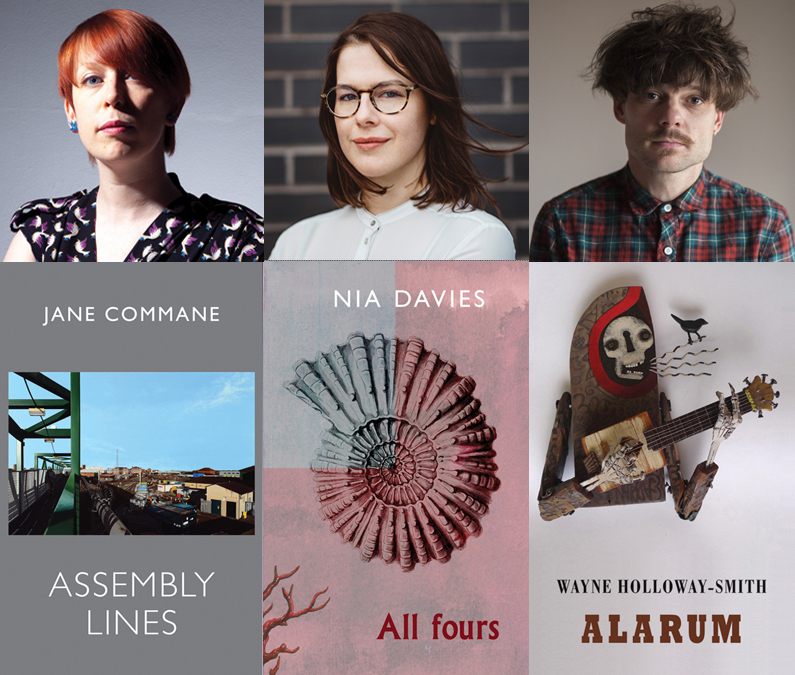 Bloodaxe trio on 2019 Michael Murphy Memorial Prize longlist
Three Bloodaxe debut collections have been selected for the 2019 Michael Murphy Memorial Prize longlist. Assembly Lines by Jane Commane, All fours by Nia Davies and Alarum by Wayne Holloway-Smith are all in the running for the shortlist, which is due to be announced in early August. The eventual winner will be announced on National Poetry Day (4 October 2019), and the £1000 award will be presented at the next English Association Annual General Meeting (27 May 2020).
The Michael Murphy Memorial Prize is a biennial prize for a distinctive first book of poetry in English published in Britain or Ireland. The prize was established by colleagues at Nottingham Trent University in honour of the Liverpool-born poet Michael Murphy, who was 43 when he died of a brain tumour in May 2009. Michael Murphy's first volume of poetry, After Attila, appeared from Shoestring Press in 1998 when he was 33. In 2001 Michael was awarded the Geoffrey Dearmer Prize by Poetry Review as 'New Poet of the Year'. The intention of the present prize is to extend the same recognition to another new poet.
Rebecca Perry won the previous prize in 2017 for her debut collection Beauty/Beauty
The judges for this year's award are Professor Deryn Rees-Jones, University of Liverpool; Professor Linda Anderson, Newcastle University; and Dr Jonathan Ellis, University of Sheffield.
[12 July 2019]