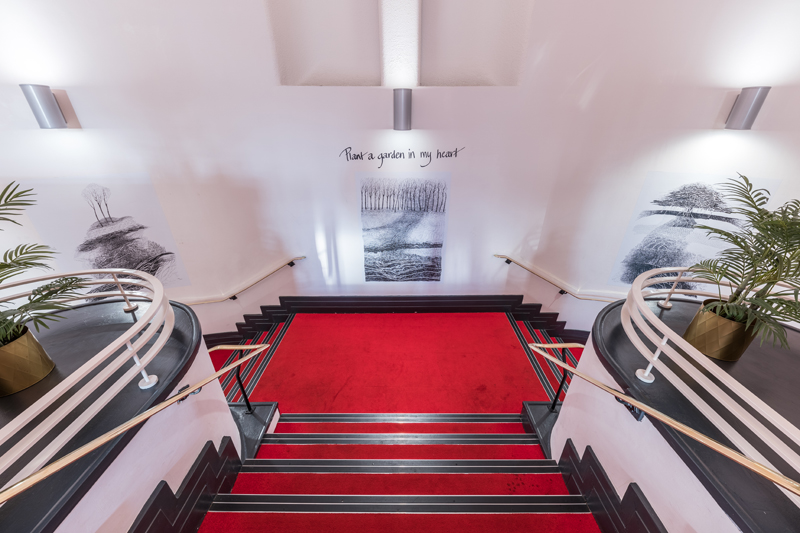 Imtiaz Dharker turns Storyhouse Chester into a giant poetry book
Imtiaz Dharker's poetry and art installation at Storyhouse Chester. Photography: Mark Carline.


Poet, artist and filmmaker Imtiaz Dharker is Artist in Residence and Guest Director for Chester Literature Festival, which returns to the city for its annual celebration of words and ideas from 10 to 30 November 2019.

As artist in residence, Imtiaz was commissioned to write a new poem, with a view to it being installed across the spaces of Chester Storyhouse, along with her black and white drawings.
Her striking new poem entitled 'Storyhouse', inspired by her visit to the building and the community she met there, has now been emblazoned across Storyhouse's spaces, along with stunning hand-drawn illustrations. The poem explores shelter, hope and rebirth, forgiveness and the strength that can be found with a sense of community and belonging.

Imtiaz Dharker said:

"Storyhouse is more than a library, reading room, cinema, theatre, café. For the thousands who walk through its doors, it is a welcoming space, a safe haven, a meeting-place for all kinds of unexpected stories. I see it as a huge breathing book, alive with possibilities, ready to tell you a new story, or rewrite an old one, every time you turn a corner or a page."

Installed for a year, lines from Dharker's poem, along with her drawings, feature on the walls, doors, staircases, mirrors, windows, balconies and ceilings of Storyhouse Chester. All of Dharker's installations can be viewed for free, and no booking is necessary.
For more on Imtiaz's Residency at Chester Storyhouse, click here.


Imtiaz Dharker will also be reading at Storyhouse on 22 November alongside Carol Ann Duffy and other friends.
Friday 22 November 2019, 7.30pm, Theatre, Storyhouse, Chester

Hunter Street, Chester, CH1 2AR
Imtiaz Dharker & Friends

As Guest Director of Chester Literature Festival Imtiaz Dharker has curated four special poetry events including Imtiaz Dharker and Friends. This features readings by former Poet Laureate Carol Ann Duffy along with poets Keith Hutson, Mark Pajak, Ella Duffy and Mollie Underwood. Keith Hutson will be reading from his Bloodaxe debut Baldwin's Catholic Geese. Imtiaz Dharker will be reading from her latest collection Luck is the Hook. As with all her collections, this is illustrated with her own black and white drawings.
£15 (plus £1.50 booking fee)
Click here to book.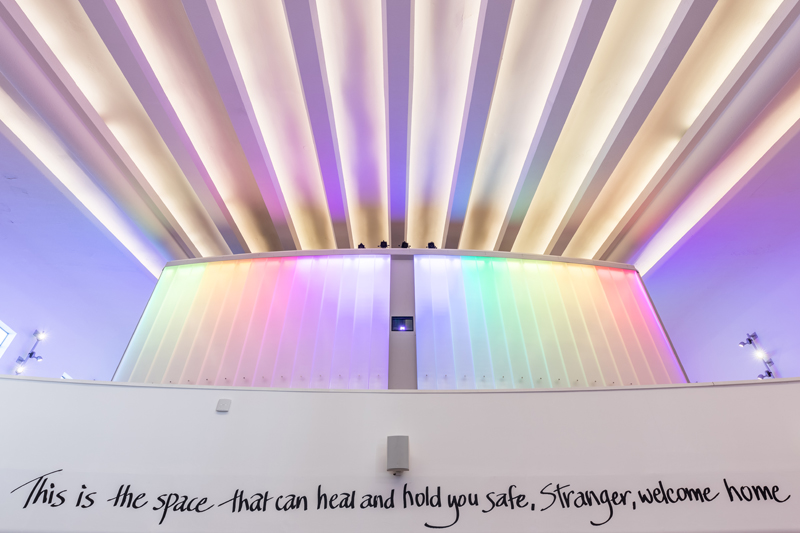 [13 November 2019]