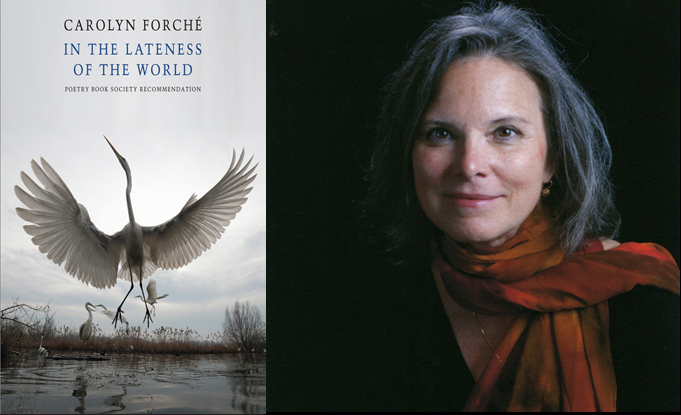 Carolyn Forché Readings
'Some of the festival highlights were from poets who read work from across long careers...Carolyn Forché, a human rights activist as well as a poet and teacher, took us on a journey from the civil war in El Salvador to Prague in the days after the Velvet Revolution, via Vietnam, Russia and the refugee camps of southern Europe.' - Susan Mansfield, The Scotsman, on StAnza 20

American poet Carolyn Forché launched her much-anticipted fifth collection In the Lateness of the World in person at StAnza International Poetry Festival on 6 March 2020. Her reading with Michael Longley was featured as a festival highlight in The Scotsman. The book was a Poetry Book Society Recommendation for Spring 2020. Carolyn has since given very powerful online readings at Cúirt International Festival of Literature and at Newcastle'sInside Writing Festival - see videos below.

~~~~
FORTHCOMING READING & WORKSHOP

Wednesday 24th February, 8-9pm

Healing Words: Main Reading with Romalyn Ante and Carolyn Forché

Romalyn Ante has blogged about the parallels between the art of writing poetry and being a nurse – how both of these activities ask that the practitioner really listens and pays attention. Her first collection Antiemetic for Homesickness invites us to do the same, in a series of moving and tender explorations of migration, family and the world of work.
Carolyn Forché is renowned for her work as a 'poet of witness', writing poems that refuse to look away from difficult subject matter. Her latest Bloodaxe collection In the Lateness of the World is unforgettable – beautifully rhythmic and incantatory, and always insisting on poetry's power to transform and heal.
A member of Dove Cottage Young Poets will also perform at this event.
Tickets: £5.00
Book here.
Friday 26th February 2021, 10.00am-12.00pm, Kendal Poetry Festival
Writing Workshop with Carolyn Forché

Tickets: £16.50
Book information here. SOLD OUT!
~~~~~
Carolyn read two poems from In the Lateness of the World for Poetry from the Backroom's #plaugeopoems series.
'The vision and range of her poems is vast - encompassing history, geography and philosophy - but it's her language and lyrical skill I love, at times majestic, at times surprising but nearly always sublime. Have I called anyone in this series a Great Poet? I do think Carolyn is one of the greatest living writers in English.' - Hugh McMillan, Poems from the Backroom
Click here to see the videos and to read more about Carolyn Forché.
~~~~~
PAST EVENTS
Inside Writing Festival, Newcastle Centre for the Literary Arts, Thursday 4 June 2020, 7pm

Carolyn Forché read from her new collection of poems In the Lateness of the World at the virtual Inside Writing Festival which is taking place instead of the Newcastle Poetry Festival this year. Carolyn read the poems 'Museum of Stones', 'Morning on the Island', 'Early Life', 'Lost Poem', 'Souffrance' and 'Toward the End', all from the new collection.

She was also in conversation with Sarah Churchwell, Professor of American Literature and Chair of Public Understanding of the Humanities at the School of Advanced Study, University of London. Carolyn answered questions asked by both Sarah and the audience (emailed in advance).

Two films of this brilliant event can be seen below.
More on NCLA's website here.
Carolyn Forché gave a wonderful livestream 'in conversation' event for Cúirt International Festival of Literature on 25 April 2020. She read and talked about some poems from her new collection In the Lateness of the World . The second half of the event was devoted to discussion, and was moderated by Jessica Traynor.
~~~~~
A feature review of In the Lateness of the World and Carolyn Forché's memoir What You Have Heard is True (Penguin Random House, 2019) ran in Ireland's Sunday Independent of 26 April 2020. Read here.
In the Lateness of the World was reviewed by Fiona Sampson in The Guardian's best recent poetry feature here. 'Forché's almost incantatory way with image produces a strange tone, spell-bound but also emotionally charged, in which time and place shift and blur'.
'...a compelling call to action. Forché invites us to witness with her this vision of the past and future of the world, a world of art and poetry, but also burned and ruined by conflict, a 'grotto of skeletons'. She challenges us to go out into this world, not dispassionately but emotionally engaged, and change it' - Kai Durkin, DURA (Dundee University Review of the Arts) on In the Lateness of the World. Read the full review here.
~~~~~
Carolyn reads and introduces her poem 'The Boatman' from In the Lateness of the World on the Poetry Foundation's website here.
An in-depth feature on Carolyn Forché ran in The New Yorker of 6 April 2020. Read the article here.
[07 April 2020]