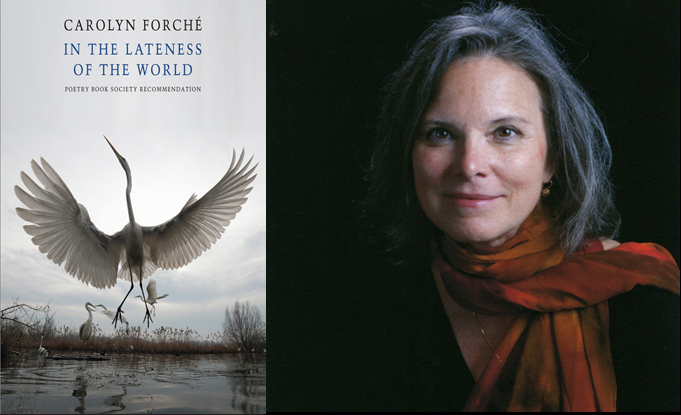 Carolyn Forché Readings
'Some of the festival highlights were from poets who read work from across long careers...Carolyn Forché, a human rights activist as well as a poet and teacher, took us on a journey from the civil war in El Salvador to Prague in the days after the Velvet Revolution, via Vietnam, Russia and the refugee camps of southern Europe.' - Susan Mansfield, The Scotsman, on StAnza 20

American poet Carolyn Forché launched her much-anticipted fifth collection In the Lateness of the World at StAnza International Poetry Festival on 6 March 2020. Her reading with Michael Longley was featured as a festival highlight in The Scotsman. The book is a Poetry Book Society Recommendation for Spring 2020.

Inside Writing Festival, Newcastle Centre for the Literary Arts, Thursday 4 June 2020, 7pm

Carolyn Forché reads from her new collection of poems In the Lateness of the World (Bloodaxe, 2020) at the new virtual Inside Writing Festival which is taking place instead of the Newcastle Poetry Festival this year.
Carolyn will be in conversation with Sarah Churchwell, Professor of American Literature and Chair of Public Understanding of the Humanities at the School of Advanced Study, University of London.

Virtual event via Zoom (link shared upon registration):
https://www.ncl.ac.uk/ncla/events/item/insidewritingcarolynsarah.html
Carolyn Forché gave a wonderful livestream 'in conversation' event for Cúirt International Festival of Literature on 25 April 2020. She read and talked about some poems from her new collection In the Lateness of the World . The second half of the event was devoted to discussion, and was moderated by Jessica Traynor.
A feature review of In the Lateness of the World and Carolyn Forché's memoir What You Have Heard is True (Penguin Random House, 2019) ran in Ireland's Sunday Independent of 26 April 2020. Read here.
In the Lateness of the World was reviewed by Fiona Sampson in The Guardian's best recent poetry feature here. 'Forché's almost incantatory way with image produces a strange tone, spell-bound but also emotionally charged, in which time and place shift and blur'.
'...a compelling call to action. Forché invites us to witness with her this vision of the past and future of the world, a world of art and poetry, but also burned and ruined by conflict, a 'grotto of skeletons'. She challenges us to go out into this world, not dispassionately but emotionally engaged, and change it' - Kai Durkin, DURA (Dundee University Review of the Arts) on In the Lateness of the World. Read the full review here.
Carolyn reads and introduces her poem 'The Boatman' from In the Lateness of the World on the Poetry Foundation's website here.
An in-depth feature on Carolyn Forché ran in The New Yorker of 6 April 2020. Read the article here.
[07 April 2020]