About
---
Bloodaxe Books has revolutionised poetry publishing in Britain over four decades. Internationally renowned for quality in literature and excellence in book design, our authors and books have won virtually every major literary award given to poetry, from the T.S. Eliot Prize, Costa Book of the Year and Pulitzer to the Nobel Prize in Literature. And books like the Staying Alive anthology series have broken new ground by opening up contemporary poetry to many thousands of new readers.
Grant support from Arts Council England makes it possible for Bloodaxe to publish up to thirty new titles a year by a bold and diverse range of new and established writers from Britain, Ireland, America and many other countries, including poetry in translation and proportionally more collections by women poets than any other British imprint.
Bloodaxe Books was founded in Newcastle by Neil Astley in 1978. It became a non-profit limited company in 1982. Based in offices on Newcastle's Quayside for many years and later behind the station, the operation was split two ways in 1997, with sales and finance managed from Bala in North Wales, and editorial, publicity and rights moving to a new base in Northumberland (from 2000 to 2014 at Highgreen Manor in the Tarset valley).
Bloodaxe's main office is now at South Park, Hexham, Northumberland, while finance and sales data are still managed from Bala. Distribution is handled by Grantham Book Services (GBS), while UK and European book trade marketing is done by PGUK and Repforce Ireland. Consortium in Minneapolis are responsible for sales in North America and other international markets, with warehousing and distribution via Ingram.
Bloodaxe Books 1978-2018: Forty Years of Poetry with an Edge
Bloodaxe Books marked its 40th birthday in 2018. This film by Pamela Robertson-Pearce and founder editor Neil Astley celebrates forty years of poetry with an edge - with readings, archive footage and visual snapshots of notable events over four decades.
Board
---
Professor Linda Anderson, OBE, Hon FRSL (Chair)
Dr Neil Astley, Hon FRSL (Managing Director)
Sir William Morrison-Bell, Bt, LLM (Company Secretary)
Christine Macgregor (Publicity Director)
Bethan Jones (Finance Director)
Dr Imtiaz Dharker, FRSL
Professor Bill Herbert, FRSL
Dr Nathalie Teitler, Hon FRSL
Patrons
---
Dame Carol Ann Duffy, DBE, FRSL
The Rt. Hon. Mark Fisher
Lee Hall
Sir Andrew Motion, FRSL
Alastair Niven, LVO, OBE
Dame Marina Warner, DBE, FRSL, FBA
Benjamin Zephaniah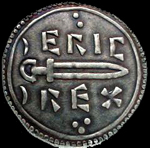 Erik Bloodaxe
---
Bloodaxe Books is named after Erik Bloodaxe, the last Viking king of independent Northumbria, who features in Briggflatts as Basil Bunting's opposite persona to the Cuthbert side of his Northumbrian identity. These lands were ruled in the 10th century by Erik, a murderous chieftain who had to flee from Norway, becoming king of Orkney, Dublin and twice king of York and Northumbria. After his death in 954, the North became part of England for the first time. Erik was perhaps our first patron of poetry: when saga hero Egil was captured on his territory, he made him write a praise-poem overnight on pain of death. The poem, while totally disingenuous, is a brilliant example of the drápa form, and Erik was so delighted to be immortalised by the great bard Egil that he spared his life.
BLOODAXE OFFICES
---
Bloodaxe's Hexham office is part of the rural enterprise hub established by Northumberland National Park at their headquarters at Eastburn, South Park. We're on the first floor of the south wing (on the right in this picture).
Main office:
Bloodaxe Books Ltd
Eastburn
South Park
Hexham
Northumberland NE46 1BS
tel: 01434-611581
(click on Contact link above for emails & direct lines)
Finance office:
Bloodaxe Books Ltd
Unit 3
Penllyn Workshops
Arun Street
Bala
Gwynedd LL23 7SP
Wales
tel: 01678-521550
(click on Contact/Trade links above for emails)
Earlier Bloodaxe offices
---
Bloodaxe published from Newcastle from 1978 to 1997, when the business operation was split, with editorial, rights and publicity moving out to Northumberland, and finance and sales to Bala in north Wales. The fiction of Bloodaxe still being a Newcastle publishing house with its PO Box 1SN publishing address was maintained for business continuity purposes until 2000. (So books listed in bibliographies as published by Bloodaxe Books in Newcastle upon Tyne from 1997 to 2000 were actually published from different locations in Northumberland.)
2000-2014: Highgreen, Tarset, Northumberland. Bloodaxe was the first occupant of an office newly converted from a stable block and one-time granary behind Highgreen Manor which also hosts VARC's rural artist residencies. Basil Bunting lived in a cottage a few miles down the Tarset valley in 1981-84. Bloodaxe stayed at Highgreen for 14 years, but bad winters were a problem: staff often couldn't get to work, and when trucks did manage to get through with deliveries of books, they'd get stuck in the snow.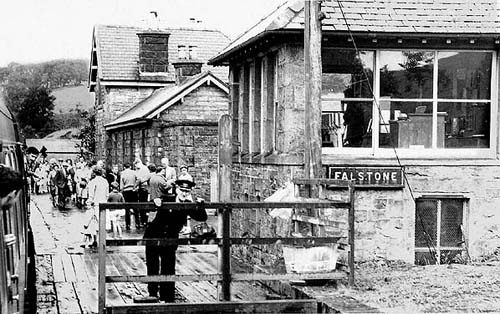 1998-2000: The Old Signal Box, Falstone, Northumberland. The office here was in a converted railway signal box (pictured here in 1956!) owned by the Forestry Commission, who used the station building itself as a cold store for culled deer. We overlooked a disused station platform where rangers would deposit rows of carcasses brought down from nearby Kielder Forest. The Falstone sojourn ended when a change in the Forestry Commission's deer culling arrangements meant the Old Signal Box was surplus to requirements and had to be sold.
1997-1998: Dargues Hope, near Otterburn, Northumberland. Bloodaxe's most remote Northumberland office was in a large farm house (seen here middle left) situated two miles up a rough track, with three gates to negotiate, one sometimes guarded by a bull. Delivery drivers made frequent complaints about the difficulties of access.
1997: Elrington Farm Cottages, near Hexham, Northumberland. The first Northumberland office was just one room in a farm cottage, with a store room retained in Hawthorn House in Newcastle (enabling Bloodaxe to keep its Newcastle PO Box publishing address).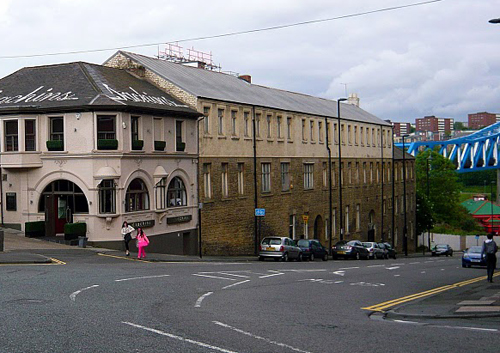 1991-1997: Hawthorn House, Forth Banks, Newcastle. This building has now been gutted and absorbed into the city's new Stephenson Quarter development. It's part of the site of Robert Stephenson's Forth Street locomotive works where the revolutionary Rocket was built in 1829. Our space was sublet from a company which trained HGV drivers and security guards. When this firm went bust overnight – and its staff and trainees were seen making off with computers and furniture in lieu of pay – Bloodaxe became the sole occupant of an otherwise deserted office complex, paying no rent for the next year while waiting for someone else to lay claim to the building.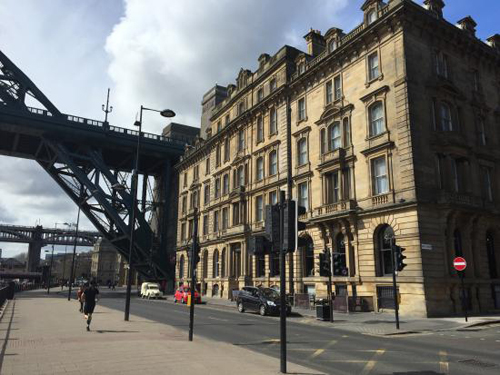 1984-1991: Exchange Buildings, Newcastle. In 1984, after being run for the first seven years from various flats around Newcastle, Bloodaxe was able to move into its first office, in the old Exchange Buildings on Newcastle Quayside, then a run-down home for old shipping companies and new arts and community enterprises, while a trade distributor in London took over the warehousing and despatching of books. All the tenants were forced to leave when the building was taken over in the redevelopment of the Quayside (it's now an upmarket hotel and restaurant complex).