Who's Who
---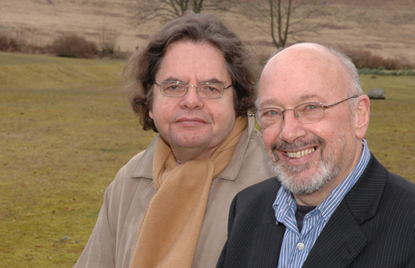 Neil Astley (left) and Simon Thirsk outside Bloodaxe's previous editorial office at Highgreen
Executive Chair: Simon Thirsk

Executive chair Simon Thirsk has been a founder director of Bloodaxe Books Ltd since 1982. He worked as a journalist for 20 years and has lectured in journalism and marketing, and has also been co-ordinator of a Northern children's medical charity, organiser of Durham Literature Festival and chairman of a town development group in Wales. He has an honours degree in philosophy, and has learned Welsh. Small Zones, his TV play about the imprisonment of dissident Russian poet, Irina Ratushinskaya, was broadcast on BBC2. His novel Not Quite White (Gomer) was shortlisted for the Costa First Novel Award in 2010. He serves on the advisory board of Nine Arches Press and the committee of the RS Thomas and ME Eldridge Poetry & Art Festival (RS Thomas & ME Eldridge Gwyl Celf a Barddoniaeth).
Editor & Managing Director: Neil Astley
Neil Astley founded Bloodaxe Books in 1978 after graduating from Newcastle University. He received an Eric Gregory Award for his poetry in 1982, and was given an honorary D.Litt by Newcastle University for his work with Bloodaxe in 1995. He has published two poetry collections and two novels, The End of My Tether (Flambard, 2002; Scribner, 2003), shortlisted for the Whitbread First Novel Award, and The Sheep Who Changed the World (Flambard, 2005), and over twenty anthologies, notably the Staying Alive trilogy, and three collaborations with Pamela Robertson-Pearce, Soul Food (2007), and the DVD-books In Person: 30 Poets (2008) and In Person: World Poets (2017). He is a Visiting Fellow at Newcastle University and a patron of Ledbury Poetry Festival (after many years as a trustee), and was made an Honorary Fellow of the Royal Society of Literature in 2018.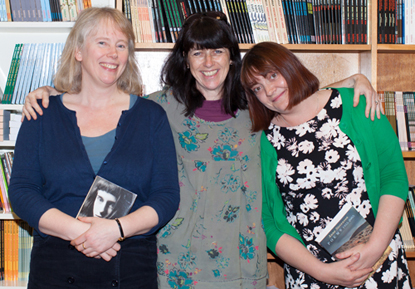 Christine Macgregor (left), Rebecca Hodkinson (centre) and Suzanne Fairless-Aitken in the Hexham office.
Publicity Manager: Christine Macgregor
Based at Hexham, Christine Macgregor has been Publicity Manager for Bloodaxe since January 1998. Prior to that she was Sales & Rights Manager for the London-based illustrated book publisher Laurence King, responsible for selling translation rights within Europe as well as overseeing publicity, booktrade sales and distribution. After graduating from Durham University with a degree in Russian, she worked as an interpreter for the Bolshoi Ballet during their UK tour.
Rights Manager: Suzanne Fairless-Aitken
Dr Suzanne Fairless-Aitken has been Rights Manager at Bloodaxe since 2004. She studied at Newcastle University, where she wrote her doctoral thesis on Hyenas in scarlet petticoats: re-dressing the heroine in the novels of the Brontës, George Eliot and Virginia Woolf. She has also been a tutor in English Literature at Newcastle University and for the Open University. She handles Bloodaxe's rights and permissions work from the Hexham office.
Prizes/Publicity/Administration: Rebecca Hodkinson
Rebecca Hodkinson has been with Bloodaxe since 2003. She is responsible for literary prizes, assists with publicity and handles office administration at Hexham. She previously worked as feature writer for a business publisher based a number of floors below Bloodaxe in a cavernous Newcastle Quayside building (she never found their office). After graduating with a degree in Film and Media at Stirling University she worked in radio as a researcher, and then as a journalist in magazine publishing and public relations.
Marketing: Jule Wilson
The newest member of the Bloodaxe team, Jule Wilson is a Chartered Public Relations practitioner with a CIPR Diploma in Public Relations, and joined the Hexham office in February 2018. Working part time and certified by the Digital Marketing Institute (DMI), she is responsible for our marketing development. Formerly a journalist in Shropshire, across Yorkshire and Lincolnshire and then across the North East, Jule has an MA in Creative Writing from Newcastle University, and continues to write. She is also an individual member of the Public Relations and Communications Association, and an associate member of the Chartered Institute of Marketing.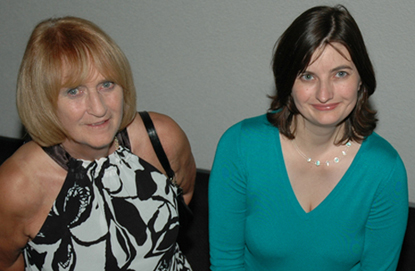 Alias Smith and Jones: Jean Smith (left) and Bethan Jones in the Bala sales office.
Finance Manager: Bethan Jones
Bethan Jones joined Bloodaxe as finance manager in 2005. Working part time, she has an honours degree in Agriculture and Business Studies from Aberystwyth University and is also qualified in accounting (AAT). Part of a farming family tracing its roots back to the Battle of Bosworth – which is closely involved with the Welsh Black Cattle Society – Bethan helps out with Bala's local Welsh-language weekly newspaper and is also clerk to two parish councils and is active in several community associations.
Sales & Royalties: Jean Smith
Jean Smith joined Bloodaxe in 2008 as maternity cover for Bethan Jones (finance) at the Bala sales office, staying on to cover administration, sales and royalties. She had previously worked as a tax officer as well as owning and running various businesses including a greengrocers and florist shop, a guest house, a fish and chip shop, and – for 17 years – a riding centre. For the past 20 years she has also been involved with property development. She is a member of MENSA.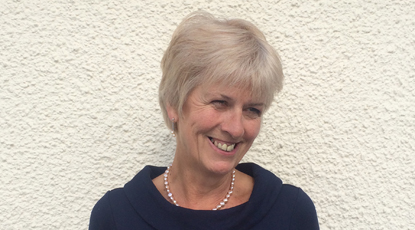 Company Secretary: Nansi Roberts Thirsk
Nansi Roberts Thirsk, LL.B, is a partner in Guthrie Jones & Jones, Dolgellau, the fourth generation of solicitors from the Roberts Jones family. She studied law at Newcastle University, practising in Newcastle for 12 years before returning to Wales to join the family firm in 1997. She was Bloodaxe company secretary from 1982 to 2008, rejoining in 2015.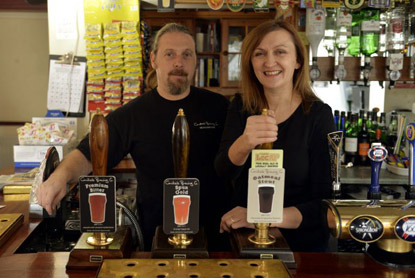 Alison Davis with husband and fellow landlord Alain pulling pints of their own brew.
Assistant Company Secretary: Alison Davis
Alison Davis joined Bloodaxe as marketing manager in 1992, based in Newcastle and then in Bala. In 2007 she and her husband Alain became landlords of the Spinners Arms, Cummersdale, in Cumbria, and in 2013 they launched the Carlisle Brewing Co which saw the return of commercial brewing to the city for the first time in over 20 years. She was Company Secretary from 2008 to 2015, and now acts as Assistant Company Secretary.