Prize Winning Poets
---
Aldeburgh Poetry Festival First Collection Prize
1995: Parables and Faxes by Gwyneth Lewis; 2001: Beyond Calling Distance by Esther Morgan.
Amistade Prize (international prize based in Sardinia awarded to artists who promote 'minority' language in their own country)
2009: Menna Elfyn.
Bernard Shaw Prize (Society of Authors triennial literary translation prize, Swedish into English)
2012: Robin Fulton for Chickweed Wintergreen: Selected Poems by Harry Martinson; 1994 David McDuff for A Valley in the Midst of Violence by Gösta Ågren.
Horst Bienek Prize for Poetry
2016: Aleš Šteger; 2000: Philippe Jaccottet; 1998: Inger Christensen; 1996: R.S. Thomas; 1992: Tomas Tranströmer.
BookTrust Lifetime Achievement Award
2022: John Agard
Miguel de Cervantes Prize
2019: Joan Margarit
Cholmondeley Awards (last 10 years only)
2022: Menna Elfyn, Tiffany Atkinson; 2021: Susan Wicks, Katrina Porteous; 2020: Hannah Lowe; 2017: Philip Gross; 2016: Maura Dooley; 2015: Pascale Petit, J.H. Prynne; 2014: W.N. Herbert; 2011: Imtiaz Dharker; 2010: Gillian Allnutt, Gwyneth Lewis; 2009: Pauline Stainer; 2007: Penelope Shuttle; 2004: John Agard, Lawrence Sail, Eva Salzman; 2003: Jackie Kay; 2002: Moniza Alvi, David Constantine.
Costa Book of the Year Award & Costa Poetry Award
2021: Hannah Lowe for The Kids; 2017: Helen Dunmore for Inside the Wave.
Criticos Prize
2012: Antigonick by Anne Carson (illus. Bianca Stone).
Edwin Morgan Poetry Award (for Scottish poets under 30)
2014: Niall Campbell.
T.S. Eliot Prize
2009: The Water Table by Philip Gross; 2008: Nigh-No-Place by Jen Hadfield; 2005: Reel by George Szirtes.
E.M. Forster Award
1997: Glyn Maxwell.
East Anglian Book Award (poetry)
2019: Helen Ivory best cover award for The Anatomical Venus; 2016: Heidi Williamson (whose collection The Print Room also won the award for best book cover).
European Poet of Freedom Prize (Gdansk)
2016: Ana Blandiana.
European Poetry in Translation Prize/ Corneliu M. Popescu Prize for European Poetry Translation
2005: Adam J. Sorkin & Lidia Vianu for The Bridge by Marin Sorescu; 2003: David Constantine forLighter Than Air by Hans Magnus Enzensberger: 1997: David Constantine for Friedrich Hölderlin's Selected Poems.
Farmgate Café National Poetry Award (Ireland)
2019: A Quarter of an Hour by Leanne O'Sullivan.
Forward Prize for Best First Collection
1999: The Man in the White Suit by Nick Drake.
Geoffrey Faber Memorial Prize
2010: Kona Macphee for Perfect Blue; 1996: Kathleen Jamie for The Queen of Sheba; 1986: David Scott for A Quiet Gathering.
Golden Wreath Award (Struga)
2019: Ana Blandiana; 2014: Ko Un; 2005: W.S. Merwin; 2003: Tomas Tranströmer.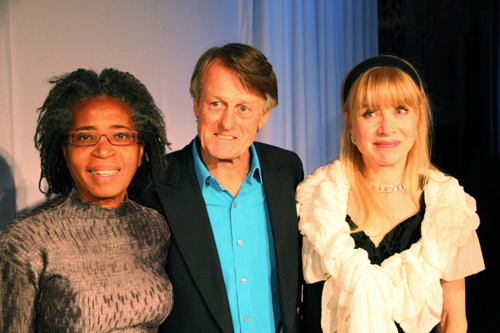 Gjertrud Schnackenberg (right), winner of the 2011 Griffin International Poetry Prize for Heavenly Questions, with Dionne Brand (left), winner of the Canadian Prize, and Griffin Prize founder Scott Griffin.
Griffin International Poetry Prize
2010: Heavenly Questions by Gjertrud Schnackenberg.
Griffin Lifetime Recognition Award
2018: Ana Blandiana; 2011: Yves Bonnefoy; 2007: Tomas Tranströmer.
Irish Times Poetry Now Award
2015: Caitríona O'Reilly.
Jackson Poetry Prize
2007: Elizabeth Alexander.
Jan Smrek Prize
2009: Pia Tafdrup.
John B. Keane Lifetime Achievement Achievement Award
2017: Brendan Kennelly.
John Florio Prize (Society of Authors literary translation prize, Italian into English.)
2016: Jamie McKendrick for Archipelago by Antonella Anedda.
Lannan Literary Awards Lifetime Achievement for Poetry
2007: Anne Stevenson; 1996: R.S. Thomas.
Lannan Poetry Award
2004 & 1990 Peter Reading; 1997: Ken Smith.
Lannan Literary Fellowship
2006: Brian Turner.
Laurel Prize
2020: Pascale Petit for Mama Amazonica.
Marten Toonder Prize for Literature
1998: Micheal O'Siadhail.
Michael Hartnett Poetry Award
2005: Kerry Hardie; 2001: Julie O'Callaghan.
Michael Murphy Memorial Prize
2017: Rebecca Perry; 2015: Hannah Lowe.
Miyazawa Kenji Prize
2008: Roger Pulvers for his translation work including Strong in the Rain by Kenji Miyazawa.
National Poet of Scotland (Scots Makar)
2016-21: Jackie Kay.
National Poet of Wales
2005: Gwyneth Lewis.
Neustadt International Prize for Literature
1990: Tomas Tranströmer; 1994: Kamau Brathwaite.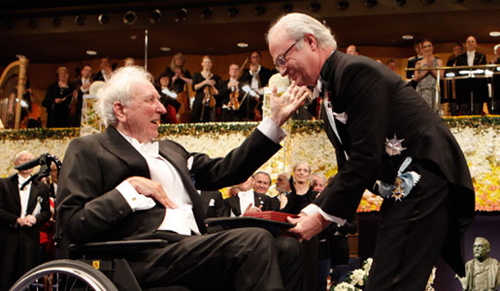 Tomas Tranströmer receives his Nobel Medal and Diploma from His Majesty King Carl XVI Gustaf of Sweden at the Nobel Prize Award Ceremony in Stockholm, 10 December 2011. (Copyright © The Nobel Foundation 2011. Photo: Lina Göransson)
Nobel Prize in Literature
2011 Tomas Tranströmer; 1979: Odysseus Elytis; 1974 Harry Martinson; 1971 Pablo Neruda; 1913 Rabindranath Tagore.
Noma Translation Prize
2013: Roger Pulvers.
Nonino International Literature Prize
2012: Yang Lian; 2004: Tomas Tranströmer.
Nordic Council Literature Prize
1999: Pia Tafdrup for Queen's Gate; 1998: Tua Forsström for After Spending a Night Among Horses; 1990: Tomas Tranströmer for For the Living and the Dead.
Northern Rock Foundation Writer's Award
2005: Gillian Allnutt; 2004: Tony Harrison; 2002: Anne Stevenson.
Paul Hamlyn Awards
1997: John Agard, Kathleen Jamie, Roy Fisher, Barry MacSweeney.
Pigott Poetry Prize
2020: Miriam Gamble; 2019: Ailbhe Darcy; 2013: Matthew Sweeney.
Poetry Foundation of Chicago Neglected Masters' Award
2007: Anne Stevenson; 2004: Samuel Menashe.
Pulitzer Prize
2009: Shadow of Sirius by W.S. Merwin; 2000: Repair by C.K. Williams.
Roland Mathias Poetry Award (Wales Book of the Year)
2019: Ailbhe Darcy for Insistence; 2012: Gwyneth Lewis for Sparrow Tree; 2015: Tiffany Atkinson for So Many Moving Parts; 2016: Philip Gross for Love Songs of Carbon.
Rožanc Award (Slovenia)
2007: Aleš Šteger.
RSL Ondaatje Prize
2018: Pascale Petit for Mama Amazonica.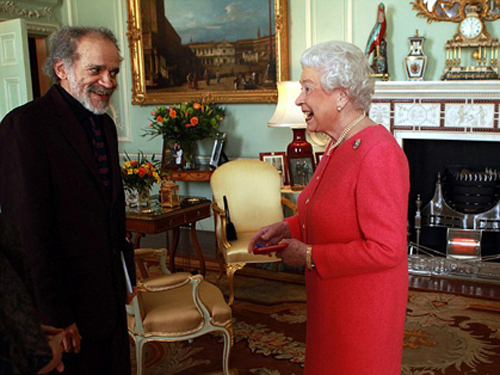 John Agard receives the Queen's Gold Medal for Poetry for 2012 from HM The Queen (and manages to make her laugh). (Photo © Reuters)
The Queen's Gold Medal for Poetry
2021: Grace Nichols; 2020: David Constantine; 2016: Gillian Allnutt; 2014: Imtiaz Dharker; 2012: John Agard; 2006: Fleur Adcock.
Rooney Prize for Irish Literature
2010: Leanne O'Sullivan; 2002: Catríona O'Reilly.
S.H. Raza Foundation Award
2010: Arundhathi Subramaniam.
Saif Ghobash-Banipal Prize for Arabic Literary Translation
2008: Fady Joudah for The Butterfly's Burden by Mahmoud Darwish.
Saltire Society Scottish First Book of the Year
1992: The Adoption Papers by Jackie Kay; 2014: Moontide by Niall Campbell.
Scottish Poetry Book of the Year
2022: How to burn a woman by Claire Askew.
Scottish Arts Council Book Awards
1996: Cabaret McGonagall by W.N. Herbert; 1995: Western Swing by Andrew Greig; Forked Tongue by W.N. Herbert; 1994: Queen of Sheba by Kathleen Jamie; 1992: The Luncheon of the Boating Party by Stewart Conn; Adoption Papers by Jackie Kay; 1991: Waiting for the Storm by Gerald Mangan; 1990:The Order of the Day by Andrew Greig; 1989: The Sin Eater by Deborah Randall; 1988: The Way We Live Now by Kathleen Jamie; 1987: Squaring the Waves by G.F. Dutton.
Seamus Heaney Centre for Poetry Prize for First Full Collection
2013: Pelt by Sarah Jackson.
Sewanee Review Aiken Taylor Award
2007: Anne Stevenson; 1990: W.S. Merwin.
Somerset Maugham Award
2018: Miriam Nash for All the Prayers in the House; 2010: Miriam Gamble for The Squirrels Are Dead; 1995: Kathleen Jamie for The Queen of Sheba; 1994: Jackie Kay for Other Lovers; 1993: Glyn Maxwell for Out of the Rain.
International Spycher Prize
2022: Aleš Šteger.
U.S. Poet Laureates
2011-12 Philip Levine; 2010-11 W.S. Merwin; 1995-97: Robert Hass.
Wales Book of the Year
2019: Ailbhe Darcy for Insistence.
Whitbread Poetry Prize / Costa Book Awards
2001: Bunny by Selima Hill; 1992: The Gaze of the Gorgon by Tony Harrison.