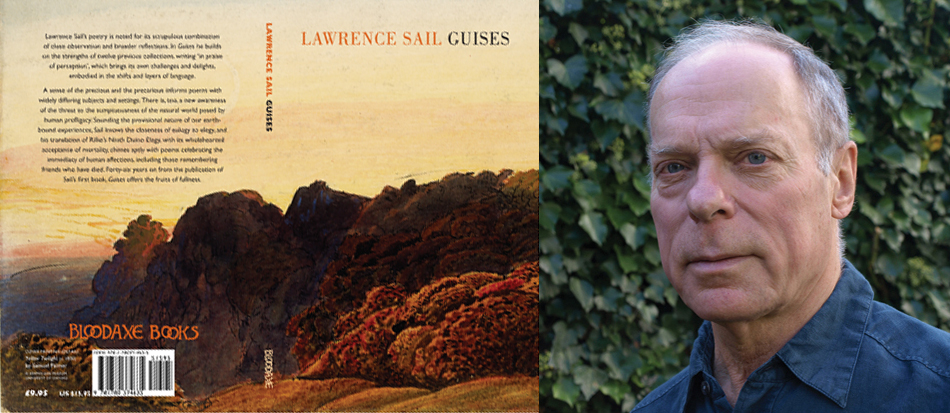 Lawrence Sail Readings
Lawrence Sail's poetry is noted for its scrupulous combination of close observation and broader reflections. In Guises he builds on the strengths of twelve previous collections, writing 'in praise of perception', which brings its own challenges and delights, embodied in the shifts and layers of language. His retrospective Waking Dreams: New & Selected Poems (Bloodaxe Books, 2010), a Poetry Book Society Special Commendation, was followed by The Quick (2015) and Guises (28 February 2020).
Lawrence Sail and host Julia Copus discussed two classic poems by Emily Dickinson - 'I heard a Fly buzz - when I died -' and 'I could die - to know -', in the Royal Literary Fund's Poetry Break series, released 17 November 2022. Listen via the RLF website here.
His article 'The Third Foot: Writers on Ageing', released on 24 October 2022, can be read on the RLF website here.
~~~
Ahead of the book launch for Guises, Literature Works asked Neil Astley of Bloodaxe Books to write a short piece about Lawrence Sail's poetry.
'Lawrence Sail's poems balance dream and history, delight and unease: they weigh the art of the possible against the encroachment of time. His characteristic themes are the border country between belief and doubt; the interplay of memory and imagination; the possibilities of art; and the context of silence. Attentive to the often alluring details of the material and natural world, many of them reflecting a lifelong love of the sea, his poems also contemplate the relationship between appearance and essence.'
Read the full piece here: https://literatureworks.org.uk/features/on-the-poetry-of-lawrence-sail-by-bloodaxe-books-editor-neil-astley/
[21 January 2020]