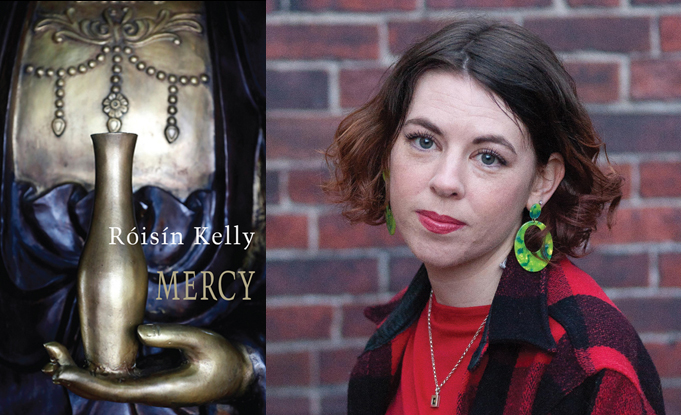 Róisín Kelly Reading
Róisín Kelly's first full-length collection Mercy was published by Bloodaxe on 26 March 2020. It was due to be launched at the Cork International Poetry Festival on 27 March, but sadly the festival had to had to be cancelled due to the coronavirus outbreak. Her reading at the Cúirt International Festival of Literature will go ahead however, only in digital form.
In Mercy, Róisín Kelly attempts to reconcile her Catholic background with her pagan heritage. Both intimate and political, her poems of love and loss sit alongside those looking at women's rights and oppressed peoples across the world. Her poetry draws on religion, nature, astronomy, history and mythology, as well as on her own extensive travels. Donald Trump's mother, Mary Anne MacLeod, features in a poem that takes its first line from 'The Colonel' in Carolyn Forché's The Country Between Us.
Born in west Belfast and raised in Leitrim, Róisín now lives in Cork. Her pamphlet Rapture (Southword, 2016) was described by Leanne O'Sullivan as 'fierce and mysterious, beautiful and compelling'.
Róisín Kelly was interviewed on RTE Radio 1's The Poetry Programme in 2018, alongside two other young Cork-based poets. She read poems from her highly-acclaimed chapbook Rapture (Southword, 2016). All three poets spoke at the opening of the programme (from 4.15), and Róisín read her poem 'Virgin' from 9:00 and 'Rose' at 26:00 (the latter is included in Mercy). Click here to listen.
Róisín Kelly will be talking about her debut collection Mercy in a forthcoming episode of the new Unlaunched Books podcast.
'In America' from Mercy was featured on RTE Culture's website as their Poem of the Day for 24 March 2020 here.
Carol Rumens discussed 'Easter' from Mercy in her Poem of the Week column for 6 April 2020 on The Guardian's website here.
The 35th Cúirt International Festival of Literature will be taking place online from April 23 - 25, 2020.
Friday 24 April 2020, 11am-12noon, Cúirt International Festival of Literature
Poetry Podcast – Michael Gorman and Róisín Kelly

Separated by a generation but both drawing on Ireland's distinct landscape, social history and mythology for their inspiration, poets Roisín Kelly and Michael Gorman are brought together on this live podcast to read from their latest collections. Róisín Kelly will be reading from her first full-length collection of poetry, Mercy.
Free digital event, but booking required. Book here.
Róisín Kelly reads from Mercy


Róisín Kelly reads and introduces four poems from Mercy, 'Mars in Retrograde', 'Tuam', 'Chameleon' and 'Tigers in Leitrim'', filmed by Neil Astley in Galway in April 2019.
[27 February 2020]