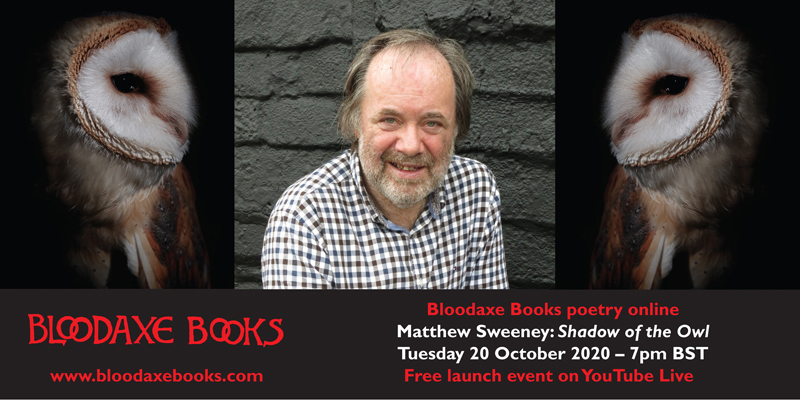 Matthew Sweeney's Shadow of the Owl – launch event
Matthew Sweeney's final collection Shadow of the Owl was launched on 20 October 2020 with an international online event hosted by Bloodaxe Books. Poets, friends and loved ones from around the world gathered to remember Matthew and to read from the book. With Mary Noonan (in Cork), Thomas Lynch (Indian River, Michigan, USA), Nico McClean (Belfast), Eiléan Ní Chuilleanáin (Dublin), David O'Meara (Ottawa), Maurice Riordan (London), Padraig Rooney (Münchenstein, Switzerland), and Jan Wagner (Berlin).
This very moving and poignant celebration of Matthew's life and poetry was hosted by editor Neil Astley from Tarset in Northumberland.
The posthumously published Shadow of the Owl is Matthew Sweeney's 13th collection, bringing together the poems he wrote during a year of debilitating illness. He died from Motor Neuron Disease in 2018 shortly after publishing My Life as a Painter, written before he became ill, but which was – like all his previous collections – preparation for this final work.
In a sequence of dark fables, a hapless figure is hounded by a procession of invisible enemies who want him dead. These jokers – kidnappers, assassins, liars all – have many methods at their disposal, from crucifixion or hanging to bombing or mauling by crocodile… A menacing owl comes to the garden each night for twelve nights, but refuses to deliver its devastating news.
All of Sweeney's verve and spiky humour are present in these last poems, following, as always, the unnerving logic of dreams. But the dream has become a nightmare, and the catastrophe, impending in all the earlier collections, has now come to pass.
For more than forty years Matthew Sweeney sought to capture, in poetry, the life of a body menaced and condemned to wander in a terrifying place – but a body fully alive to the sensuous pleasures of the world, and the vulnerability of exposure to its loss. His final poems are imbued with a lyrical beauty and great sadness at leaving that world just as the spirit was burning as brightly as ever.
Shadow of the Owl is a Poetry Book Society Wild Card Choice for Winter 2020.
~~~~
'...one of the most adventurous, life-enhancing and distinctive poets of his gifted generation.' – Bill Swainson paying tribute to the late Matthew Sweeney in The Guardian
'Matthew had the courage of his own idiosyncratic sensibility; nobody now writing has Matthew's gift for employing language and images of fable to such a dark and unsettling effect, ringing the changes from tenderness to dark comedy with such power and verve.' – Theo Dorgan, paying tribute to Matthew Sweeney in The Irish Times
'Matthew Sweeney has been a singular presence in Irish poetry for decades, and the much-travelled, Donegal-born poet had finished two reassuringly characteristic new books before his death in August. One of them, My Life as a Painter, includes many new signature poems, tales whose surprising images suddenly gather additional narrative force.' – John McAuliffe, The Irish Times
~~~~
Matthew Sweeney (1952-2018) was born in Lifford, Co. Donegal, Ireland. He moved to London in 1973 and studied at the Polytechnic of North London and the University of Freiburg. After living in Berlin and Timisoara for some years, he returned to Ireland and settled in Cork. He died in August 2018 from motor neurone disease.
His poetry collections include: A Dream of Maps (1981), A Round House (1983), The Lame Waltzer (1985) from Allison & Busby / Raven Arts Press; Blue Shoes (1989) and Cacti (1992) from Secker & Warburg; The Bridal Suite (1997), A Smell of Fish (2000), Selected Poems (2002), Sanctuary (2004) and Black Moon (2007) from Jonathan Cape; The Night Post: A Selection (Salt, 2010); Horse Music (2013), Inquisition Lane (2015), My Life as a Painter (2018) and Shadow of the Owl (2020) from Bloodaxe; and King of a Rainy Country (2018) from Arc, a book of prose poems set in Paris, and responding to Baudelaire's Le Spleen de Paris.
Black Moon was shortlisted for the T.S. Eliot Prize and for the Irish Times Poetry Now Award. Horse Music won the inaugural Pigott Poetry Prize in association with Listowel Writers' Week, and is a Poetry Book Society Recommendation. Shadow of the Owl is a Poetry Book Society Wild Card Choice for Winter 2020. He also published editions of selected poems in Canada (Picnic on Ice, Vehicule Press, 2002) and two translated by Jan Wagner in Germany, Rosa Milch (Berlin Verlag, 2008) and Hund und Mond (Hanser Berlin, 2017). Jan Wagner's German translation of Shadow of the Owl is forthcoming from Hanser Berlin.
He also published poetry for children, and edited The New Faber Book of Children's Poems (2003) and Walter De la Mare: Poems (2006) for Faber. He co-edited Emergency Kit: Poems for Strange Times (Faber, 1996) with Jo Shapcott; and co-wrote Writing Poetry (Teach Yourself series, Hodder, 1997) and the comic novel Death Comes for the Poets (Muswell Press, 2012) with John Hartley Williams.
Matthew Sweeney reads from Horse Music
Matthew Sweeney introduces and reads six poems from Horse Music (2013): 'Horse Music', 'Fans', 'The Tunnel', 'Sunday Morning', 'The Slow Story of No' and 'Booty'. Neil Astley filmed Matthew at his home in Cork in February 2012
[30 September 2020]