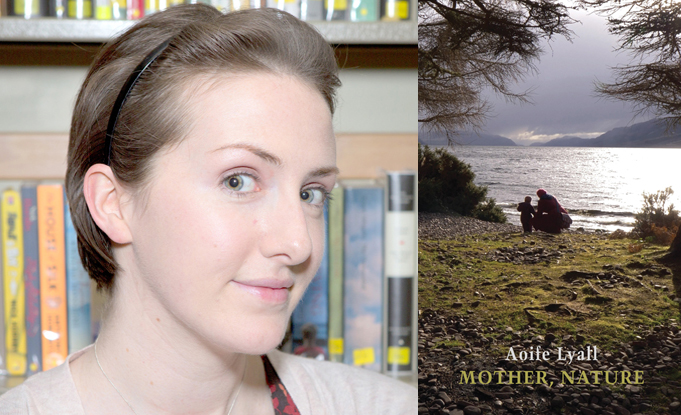 Aoife Lyall Readings
'Aoife Lyall's Mother, Nature is a beautiful and moving collection – a fine debut.' – Michael Longley
Inverness-based Irish poet Aoife Lyall's debut collection was published by Bloodaxe on 25 February 2021. The poems of Mother, Nature follow the poet's own experience of motherhood, from the trauma of pregnancy loss, to the overwhelming joy of a healthy birth. Her courageous, searing but tender poems of loss are deeply affecting – all the more so because of her understated language and formal control. As well as being shortlisted for the Hennessy New Irish Writing Awards in 2018 and 2016, Aoife Lyall was awarded an Emerging Scottish Writer residency by Cove Park in 2020.
An interview with Aoife Lyall features on Smogasbord 2020 here.
Bookanista
featured two of the poems from
Mother, Nature
ahead of the launch reading on 23 February 2021. Read the poems
here
. A video of the launch event is below.
Aoife Lyall's beautiful poem 'Silt' was featured in
Books Ireland
's 'poetry happening' column on 21 April, along with a video of Aoife reading the poem recorded especially for this feature. Read the poem and watch the film
here
(video posted below).

'Aoife Lyall's debut, Mother, Nature, explores pregnancy, loss, motherhood, hospitals and grief in moving lyric poems that amount to an extended sequence – the thematic resonance of the collection is detailed, and shows a thoroughness in its consideration of small moments of private grief... One of Lyall's most effective techniques is the exploration of paradox, the volta-like turning of the lyric and its imagery, which makes the best poems here particularly devastating in their contained forms.' - Seán Hewitt, The Irish Times
Available in full by subscription
here
.
Mother, Nature was reviewed by Claire Hennessy in the Irish Examiner's Weekend magazine as part of a feature on debuts by Irish women writers ahead of International Women's Day.
'Aoife Lyall's Mother, Nature reimagines work by Heaney and Dickinson with her new-mother eyes, in a collection that is both heart-warming and heart-breaking. After a miscarriage, she addresses her lost child: "the house you never lived in / is overwhelmed by all the people who didn't know to come."' - Claire Hennessy, Irish Examiner
Read the full feature here.
FORTHCOMING READINGS
Sunday 12th September 2021, Nairn Book & Arts Festival, Nairn

Aoife Lyall will be reading from her debut collection Mother, Nature at Nairn Book & Arts Festival.
Full details will be posted in due course here.
PAST READINGS

Saturday 1st May 2021, 2pm, The Stay-at-Home Literary Festival

Home in Our Bodies: Reading & Workshop

Join Aoife Lyall (Bloodaxe) and Victoria Kennefick (Carcanet) for a reading and discussion of their body-focused debut collections, followed by a generative workshop to help you to explore and connect with your physical self in a safe and welcoming environment. The event was streamed live on 1 May 2021, and is now on YouTube.
Aoife began by reading some poems from Mother, Nature, then Victoria read from her debut Eat or We Both Starve. This was followed by a short generative workshop.
Thursday 29 April 2021, 7:00 pm, West Cork Literary Festival

Unlaunched: Martina Evans, Victoria Kennefick and Aoife Lyall

A special event with Martina Evans, Victoria Kennefick and Aoife Lyall in conversation with Séan Hewitt and John McAuliffe from the Unlaunched Books podcast to mark Poetry Day Ireland.
Aoife Lyall read poems from her debut poetry collection Mother, Nature and joined the discussion afterwards.

Click here for more information. This wonderful event is due to go on YouTube.
~~~~
Aoife Lyall reads her poem 'Silt' from Mother, Nature in a film she made especially for Books Ireland. Read the poem on their 'poetry happening' feature here.
Tuesday 23 February 2021, joint launch event with Fleur Adcock, Tiffany Atkinson and Susan Wicks

Livestreamed event launching four new collections by Bloodaxe poets, all of whom were publishing new collections in February 2021. Aoife Lyall read third in each set (she is introduced by Editor Neil Astley at 19:40). The readings were followed by a very engaging discussion and Q&A with the online audience.
~~~~
'The Wanderers': a film poem by Ted Fisher after a poem by Aoife Lyall
The cover picture of Mother, Nature is a still from The Wanderers (2018), a film poem directed and produced by Ted Fisher in collaboration with Magma and the University of Edinburgh.
Aoife Lyall writes: 'The most significant thing I learned was that the poem isn't so much about welcoming my daughter into my life, as allowing myself to finally call Inverness home. I lived here for almost six years before she was born, and spent much of that comparing my life here to the life I had in Dublin. Walking the poem with Ted I came to realise it encapsulated what I had been missing – the accumulation of memories, moments, and experiences that layer themselves into the familiar.' 'The Wanderers' is included in Mother, Nature.
Aoife Lyall's poems 'Acrania' and 'Hermit Crab' were shortlisted for the Hennessy New Irish Writing Awards in 2018 - both are now included in her debut collection. A recording of Aoife reading 'Hermit Crab' is on the title page for Mother, Nature (click on 'related audio'); the poems were featured in The Irish Times of 28 January 2017 - read them here.

[04 February 2021]