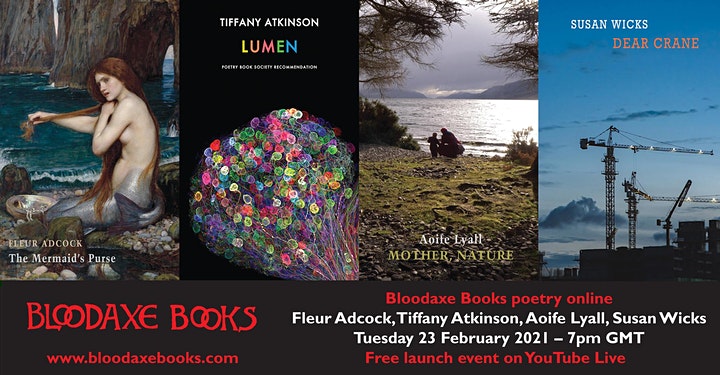 Launch reading by Fleur Adcock, Tiffany Atkinson, Aoife Lyall & Susan Wicks
Tuesday 23 February 2021, joint launch event with Fleur Adcock, Tiffany Atkinson, Aoife Lyall and Susan Wicks

Launch reading by Fleur Adcock, Tiffany Atkinson, Aoife Lyall and Susan Wicks. Hosted by editor Neil Astley from his home in Northumberland, this event was streamed live through the
Bloodaxe Books YouTube channel
on Tuesday 23rd February 2021.
The poets all read from their newly published collections, and then answered questions from the online audience. Fleur Adcock read first in each set. Wonderful readings by poets from four different generations, followed by a very engaging discussion.
Fleur Adcock began writing the poems in this book when she was 82. The two chief settings are New Zealand, with its multi-coloured seas, and Britain, seen in various decades. There are foreign travels, flirtations, family memories, deaths and conversations with the dead. Katherine Mansfield, incognito, dodges an academic conference; there's a lesson in water divining as well as a rather unusual Christmas party. We meet several varieties of small mammal, numerous birds, doomed or otherwise, and some sheep. The book ends with a sequence in memory of her friend, the poet Roy Fisher.
How might poetry help us articulate the body in illness, in work, and in love? Tiffany Atkinson's fourth collection includes the prize-winning sequence 'Dolorimeter', which takes fragments of speech and found text from a hospital residency to pay homage to the inventiveness and humour of patients and staff in a series of meditations on the notion that pain resists language. Away from the wards, other poems consider the strangeness of the workplace and the embarrassing incursions of desire into everyday life, celebrating the ability of poetic language to lay awkwardness and uncertainty alongside unexpected openings and glimpses of revelation.
Bookanista
featured two of the poems from the prize-winning opening sequence. Read the poems
here
.
Aoife Lyall: Mother, Nature
Aoife Lyall's debut collection Mother, Nature explores the tragic and tender experiences of pregnancy and early motherhood, from ante-natal complications and the devastating pain of miscarriage to the overwhelming joy of healthy delivery and healthy infancy. Born and raised in Dublin, Aoife Lyall now lives in the Scottish Highlands. 'There are poems in this collection that knocked me clean to the ground, as others offered me a warm hand up and others still, which stroked my backbone as I sobbed. The subject is crucial, but it's the beauty of the poems which hold it all together. "By law she carries you" is a line that I will never get out of my skin.' – Hollie McNish
Bookanista
have featured two of the poems from
Mother, Nature
. Read the poems
here
.
A giant crane appears at the back windows of a residential street, its beam swinging freely, its red 'eye' seeming to overlook the lives on the other side of the glass. In her eighth collection of poems, Susan Wicks writes searchingly about our ordinary existence, its serendipities and unreliable sense-impressions, its delight in a new generation, its brief escapes – but this earthbound perspective is also part of an implicit dialogue. Under the crane new buildings spring up, seasons shift, perspective varies, until, its work completed, the giant machine is ready to be driven away. By the time it leaves, the landscape we knew will have changed and we too will have moved on.
To order copies of the poets' books direct from Bloodaxe, please click on these links:
Fleur Adcock: The Mermaid's Purse
Tiffany Atkinson: Lumen
Aoife Lyall: Mother, Nature
Susan Wicks: Dear Crane
[05 February 2021]