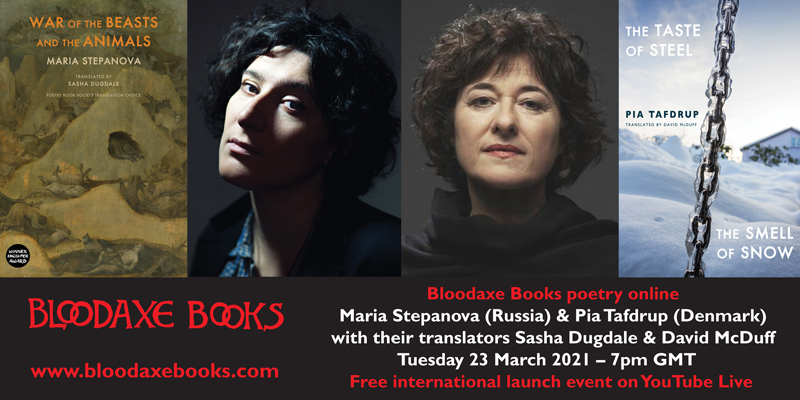 Launch reading by Maria Stepanova & Pia Tafdrup with Sasha Dugdale & David McDuff
Join Bloodaxe Books for this international reading by Maria Stepanova (Russia) and Pia Tafdrup (Denmark) with their translators Sasha Dugdale and David McDuff celebrating the publication of their new poetry collections.
Hosted by editor Neil Astley, this free Bloodaxe launch event will be streamed on YouTube Live through the
Bloodaxe Books YouTube channel
.
The poets will be happy to answer questions from the online audience after their readings. Register to attend via
this Eventbrite link
by 1pm the day before the event, and you will receive a reminder email. For those who can't make it live, the reading will be available on YouTube afterwards. If you miss the registration deadline, you can still watch live via the Bloodaxe YouTube channel
here.
Maria Stepanova: War of the Beasts and the Animals
Translated from the Russian by Sasha Dugdale
Maria Stepanova is one of Russia's most innovative poets and thinkers. Also a novelist, essayist and journalist, she has published ten poetry collections and three books of essays. War of the Beasts and the Animals, translated by Sasha Dugdale, is the first English translation of her poetry and a Poetry Book Society Translation Choice. Her documentary novel In Memory of Memory won Russia's Big Book Award in 2018 and is published in English in Sasha Dugdale's translation by Fitzcarraldo in the UK and New Directions in the US in 2021. Stepanova is the founder and editor-in-chief of the online independent crowd-sourced journal Colta.ru which covers the cultural, social and political reality of contemporary Russia, reaching audiences of nearly a million visitors a month in the past. She lives in Moscow.
War of the Beasts and the Animals includes her recent long poems of conflict 'Spolia' and 'War of the Beasts and Animals', written during the Donbas conflict, as well as a third long poem 'The Body Returns', commissioned by Hay International Festival in 2018 to commemorate the Centenary of the First World War. In all three long poems Stepanova's assured and experimental use of form, her modernist appropriation of poetic texts from around the world and her constant consideration of the way that culture, memory and contemporary life are interwoven make her work both pleasurable and deeply necessary.
This collection also includes two sequences of poems from her 2015 collection Kireevsky: sequences of 'weird' ballads and songs, subtly changed folk and popular songs and poems which combine historical lyricism and a contemporary understanding of the effects of conflict and trauma. Stepanova uses the ready forms of ballads and songs, but alters them, so they almost appear to be refracted in moonlit water. The forms seem recognisable, but the words are oddly fragmented and suggestive, they weave together well-known refrains of songs, apparently familiar images, subtle half-nods to films and music.
Sasha Dugdale
was editor of
Modern Poetry in Translation
from 2013 to 2017, and is co-editor of the anthology
Centres of Cataclysm: Celebrating Fifty Years of Modern Poetry in Translation
(Bloodaxe Books/MPT, 2016). She has translated many works of Russian poetry, prose and drama, including Tatiana Shcherbina's
Life Without: Selected Poetry & Prose 1992-2003
(Bloodaxe Books, 2004), Elena Shvarts's
Birdsong on the Seabed
(Bloodaxe Books, 2008), Chekhov's
The Cherry Orchard
(BBC Radio 3, 2008), and the short story collection
Moscow Tales
(Oxford University Press, 2013). Her translation of Elena Shvarts'
Birdsong on the Seabed
was shortlisted for both the Rossica Translation Prize and the Corneliu M. Popescu Award for European Poetry in Translation. From 1995 to 2000 she worked for the British Council in Russia. She has published five collections of her own poetry with Oxford/Carcanet, most recently
Deformations
(2020), which was shortlisted for the T.S. Eliot Prize.
*
Pia Tafdrup: The Taste of Steel • The Smell of Snow
Translated from the Danish by David McDuff
Pia Tafdrup
is one of Denmark's leading poets. She has published over 20 books in Danish since her first collection appeared in 1981, and her work has been translated into many languages. She received the 1999 Nordic Council Literature Prize – Scandinavia's most prestigious literary award – for
Queen's Gate
, which was published in David McDuff's English translation by Bloodaxe in 2001. Also in 2001, she was appointed a Knight of the Order of Dannebrog, and in 2006 she received the Nordic Prize from the Swedish Academy. She lives in Copenhagen.
The Taste of Steel
and
The Smell of Snow
are the first two collections in Pia Tafdrup's new series of books focussing on the human senses. While taste and smell dominate, the poems are equally about the way of the world and the losses that people sustain during the course of their lives – the disappearance of friends and family members, but also the erosion of control of one's own existence. The themes of ecology, war and conflict are never far away, and there is a constant recognition of the circular nature of life, the interplay of the generations.
Pia Tafdrup's previous series of themed collections was
The Salamander Quartet
(2002–2012). Written over ten years, its first two parts were
The Whales in Paris
and
Tarkovsky's Horses
, translated by David McDuff and published by Bloodaxe in 2010 as
Tarkovsky's Horses and other poems
. This was followed in 2015 by
Salamander Sun and other poems
, McDuff's translation of
The Migrant Bird's Compass
and
Salamander Sun
, the third and fourth parts of the quartet.
David McDuff
studied Russian and German at the University of Edinburgh. After living for some time in the Soviet Union, Denmark, Iceland, and the United States, he eventually settled in the UK, where he worked for several years as a co-editor and reviewer on the literary magazine
Stand
. His translations include both poetry and prose, including poems by Joseph Brodsky and Tomas Venclova, and novels including Karin Boye's
Kallocain
and Fyodor Dostoyevsky's
Crime and Punishment, The Brothers Karamazov,
and
The Idiot
(all four in Penguin Classics). He has published several translations with Bloodaxe, including books by Irina Ratushinskaya and Marina Tsvetaeva (from the Russian), Pia Tafdrup (Danish), Karin Boye and Edith Södergran (Swedish), and Gösta Ågren, Tua Forsström and Mirjam Tuominen (Finland Swedish). His literary awards include the 1994 TLS/George Bernard Shaw Translation Prize for his translation of Gösta Ågren's poems,
A Valley in the Midst of Violence
, published by Bloodaxe, and the 2006 Stora Pris of the Finland-Swedish Writers' Association (Finlands svenska författareförening), Helsinki. He was honoured with the Finnish State Award for Foreign Translators in 2013. From 2007 to 2010, he worked as an editor and translator with Prague Watchdog, the Prague-based NGO which monitored and discussed human rights abuses in Chechnya and the North Caucasus.
To order copies of the poets' books direct from Bloodaxe, please click on these links (orders go live on the Bloodaxe website from early March):
Maria Stepanova: War of the Beasts and the Animals
Pia Tafdrup: The Taste of Steel • The Smell of Snow
Other books by Pia Tafdrup:
Queen's Gate (2001)
Tarkovsky's Horses and other poems (2010)
Salamander Sun and other poems (2015)
[21 February 2021]