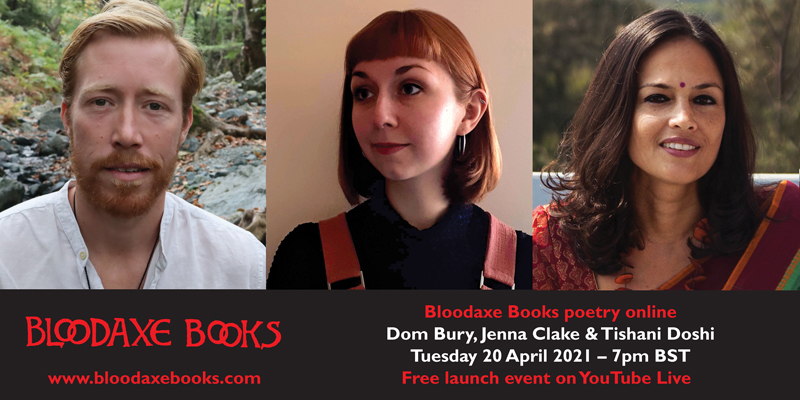 Launch reading by Dom Bury, Jenna Clake & Tishani Doshi
Join Bloodaxe Books for this international launch reading by Dom Bury, Jenna Clake and Tishani Doshi celebrating the publication of their new poetry collections.
Hosted by editor Neil Astley, this free Bloodaxe launch event will be streamed on YouTube Live through the
Bloodaxe Books YouTube channel
on Tuesday 20th April at 7pm. Tishani Doshi's contribution from India (where it will be the middle of the night) will be prerecorded but the other two poets will be happy to answer questions in the discussion session after the readings. Register to attend via
this Eventbrite link
by 1pm the day before the event, and you will receive a reminder email. For those who can't make it live, the reading will be available on YouTube afterwards. If you miss the registration deadline, you can still watch live via the Bloodaxe YouTube channel
here.
Dom Bury's Rite of Passage is an initiation into what it means to be alive on the planet in the midst of extinction, of climate, environmental and systematic collapse. It is a journey into the shadow of man's distorted relationship with the earth. And yet in the utter darkness of this hour, these often provocative poems suggest that there is hope. That we have had to come to the edge of our own annihilation as a species to collectively shift how we live, that only in the dark glare of this crisis, can a new world from the ashes of the old one now be formed. Dom Bury is a writer and activist who runs workshops on the emotional and human impacts of climate change and environmental degradation. He received an Eric Gregory Award in 2016 and won the 2017 National Poetry Competition with his poem 'The Opened Field'. Rite of Passage is his first collection. He lives in north Devon.
Jenna Clake's Museum of Ice Cream is part simulation, part internal monologue, part attempt to reach out. An uncanny examination of objects, scenes, and flavours, these poems explore how food can connect and divide, can feel isolating and terrifying: public and private jars of peanut butter, a tray of lemons, unfurling chocolate bar wrappers. In turning to television, childhood films, and social media accounts, her collection investigates how to reveal and conceal, what it means to have a secret, to be intimate, to navigate something that should be natural, but feels sickly, sour, and wrong. Museum of Ice Cream is Jenna Clake's second collection, following her debut Fortune Cookie (2017), winner of an Eric Gregory Award and the Melita Hume Poetry Prize, which was also shortlisted for a Somerset Maugham Award. She lectures at Teesside University and lives in Newcastle.
Tishani Doshi is an award-winning poet and dancer of Welsh-Gujarati descent. An exquisite collection from a poet at the peak of her powers, her fourth book of poetry, A God at the Door, spans time and space, drawing on the extraordinary minutiae of nature and humanity to elevate the marginalised. These poems, taken together, traverse history, from the cosmic to the everyday. Her poetry bestows power on the powerless, deploys beauty to heal trauma, and enables the voices of the oppressed to be heard with piercing clarity. From flightless birds and witches, to black holes and Marilyn Monroe, A God at the Door illuminates with lines and images that surprise, inflame and dazzle. Her debut collection, Countries of the Body (2006), won the Forward Prize for Best First Collection, and was followed by two collections from Bloodaxe, Everything Begins Elsewhere (2012) and Girls Are Coming Out of the Woods (2018). Her other books include two novels from Bloomsbury. She lives on a beach between two fishing villages in Tamil Nadu with her husband and dogs.
*
To order copies of the poets' books direct from Bloodaxe, please click on these links (orders go live on the Bloodaxe website from early April):
Dom Bury: Rite of Passage
Jenna Clake: Museum of Ice Cream
Tishani Doshi: A God at the Door
Other books by Tishani Doshi:
Girls Are Coming Out of the Woods (2018)
Everything Begins Elsewhere (2012)
https://www.bloodaxebooks.com/ecs/product/everything-begins-elsewhere-1031
[15 March 2021]