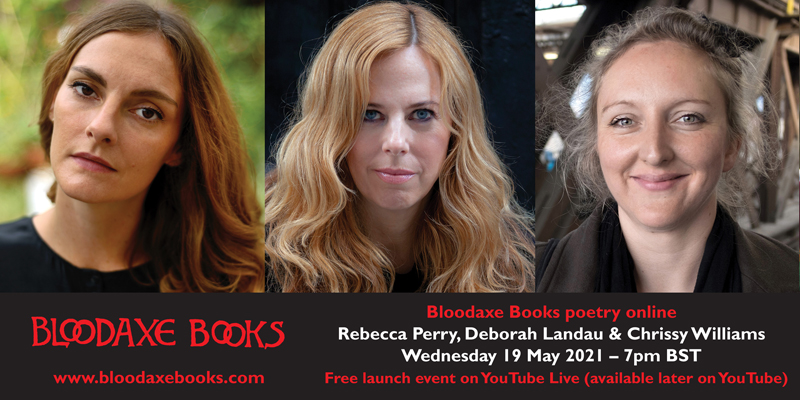 Launch reading by Rebecca Perry, Deborah Landau and Chrissy Williams
This outstanding international reading and discussion was live-streamed on 19 May 2021. It was a late UK launch for American poet Deborah Landau's fourth collection Soft Targets, published June 2020, and an early launch for Rebecca Perry and Chrissy Williams' second collections Stone Fruit and Low, which are published on 27 May. Deborah joined from her home in Brooklyn, with Rebecca and Chrissy joining from London. Hosted by Bloodaxe editor Neil Astley from his home in Northumberland.
Rebecca Perry read first in each set, followed by Chrissy and then Deborah. In the discussion that followed, they explored the themes of resistance and vulnerability (as Rebecca put it) that connect their three collections. This captivating and wide-ranging conversation begins at 51:30.
A collection of three distinct parts, the poems in Rebecca Perry's Stone Fruit nonetheless speak across their many common preoccupations: memory, grief, the fallibility of the physical form, our connection to and place in the world, natural and otherwise.
Opening with a study of a girl in a miniature portrait, expanding into lyrical prose pieces and closing with a reflective long poem – part elegy and part reflective essay on competitive trampolining – the poems are united by a desire to pay absolute attention to both the material and inner world. The worlds within this collection appear to be teeming with life but there is nothing frantic in this shifting. The care taken in the poems to properly look, to focus on stillness and acts of interrogation, often gives the feeling that they are being viewed through glass, or placed in a frame.
Stone Fruit is Rebecca Perry's second collection, and is a Poetry Book Society Recommendation. Her first collection Beauty/Beauty won the Michael Murphy Memorial Prize 2017. It was also shortlisted for the T.S. Eliot Prize, Fenton Aldeburgh First Collection Prize and Seamus Heaney Centre for Poetry Prize, and was a Poetry Book Society Recommendation. Rebecca Perry lives in London.
Deborah Landau's fourth book of poetry, Soft Targets, draws a bull's-eye on humanity's vulnerable flesh and corrupted world. In this ambitious lyric sequence, fear of annihilation expands beyond the self to an endangered planet on which all inhabitants are "soft targets". Her melancholic examinations recall life's uncanny ability to transform ordinary places – subways, cafés, street corners – into sites of intense significance that weigh heavily on the modern mind.
'O you who want to slaughter us, we'll be dead soon / enough what's the rush,' Landau writes, contemplating a world beset by political tumult, random violence, terror attacks and climate change. Still there are the ordinary and abundant pleasures of day-to-day living, though the tender exchanges of friendship and love play out against a backdrop of 21st-century threats with historical echoes, as neo-Nazis marching in the US recall her grandmother's flight from Nazi Germany.
Deborah Landau is director of the Creative Writing Program at New York University. She has published three previous collections in the US, most recently The Uses of the Body (2015) and The Last Usable Hour (2011) with Copper Canyon Press. Soft Targets was published in the US in 2019 and by Bloodaxe Books in the UK in 2020.
This new collection from one of Britain's most innovative poets is an exploration of identity in the face of loss. At its heart is a series of poems about the desolation of miscarriage. These poems try to understand the many different means we use to come closer to articulating, and avoiding, experience. Drawing on the language of comedy, improvisation, drag and clown, Low interrogates humour's role in enacting the possibility of change. A thought-provoking, irreverent and challenging book, Low exemplifies Chrissy Williams' ability to find 'seriousness in the apparently trivial and ephemeral' (Poetry Review).
Chrissy Williams' first collection Bear (Bloodaxe) was one of The Telegraph's 50 Best Books of the Year in 2017. She has also published several pamphlets, one of which was shortlisted for the Michael Marks Award. Low is her second full-length collection. She lives in London.
Chrissy has put together a great playlist of songs referenced in Low - watch and listen on YouTube here.
To order copies of the poets' books direct from Bloodaxe, please click on these links:
Rebecca Perry: Stone Fruit
Deborah Landau: Soft Targets
Chrissy Williams: Low
Also published by Bloodaxe Books:
Rebecca Perry: Beauty/Beauty (2015)
Chrissy Williams: Bear (2017)
Many thanks to Pete Hebden and NCLA for technical support.

[23 April 2021]