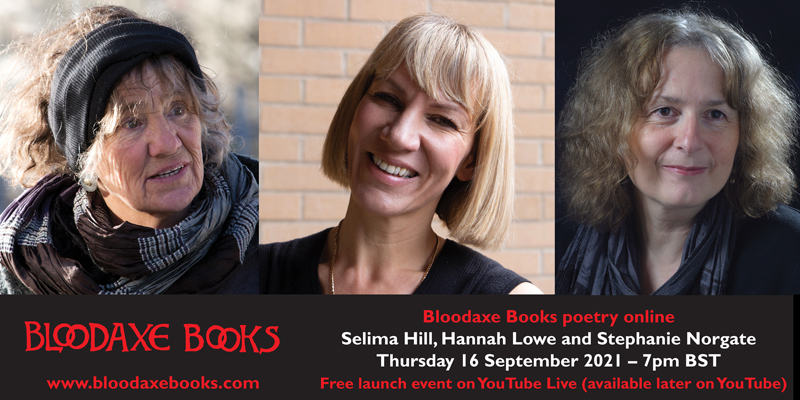 Launch reading by Selima Hill, Hannah Lowe and Stephanie Norgate
A joint launch reading by Selima Hill, Hannah Lowe and Stephanie Norgate celebrating the publication of their new poetry collections was live streamed on 16 September 2021.
Hannah Lowe and Stephanie Norgate read live and discussed their new collections with the host, Bloodaxe editor Neil Astley. Audio recordings of Selima Hill reading from and discussing her book with Emily Berry, editor of The Poetry Review, were extracted with permission from the Poetry Society's Poetry Review podcast of April 2021, and were accompanied by screenshares of the poems read and photographs of Selima Hill taken over the many years she has been published by Bloodaxe.
This joyful and very moving event is now on YouTube - see video below. Stephanie Norgate read first in each set, beginning with her poems in memory of her close friend and fellow Bloodaxe poet Helen Dunmore. Stephanie and Hannah discussed their third collections The Conversation and The Kids with host Neil Astley, talking among many other things about the difficult issue of how to write about real people. Selima Hill's conversation with Emily Berry is an absolute delight - she read and spoke about poems from her 20th collection Men Who Feed Pigeons, as well as much else besides. Stephanie and Hannah also read their favourite poems from Selima's book.
Men Who Feed Pigeons is Selima Hill's 20th collection, and is shortlisted for the 2021 Forward Prize for Poetry. The book brings together seven contrasting but complementary poem sequences by 'this brilliant lyricist of human darkness' (Fiona Sampson) relating to men and different kinds of women's relationships with men. The Anaesthetist is about men at work; The Beautiful Man with the Unpronounceable Name is about someone else's husband; Billy relates to friendship between a man and a woman; Biro is about living next door to a mysterious uncle with a dog; The Man in the Quilted Dressing-gown portrays a very particular old man; Ornamental Lakes as Seen from Trains is about a woman and a man she's afraid of; while Shoebill is another sequence about a woman and a man, but quite different from the others.
Selima Hill grew up in a family of painters in farms in England and Wales, and has lived in Dorset for the past 40 years. Her retrospective Gloria: Selected Poems (2008) draws on collections from Saying Hello at the Station (1984) to Roses (2006). This was followed by nine further collections: The Hat (2008); Fruitcake (2009); People Who Like Meatballs (2012), shortlisted for both the Forward and Costa poetry prizes; The Sparkling Jewel of Naturism (2014); Jutland (2015), shortlisted for the T.S. Eliot and Roehampton Poetry Prizes; The Magnitude of My Sublime Existence (2016), shortlisted for the Roehampton Poetry Prize; Splash Like Jesus (2017); I May Be Stupid But I'm Not That Stupid (2019); and Men Who Feed Pigeons (2021), shortlisted for the Forward Prize.
Thanks are due to The Poetry Society for permission to include excerpts from her podcast with Emily Berry in this online event.
Hannah Lowe taught for a decade in an inner-city London sixth form. At the heart of this book of compassionate and energetic sonnets are 'The Kids', her students, the teenagers she nurtured. But the poems go further, meeting her own child self as she comes of age in the riotous 80s and 90s, later bearing witness to her small son learning to negotiate contemporary London. Across these deeply felt poems, she interrogates the acts of teaching and learning with empathy and humour. Social class, gender and race – and their fundamental intersection with education – are investigated with an ever critical and introspective eye. The sonnet is re-energised, becoming a classroom, a memory box and even a mind itself as 'The Kids' learn and negotiate their own unknown futures. These boisterous and musical poems explore and explode the universal experience of what it is to be taught, and to teach, ultimately reaching out and speaking to the child in all of us.
Hannah Lowe was born in Ilford to an English mother and Jamaican-Chinese father, drawing on that family background in her first two books. She is a lecturer in Creative Writing at Brunel University. Her first book-length collection Chick (Bloodaxe Books, 2013) won the 2015 Michael Murphy Memorial Prize, was shortlisted for the Forward Prize for Best First Collection, the Fenton Aldeburgh First Collection Prize and the Seamus Heaney Centre Prize for Poetry. She read her family memoir Long Time No See on BBC Radio 4's Book of the Week in 2015. Her second full-length collection, Chan, was published by Bloodaxe in 2016. Her third collection, The Kids (2021), is the Poetry Book Society Choice for Autumn 2021. She lives in London.
Stephanie Norgate: The Conversation
In The Conversation, Stephanie Norgate explores relationships between nature and the city, the past and present, and character and writer. Shaped through both speech and storytelling, these visual, sensuous and imaginative poems celebrate friendship, even in grief, closeness in times of isolation and lockdown, and the longing to bridge gaps and find cures. Miracles are found in the everyday, in a child's sleep or a lit-up house. Textiles transform into remembrancers, landscape into emotion. A scrap of handwriting, cafe talk, an exploding car, the naming of fields or a line of walkers ignite conversations about place, time and the tender paradoxes of mortality.
Stephanie Norgate is a poet and playwright. Her plays have been broadcast on BBC Radio 4. For many years, she ran the MA in Creative Writing at Chichester University and is now a Royal Literary Fund Fellow. Her three collections of poetry with Bloodaxe are: Hidden River (2008), which was shortlisted for both the Forward Prize for Best First Collection and the Jerwood Aldeburgh First Collection Prize, The Blue Den (2012) and The Conversation (2021). She lives in Midhurst, West Sussex.
To order copies of the poets' books direct from Bloodaxe, please click on these links:
Selima Hill: Men Who Feed Pigeons
Hannah Lowe: The Kids
Stephanie Norgate: The Conversation
For details of the poets' previous books, click on these links:
Many thanks to Pete Hebden and NCLA for technical support.

[06 August 2021]