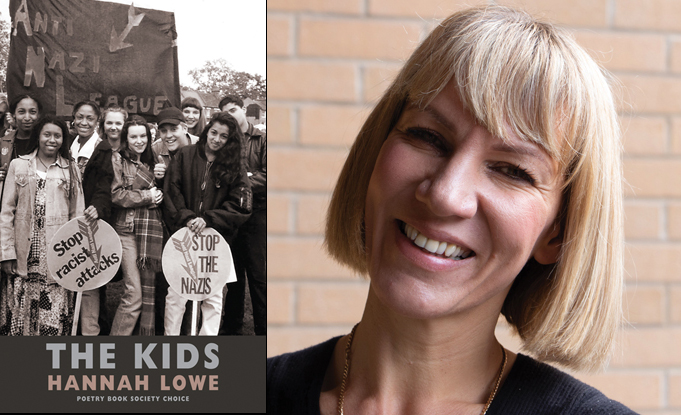 Hannah Lowe Launch Readings

'Always, we are in the hands of Lowe's singular, effortless voice, and reminded that all good education should be an education in class, in the legacies and histories of empire and in the self.' – Andrew McMillan, Poetry Book Society Bulletin
Hannah Lowe's third collection The Kids is published by Bloodaxe on 16 September 2021. It is the Poetry Book Society's Choice for Autumn 2021.
The book draws on Hannah Lowe's experience of teaching for a decade in an inner-city London sixth form. At the heart of this book of compassionate and energetic sonnets are 'The Kids', her students, the teenagers she nurtured. But the poems go further, meeting her own child self as she comes of age in the riotous 80s and 90s, later bearing witness to her small son learning to negotiate contemporary London.
The poems in the first section of the book draw on Hannah Lowe's experiences as a teacher in the 2000s, but the scenarios are largely fictitious, as are the names of the students.
Her previous two collections are Chick (2014), winner of the 2015 Michael Murphy Prize, and Chan (2016).
~~~
Hannah Lowe contributed to the BBC Radio 4 programme On Form: The Sonnet on 23 May 2021, alongside fellow Bloodaxe poet Vidyan Ravinthiran. Hannah read 'The Register' and 'Sonnet for the A Level English Literature and Language Poetry Syllabus' from The Kids.

Vidyan joined from 16:15 and Hannah at 21:30. LIsten here.
~~~~

The Kids was well reviewed by Mary Jean Chan in her Guardian round-up of the best recent poetry on 4 September 2021.

'Hannah Lowe's previous two collections, Chick and Chan, focused on her relationship with her Jamaican-Chinese father, alongside coming-of-age recollections. The Kids marks a departure: an introspective book of modern sonnets, it offers a glimpse into her experiences of teaching in an inner-city London sixth form. The collection includes homages to her own teachers, and concludes with a sequence lovingly written for her young son… This is a playful yet moving collection that will make the reader frown and laugh, sometimes both at once.' – Mary Jean Chan, The Guardian
Read in full here.
FORTHCOMING READINGS WITH HANNAH LOWE

Tuesday 28th September at 7pm (BST) on Poetry Book Society Book Club on Instagram Live

PBS Book Club with Hannah Lowe and Jack Underwood, hosted by Anthony Anaxagorou.
Watch for free live or later on Instagram @poetrybooksociety.
https://www.instagram.com/poetrybooksociety/?hl=en

Thursday 30 September, Over the Edge, Galway, 6.30-8pm (local Galway time) UTC+01
The Featured Readers include Liz O'Riordan and Hannah Lowe.
Zoom event.
Booking via facebook here.

Friday 1st October, 7pm, Wasifiri, A Chinese Diaspora Poetry Festival
Poetics of Home: Family History

Professor Susheila Nasta (QMUL/Wasafiri) leads a discussion with poets Shirley Lim, Jennifer Lee-Tsai, Hannah Lowe, and Kit Fan.
Free online event.
Click here to book.
Thursday 7 October 2021, Durham Book Festival, 3-4pm

PBS Showcase: Kazim Ali, Nidhi Zak/Aria Eipe and Hannah Lowe

Hannah Lowe's third collectionThe Kids is Poetry Book Society Choice for Autumn 2021. She'll be reading from it at the PBS Showcase at Durham Book Festival.
Hosted by Alice Mullen of the Poetry Book Society.
Online event. Tickets £5 or £20 as part of Digital Pass
Click here to book.
Monday 11 October 2021, What We Read Now, 7.30-9pm

A reading: Will Harris, Hannah Lowe, Richard Scott and Anna Selby

Online event. Free / paywhat you like.
Book via Eventbrite here.
14th October, Writers Mosaic Launch
Details to follow.


Thursday 25th November 2021, Newcastle Centre for the Literary Arts, 7pm to 8pm
PBS Autumn Showcase: Raymond Antrobus and Hannah Lowe

Raymond Antrobus' astonishing debut collection, The Perseverance (Penned in the Margins, 2018), won both the Rathbone Folio Prize and the Ted Hughes Award, amongst many other accolades; the poet's much anticipated second collection, All The Names Given (Picador, 2021), the PBS Autumn Recommendation, continues his essential investigation into language, miscommunication, place, and memory. The poems travel through space, shifting between England, South Africa, Jamaica, and the American South, and move fluently from family history, through the lust of adolescence, and finally into a vivid and complex array of marriage poems — with the poet older, wiser, and more accepting of love's fragility.
Hannah Lowe's third full-length collection The Kids (Bloodaxe, 2021) is the PBS Autumn Choice. Across these deeply felt poems, Lowe interrogates the acts of teaching and learning with empathy and humour. Social class, gender and race – and their fundamental intersection with education – are investigated with an ever critical and introspective eye. The sonnet is re-energised, becoming a classroom, a memory box and even a mind itself as 'The Kids' learn and negotiate their own unknown futures. These boisterous and musical poems explore and explode the universal experience of what it is to be taught, and to teach, ultimately reaching out and speaking to the child in all of us.
Hosted by John Challis, whose debut collection The Resurrectionists was published by Bloodaxe in June 2021.
The event is free to attend, and all welcome. Book here. Zoom details will be sent on booking.


Wednesday 8th December, The Coronet Theatre, Notting Hill Gate, London
Poetry Club: Kayo Chingonyi, Imtiaz Dharker, Hannah Lowe
The popular contemporary poetry series, Poetry Club, returns to The Coronet Theatre in their intimate auditorium, featuring readings from Kayo Chingonhyi,along with Bloodaxe poets Imtiaz Dharker and Hannah Lowe.

Tickets:
£15 standard
£12 concessions
Click here to book.
PAST READINGS - BLOODAXE LAUNCH AND POETRY EAST IN CONVERSATION EVENTS

Live-streamed Bloodaxe launch reading, 16 September 2021: Hannah Lowe, Stephanie Norgate and Selima Hill
A joint launch reading by Selima Hill, Hannah Lowe and Stephanie Norgate celebrating the publication of their new poetry collections was live streamed on 16 September 2021.
Hannah Lowe and Stephanie Norgate read live and discussed their new collections with the host, Bloodaxe editor Neil Astley. Audio recordings of Selima Hill reading from and discussing her book with Emily Berry, editor of The Poetry Review, were extracted with permission from the Poetry Society's Poetry Review podcast of April 2021, and were accompanied by screenshares of the poems read and photographs of Selima Hill taken over the many years she has been published by Bloodaxe.
This joyful and very moving event is now on YouTube - see video below. Stephanie Norgate read first in each set, beginning with her poems in memory of her close friend and fellow Bloodaxe poet Helen Dunmore. Hannah Lowe read second. Stephanie and Hannah discussed their third collections The Conversation and The Kids with host Neil Astley, talking among many other things about the difficult issue of how to write about real people. Selima Hill's conversation with Emily Berry is an absolute delight - she read and spoke about poems from her 20th collection Men Who Feed Pigeons, as well as much else besides. Stephanie and Hannah also read their favourite poems from Selima's book.
Saturday 25 September 2021, Poetry East, London Buddhist Centre, 7pm

51 Roman Road, London, E2 0HU
Poetry and Race: Hannah Lowe in conversation with Maitreyabandhu

Hannah Lowe was Maitreyabandhu's guest at Poetry East, London Buddhist Centre. In person at the LBC and on YouTube live - see video below.
Hannah Lowe is a poet, memoirist and academic. Her first poetry collection Chick (Bloodaxe, 2013) won the Michael Murphy Memorial Award for Best First Collection. In 2014, she was named as one of 20 Next Generation poets. She was in conversation with Maitreyabandhu about her poetry as well as launching her new Bloodaxe collection The Kids (a Poetry Book Society Choice). Hannah was born in Ilford to an English mother and a Jamaican-Chinese father. Her poetry explores family memories, race and difference.
[27 August 2021]