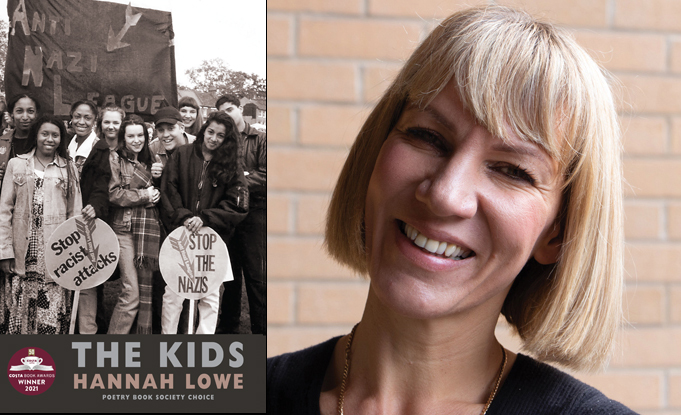 Hannah Lowe Readings
'Hannah Lowe's The Kids is a book to fall in love with - it's joyous, it's warm and it's completely universal. It's crafted and skilful but also accessible... You will love it!' - Reeta Chakrabarti, Chair of Judges, 2021 Costa Book of the Year

Hannah Lowe's third collection The Kids was published by Bloodaxe on 16 September 2021. It was the Poetry Book Society's Choice for Autumn 2021 and was 2021 Costa Book of the Year, as well as winning the 2021 Costa Poetry Award. It was also shortlisted for the 2021 T S Eliot Prize.
Hannah Lowe taught for a decade in an inner-city London sixth form during the 2000s. At the heart of this book of compassionate and energetic sonnets are fictionalised portraits of 'The Kids', the students she nurtured. But the poems go further, meeting her own child self as she comes of age in the riotous 80s and 90s, later bearing witness to her small son learning to negotiate contemporary London. Across these deeply felt poems, Lowe interrogates the acts of teaching and learning with empathy and humour. Social class, gender and race – and their fundamental intersection with education – are investigated with an ever critical and introspective eye. These boisterous and musical poems explore the universal experience of what it is to be taught, to learn and to teach.
Her previous two collections are Chick (2014), winner of the 2015 Michael Murphy Prize, and Chan (2016).
'Hannah Lowe's brilliant and entertaining book of sonnets, The Kids, is one of the most humorous and tender collections of recent times.' - Seán Hewitt, The Irish Times (The year in verse: the best poetry of 2021)
~~~
Hannah Lowe was interviewed by The Guardian on 4 February 2022, following her Costa Book of the Year award. She talked to Alison Flood about 'getting into writing later in life, the ethics of poems about former students and how her years working in schools shaped her thinking'. Read the full article online here.
The Kids was reviewed by Mary Jean Chan in her Guardian round-up of the best recent poetry on 4 September 2021. Read in full here.
~~~
Extracts from the T S Eliot Prize Readings, held on 9 January 2022 at London's Royal Festival Hall, were broadcast on BBC Radio 3's The Verb on Friday 14 January 2022, re-ordered and re-introduced by presenter Ian McMillan, who also hosted the event in London. Listen here. Hannah Lowe featured in the intro and from 6:33. Audio of the full T S Eliot Prize Readings (minus Ian McMillan's introductions) is now on YouTube here.
Hannah was interviewed on Radio 3's The Verb on 4 March 2022. She read two poems from The Kids, and her new poem 'Unbuckled' commissioned by The Verb on the subject of adversaries. Hannah contributes in the intro, then at 15:23 ('Janine I'), 27:14 ('Janine II') and again at 39:24 ('Unbuckled'). Listen here.

~~~~~~
Hannah Lowe's 'breathtakingly beautiful' sonnet 'Love' was featured by Steve Whitaker as his Poem of the Week for 6 September 2022 in The Yorkshire Times. Read the poem and Steve's commentary here: https://yorkshiretimes.co.uk/article/Poem-of-the-Week-Love-By-Hannah-Lowe
Read a short Q&A with Hannah here. Hannah was speaking to WORD!'s Lydia Towsey ahead of her reading in Leicester on 19 May 2022.
PAST READINGS - BLOODAXE LAUNCH AND POETRY EAST IN CONVERSATION EVENTS

Live-streamed Bloodaxe launch reading, 16 September 2021: Hannah Lowe, Stephanie Norgate and Selima Hill
A joint launch reading by Selima Hill, Hannah Lowe and Stephanie Norgate celebrating the publication of their new poetry collections was live streamed on 16 September 2021.
Hannah Lowe and Stephanie Norgate read live and discussed their new collections with the host, Bloodaxe editor Neil Astley. Audio recordings of Selima Hill reading from and discussing her book with Emily Berry, editor of The Poetry Review, were extracted with permission from the Poetry Society's Poetry Review podcast of April 2021, and were accompanied by screenshares of the poems read and photographs of Selima Hill taken over the many years she has been published by Bloodaxe.
This joyful and very moving event is now on YouTube - see video below. Stephanie Norgate read first in each set, beginning with her poems in memory of her close friend and fellow Bloodaxe poet Helen Dunmore. Hannah Lowe read second. Stephanie and Hannah discussed their third collections The Conversation and The Kids with host Neil Astley, talking among many other things about the difficult issue of how to write about real people. Selima Hill's conversation with Emily Berry is an absolute delight - she read and spoke about poems from her 20th collection Men Who Feed Pigeons, as well as much else besides. Stephanie and Hannah also read their favourite poems from Selima's book.
Saturday 25 September 2021, Poetry East, London Buddhist Centre, 7pm

51 Roman Road, London, E2 0HU
Poetry and Race: Hannah Lowe in conversation with Maitreyabandhu

Hannah Lowe was Maitreyabandhu's guest at Poetry East, London Buddhist Centre. In person at the LBC and on YouTube live - see video below.
Hannah Lowe is a poet, memoirist and academic. Her first poetry collection Chick (Bloodaxe, 2013) won the Michael Murphy Memorial Award for Best First Collection. In 2014, she was named as one of 20 Next Generation poets. She was in conversation with Maitreyabandhu about her poetry as well as launching her new Bloodaxe collection The Kids (Costa Book of the Year and a Poetry Book Society Choice). Hannah was born in Ilford to an English mother and a Jamaican-Chinese father. Her poetry explores family memories, race and difference.
[27 August 2021]