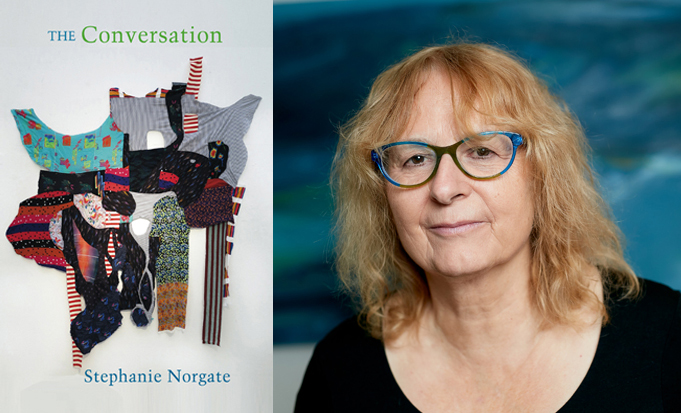 Stephanie Norgate Launch Readings
'Norgate's poetry is absolutely grounded in her detailed observations of the natural world around her, from which she often, but not always, reaches out into the concerns of the contemporary world... a fine collection.' – Diana Cant, The Alchemy Spoon


In The Conversation, Stephanie Norgate explores relationships between nature and the city, the past and present. Shaped through both speech and storytelling, these visual, sensuous and imaginative poems celebrate friendship, even in grief, closeness in times of isolation and lockdown, and the longing to bridge gaps and find cures. Stephanie Norgate's third collection includes a sequence of poems in memory of her close friend Helen Dunmore, who was one of the first poets to be published by Bloodaxe.
Stephanie Norgate is a poet and playwright. Her plays have been broadcast on BBC Radio 4. For many years, she ran the MA in Creative Writing at Chichester University and is now a Royal Literary Fund Fellow. Her three collections of poetry with Bloodaxe are: Hidden River (2008), which was shortlisted for both the Forward Prize for Best First Collection and the Jerwood Aldeburgh First Collection Prize, The Blue Den (2012) and The Conversation (2021). She lives in Midhurst, West Sussex.
Listen to Stephanie Norgate's Royal Literary Fund podcast 'The Classic Book I'd Like to Re-write' here.
Her Royal Literary Fund podcast 'Loneliness And the Writer' is here, and her piece on 'The Writer and Nature' is here.
Stephanie gave in-person launch readings at Petersfield Museum on 30 September 2021, and at The Novium Museum, Chichester on 7 October 2021.
A review of The Conversation has been posted on the University of Portsmouth's website here.
PAST READINGS

Live-streamed Bloodaxe launch reading, 16 September 2021: Hannah Lowe, Stephanie Norgate and Selima Hill
A joint launch reading by Selima Hill, Hannah Lowe and Stephanie Norgate celebrating the publication of their new poetry collections was live streamed on 16 September 2021.
Hannah Lowe and Stephanie Norgate read live and discussed their new collections with the host, Bloodaxe editor Neil Astley. Audio recordings of Selima Hill reading from and discussing her book with Emily Berry, editor of The Poetry Review, were extracted with permission from the Poetry Society's Poetry Review podcast of April 2021, and were accompanied by screenshares of the poems read and photographs of Selima Hill taken over the many years she has been published by Bloodaxe.
This joyful and very moving event is now on YouTube - see video below. Stephanie Norgate read first in each set, beginning with her poems in memory of her close friend and fellow Bloodaxe poet Helen Dunmore. Hannah Lowe read second. Stephanie and Hannah discussed their third collections The Conversation and The Kids with host Neil Astley, talking among many other things about the difficult issue of how to write about real people. Selima Hill's conversation with Emily Berry is an absolute delight - she read and spoke about poems from her 20th collection Men Who Feed Pigeons, as well as much else besides. Stephanie and Hannah also read their favourite poems from Selima's book.
[02 September 2021]