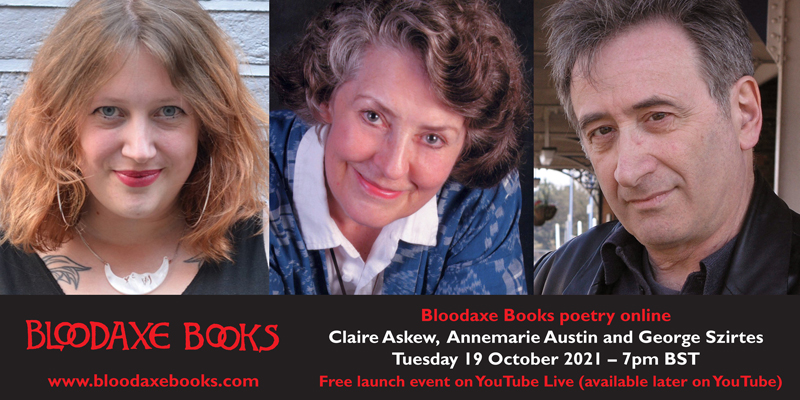 Launch reading by Claire Askew, Annemarie Austin and George Szirtes
Bloodaxe's joint launch reading by Claire Askew, Annemarie Austin and George Szirtes celebrating the publication of their new poetry collections was live-streamed on 19 October 2021, and is now available on YouTube (see video below).
Claire Askew and George Szirtes were reading live and discussing their new collections with the host, Bloodaxe editor Neil Astley, with audio recordings of Annemarie Austin reading, accompanied by screen-shares of her poems. Although three very different poets, their work explores memory, history, oppression, personal history and stories - themes that were explored by George and Claire in their conversation. As so often with these events, interesting connections between the poets were revealed, with both George and Claire having to cross borders and make lives in new countries as children (in Claire's case, this was moving to Scotland at the age of eight).
George Szirtes read first in each set, followed by Claire, and then Annemarie. George began by reading from the first section of Fresh Out of the Sky, a sequence of poems about his arrival in rainy England as a boy in 1956, having fled from Hungary with his family following the Hungarian Uprising. Claire Askew goes much further back in history with her first set of readings, beginning with a poem about her ancestor Anne Askew, who was tried as a heretic, tortured in the Tower of London and burned at the stake in 1546. This was followed by two more powerful poems about real women who were accused of witchcraft and executed. Claire gave a trigger warning so that anyone who does not wish to hear these poems could mute until the start of the next reading. In the second set, Claire read some of her contemporary poems about relationships, while George read some of his poems responding to the pandemic.
Annemarie Austin's audio recordings were a revelation for those of us who haven't had the chance to hear before - she gave such beautiful readings of her poems. As George said of her poems, 'They're very precicse, very quiet, but God they're sharp, and in that sharpness, there is a much-faceted brilliance.'
Claire Askew: How to burn a woman
Claire Askew's electrifying second collection How to burn a woman is an investigation of power: the power of oppressive systems and their hold over those within them; the power of resilience; the power of the human heart. It throngs with witches, outsiders, and women who do not fit the ordinary moulds of the world. It is a collection which traces historic atrocities, and celebrates the lives of those accused of witchcraft with empathy, tenderness and rage. It lifts a mirror up to contemporary systems of oppression and – in language that is both vivid and accessible – asks hard questions of our current world.
'In this book of spells, Askew stirs together smart, modern poems about whisky, heartbreak and male-female relationships with a darker sequence about our "foremothers" who were persecuted as witches. How to burn a woman is full of hard-won wisdom and beauty. The vibe is Kim Addonizio joins a coven.' – Clare Pollard
How to burn a woman is an October Scottish poetry pick in The Skinny magazine. Read in full here.
'Through poems of witches and outsiders, of women who lived on the fringes of ordinary, Askew dives into an exploration of love with her incisive language, poetic tenderness and electric rage.' – Beth Cochrane, The Skinny
Claire Askew was born in 1986, and grew up in the rural Scottish Borders. After living in Edinburgh for many years, she is currently based in Carlisle. In 2014 she was runner-up for the inaugural Edwin Morgan Poetry Award for an earlier version of her debut collection, This changes things (Bloodaxe Books, 2016), which was shortlisted for the Saltire Society First Book of the Year Award, the Seamus Heaney Centre Prize for First Full Collection and the Michael Murphy Memorial Prize 2017. Claire has been a Scottish Book Trust Reading Champion (2016/7), a Jessie Kesson Fellow (2017) and the Writer in Residence at the University of Edinburgh (2017-19). Also a novelist, her award-winning Edinburgh-based DI Birch series is published by Hodder & Stoughton. Her second full-length collection, How to burn a woman, is published in October by Bloodaxe.
*
Annemarie Austin: Shall We Go?
Annemarie Austin's vividly imaginative poems explore other worlds and other lives, drawing upon her own memories and experiences, as well as on art, travel, dream, myth, history and literature. Shall We Go? is her eighth book of poetry, following her Bloodaxe retrospective, Very: New & Selected Poems (2008) and later collection Track (2014). The first poem in her new collection asks 'Shall we go on the shiny?' and the last one ends 'being altogether gone this time'. In between there's the tightrope, 'The Walking Shot', the report on the pilgrimage in progress, the marquise going out at five o'clock. The eye moves left to right along with the poems' movement. Though there are stops from time to time, for problems of the unidentified, the location of waterholes, whether or not those birds are oystercatchers, for the interior of a pocket and Nijinsky jumping. Then on, maybe to the beach again.
Annemarie Austin was born in Devon and grew up on the Somerset Levels and in Weston-super-Mare, where she has lived for most of her life. She won the Cheltenham Literature Festival Poetry Competition in 1980, and her first collection, The Weather Coming (1987), was a Poetry Book Society Recommendation. Very: New & Selected Poems (Bloodaxe Books, 2008) includes work from all her collections, including On the Border (1993), The Flaying of Marsyas (1995), Door upon Door (1999) and Back from the Moon (2003). She has since written two further collections, Track (2014) and now Shall We Go? (2021).
*
George Szirtes: Fresh Out of the Sky
Fresh Out of the Sky is a book of songs, dreams, laments, narratives and comedies about major life-changes involving country, identity and belonging. It is about perpetually standing at the edge of change, anticipating it, reflecting on it and dreaming about it. The title sequence of the book returns to the terza rima theme of memory, following sequences in George Szirtes' earlier books, such as those about his early Budapest childhood explored in Reel, and about growing to adulthood in England in An English Apocalypse. Here the theme is his arrival in England as a child in 1956. Other parts of this expansive collection include the second part of The Yellow Room, a continuing poem of impossible questions about identity as residual Jewishness, in the form of a dialogue with Szirtes' late father, and Going Viral, dreamlike reports from the Covid bunkers we have all been inhabiting and ending on occasions of consolation, delight and joy in the midst of darkness and uncertainty. As well as interludes and dream songs there is also a bestiary of transformations woven through Guillaume Apollinaire and Graham Sutherland.
George Szirtes was born in Budapest in 1948, and came to England with his family after the 1956 Hungarian Uprising. Educated in England, he has always written in English, and in recent years has worked as a translator of Hungarian literature. His Bloodaxe titles include The Budapest File (2000); Reel (2004), winner of the T.S. Eliot Prize; New & Collected Poems (2008); The Burning of the Books and other poems (2009); Bad Machine (2013); Mapping the Delta (2016), a Poetry Book Society Choice; and now Fresh Out of the Sky (2021). His memoir of his mother, The Photographer at Sixteen (MacLehose Press, 2019), won the James Tait Black Memorial Prize for Biography. Szirtes lives in Norfolk and is a freelance writer, having retired from teaching at the University of East Anglia.
To order copies of the poets' books direct from Bloodaxe, please click on these links:
Claire Askew: How to burn a woman
https://www.bloodaxebooks.com/ecs/product/how-to-burn-a-woman-1279
Annemarie Austin: Shall We Go?
https://www.bloodaxebooks.com/ecs/product/shall-we-go--1253
George Szirtes: Fresh Out of the Sky
https://www.bloodaxebooks.com/ecs/product/fresh-out-of-the-sky-1280
For details of the poets' previous books, click on these links:
https://www.bloodaxebooks.com/ecs/category/claire-askew
https://www.bloodaxebooks.com/ecs/category/annemarie-austin
https://www.bloodaxebooks.com/ecs/category/george-szirtes
Many thanks to Pete Hebden and NCLA for technical support.
[08 September 2021]