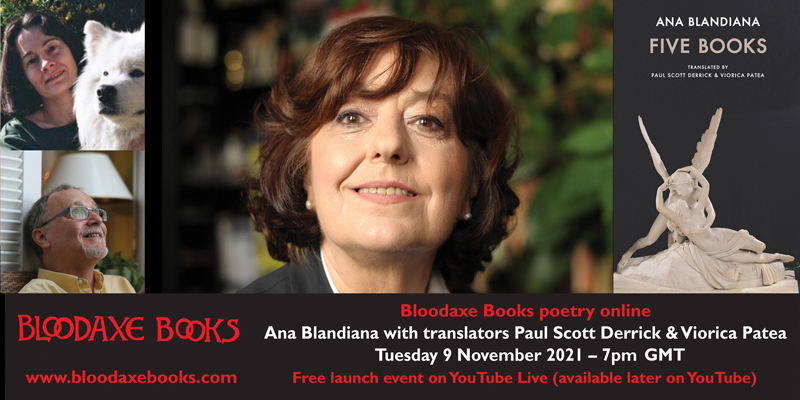 Launch reading by Ana Blandiana with her translators Paul Scott Derrick and Viorica Patea
Bloodaxe hosted an international launch reading by Ana Blandiana with her translators Paul Scott Derrick and Viorica Patea celebrating the publication of Five Books. The event was livestreamed on 9 November 2021, and is now on YouTube.
Ana Blandiana was reading poems from Five Books in Romanian, with Paul Scott Derrick and Viorica Patea reading their English translations and discussing the book with the host, Bloodaxe editor Neil Astley. Ana Blandiana joined live from Bucharest, Paul Scott Derrick from Valencia and Viorica Patea from Salamanca. Viorica also acted as interpreter for Ana Blandiana during their wide-ranging discussions. They talked about Ana's political and protest writing as well as her love poetry. A compelling event which delved deep into the wide range of poetry contained in Five Books.
To order copies of Five Books direct from Bloodaxe, please click on this link.
'The Romanian Ana Blandiana is one of Europe's greatest living poets, and she's well served by this substantial volume containing five previously untranslated collections. Ranging across her writing life, they create a layered portrait of a complex yet consistent poetic identity.' – Fiona Sampson, The Guardian, on Five Books
Ana Blandiana is one of Romania's foremost poets, a leading dissident before the fall of Communism. Over the years, her poetry became symbolic of an ethical consciousness that refuses to be silenced by a totalitarian government. This new translation combines five of her collections, three of protest poems from the 1980s followed by her two collections of love poetry.
The poems of Predator Star (1985) and The Architecture of Waves (1990) chronicle a convulsed history and pose the question of how to resist the terror of history. Clock without Hours (2014) marks a return to rhyme, as Blandiana attempts a courageous renovation of traditional verse forms. Her fiercely militant voice – that helped inaugurate the postmodern idiom in Romanian poetry in 1984 – has modulated over time into a new tone of forgiveness and renunciation, expressed in meditations on the fragility and vulnerability of being.
She has also written two collections of love poems which rank among the most beautiful in contemporary Romanian poetry – October, November, December (1972) and Variations on a Given Theme (2018) – the second of these composed after the death of her husband, Romulus Rusan, in 2016.
A prolific and expansive poet, Ana Blandiana constantly re-invents herself. Her work ultimately reflects on universal issues, on human existence itself in our 21st-century consumer society.
For full details of Ana Blandiana's work and her other books please see this link.
A poem from
Five Books
is featured in European Literature Network's
Poetry Travels
column
here
.
Many thanks to Pete Hebden and NCLA for technical support.
[26 October 2021]