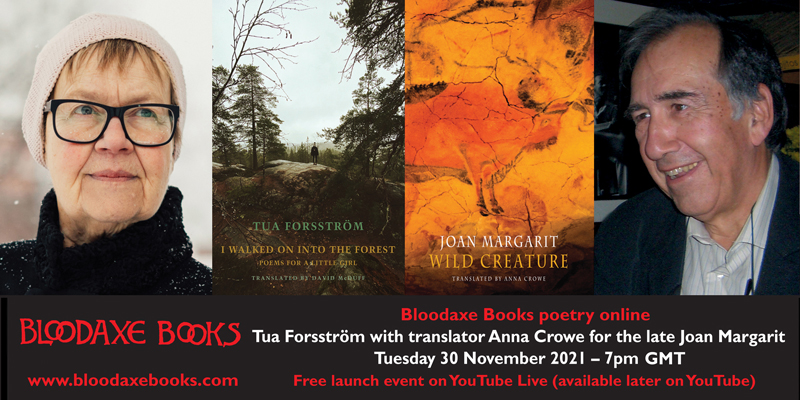 Launch reading by Tua Forsström and translator Anna Crowe for the late Joan Margarit postponed
Our launch reading by Tua Forsström and translator Anna Crowe for the late Joan Margarit celebrating their new books from Bloodaxe has had to be postponed. This is due to Storm Arwen having cut power to editor Neil Astley's home in Northumberland from where he would be hosting this event. A new date is being arranged for January. The details of the event are retained below and will be revised once a new date is confirmed. It may be possible to retain the same YouTube and Eventbrite links so those are left as they are here for now. An updated page will be posted shortly and everyone who has registered for the event via Eventbrite will be notified by email.
Finland-Swedish poet Tua Forsström (in Helsinki) will read poems from I walked on into the forest in Swedish, with the host, Bloodaxe editor Neil Astley, reading David McDuff's English translations. Anna Crowe (in St Andrews) will introduce and read her translations from Wild Creature, the final book by Joan Margarit, who died earlier this year, with the original poems read in Catalan by writer Josep Llobera Capllonch (in Barcelona). The event will also include archive video of Joan Margarit himself reading with Anna Crowe in his inimitable style.
This free Bloodaxe launch event will be streamed on YouTube Live on this YouTube page: https://youtu.be/RO5TcnymcA4 Please note that you will not be joining on Zoom, so you should not worry about logging in on Zoom. No log-in is needed. You just need to go to the YouTube page at 7pm GMT.
If you register to attend on Eventbrite you will receive an event link reminder by email by midday the day before the event: this is the Eventbrite link.
The Eventbrite ticket will not give you the event link. If you're looking for the event link on the night just come back to this page and click on the play arrow in the YouTube panel below. If you miss the registration deadline, you can still watch live via the Bloodaxe YouTube channel here: https://www.youtube.com/watch?v=RO5TcnymcA4
To order copies of the poets' books direct from Bloodaxe, please click on these links (available via the Bloodaxe website from early November):
Tua Forsström: I walked on into the forest: poems for a little girl
*
Tua Forsström: I walked on into the forest: poems for a little girl translated by David McDuff
Tua Forsström is a visionary Finland-Swedish poet who has become Finland's most celebrated contemporary poet. Her poetry draws its sonorous and plangent music from the landscapes of Finland, seeking harmony between the troubled human heart and the threatened natural world.
I walked on into the forest is her twelfth book of poetry, her first since One Evening in October I Rowed Out on the Lake (2012/2015), the collection which followed her celebrated trilogy, I studied once at a wonderful faculty (2003), published in English translation by Bloodaxe in 2006.
In some sense a continuation of the previous collection, her new book focuses more acutely on the themes of death and grief, and in particular the devastating loss of her beloved granddaughter. It shows her poetry's tone of inner discourse shifting imperceptibly towards a new and harsh gravity. As Sweden's August Prize jury commented on her work as a whole, this is poetry 'both melancholy and impassioned', expressing a 'struggle against meaninglessness, disintegration, destruction – against death in life'.
This Bloodaxe dual language Swedish-English edition is a Poetry Book Society Translation Choice. Thanks are due to FILI (Finnish Literature Exchange) for their support.
*
Joan Margarit: Wild Creature translated by Anna Crowe
Joan Margarit (1938-2021) was one of Spain's major modern writers. He first published his work in Spanish, but over the past four decades became known for his mastery of the Catalan language, and was Spain's most widely acclaimed contemporary poet. The melancholy and candour of his poetry show his affinity with Thomas Hardy, whose work he translated. He was awarded both the 2019 Cervantes Prize, the Spanish-speaking world's highest literary honour, and the Reina Sofía Prize for Ibero-American Poetry 2019, the most important poetry award for Spain, Portugal and Latin America.
His final collection in English shows us a poet writing at the end of his life, facing up to approaching death with courage, humility and even humour. Confronting loss is one of Margarit's enduring themes, and many of these poems do just that but – continuing the theme of his previous collection, Love Is a Place – there are even more that celebrate love and everyday domesticity, and he reminds us that love needs to be worked at. These are poems that arise naturally out of an examined life, and although he does not spare himself or the folly of our times, there is great tenderness in the way he reaches out to embrace life, love, and the pain of the past. Margarit pays tribute the rural poverty of his childhood, and to the wild creature deep in each one of us whom we ignore at our peril.
'When I first read Joan Margarit, I heard a powerfully distinctive voice, a spirit of great freedom and energy, humaneness, mischief, and depth. In these naked, subtle, clear poems, surprise and wisdom are often right next to each other… Each of Margarit's poems is its own being, like a living creature with its own body-shape and voice, its own breath and heart-beat.' – Sharon Olds on Love Is a Place
Thanks are due to the Instituto Cervantes for their support.
Click on their names for details of other books by Tua Forsström and Joan Margarit.
Many thanks to Pete Hebden and NCLA for technical support.
[26 October 2021]