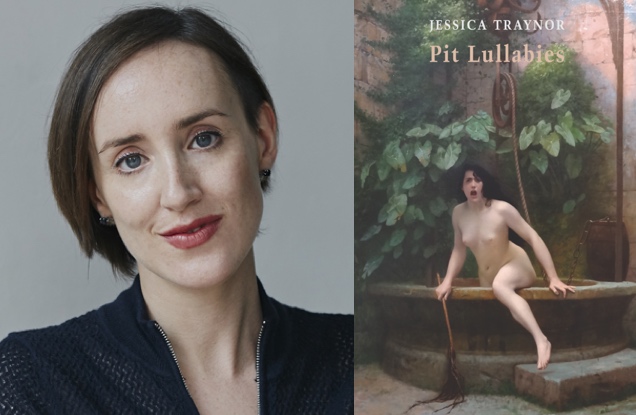 Jessica Traynor Readings
'Fierce and profound, Pit Lullabies is one of the vital books of the new Irish poetry.' - Ciarán O'Rourke, New Hibernia Review
Jessica Traynor's third collection Pit Lullabies was published by Bloodaxe in March 2022. It was a Poetry Book Society Recommendation for Spring 2022 and was shortlisted for the inaugural Yeats Society Poetry Prize in 2023. It follows Liffey Swim (2014) and The Quick (2019) from Ireland's Dedalus Press.
The intimate, visceral and often wickedly funny poems of Pit Lullabies journey through the darker days of new parenthood, teasing out the anxieties which plague us when night falls. Violence against women, the destruction of our environment, the poisons and pitfalls of 21st-century living are explored here in poems by turns lyrical and earthy, yearning and angry.
Jessica Traynor is the recipient of the Lawrence O'Shaughnessy Award for Poetry 2023, which honours outstanding Irish poets based in Ireland. She received her award in the USA in May 2023.
Pit Lullabies was one of Sinéad Gleeson's 'stellar Irish writing' picks in The Irish Times' Best books of 2022 of 26 November 2022. Read the feature here.
The collection was also chosen by Irish Times poetry critics Martina Evans and Seán Hewitt for their best new poetry of 2022 feature in The Irish Times. Available by subscription here.
Further reviews, interviews and poem features for Pit Lullabies are on our news page here.
PAST EVENTS
A stunning Adrian Brinkerhoff Poetry Foundation film of Jessica Traynor reading her poem 'Onion Poem' from Pit Lullabies was premiered a the Irish Arts Centre in New York at the 13th Annual PoetryFest in December 2022. Jessica read in person at the festival alongside Ilya Kaminsky.
Launch reading by Moniza Alvi, Amali Gunasekera and Jessica Traynor on Thursday 24th March 2022
Live-streamed launch event by Moniza Alvi, Amali Gunasekera and Jessica Traynor celebrating the publication of their new poetry collections.
The readings were followed by a discussion with the host, Bloodaxe editor Neil Astley. Now available on YouTube - see video below. Jessica reads last in each set.
Poetry Book Society Instagram Live event - Wednesday 26 January 2022
Jessica Traynor read from her third collection Pit Lullabies for PBS Instagram Live. She appeared alongside Emily Berry, and was in conversation with Anthony Anaxagorou. Pit Lullabies is a Poetry Book Society Recommendation for Spring 2022.
The event is available to watch on the PBS Instagram.
Jessica Traynor's poem 'Holidaying with Dad During the Divorce' from Pit Lullabies is featured in the Winter/Spring 2022 issue of the American journal TriQuarterly. The poem was featured online on 15 January 2022, along with audio of Jessica reading it, which can be found here.
Jessica Traynor appeared on the Words Lightly Spoken podcast in 2019, reading the poem 'If you can tame a wildcat you can raise a baby', which is now published in Pit Lullabies. The recording can be found here.
[24 March 2022]