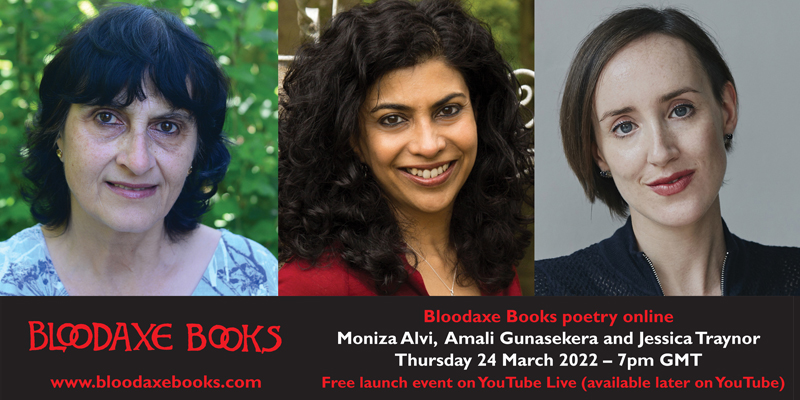 Launch reading by Moniza Alvi, Amali Gunasekera and Jessica Traynor
This launch reading by Moniza Alvi, Amali Gunasekera and Jessica Traynor, celebrating the publication of their new poetry collections, is now available to view on YouTube
The authors read from and discussed their new collections with the host, Bloodaxe editor Neil Astley. This free Bloodaxe launch event was streamed on YouTube Live and is now available to view below and on YouTube here:
https://youtu.be/sAhYBPJDuhg
.
Moniza Alvi read first in each set, followed by Amali Gunasekera, then Jessica Traynor. They all joined Neil Astley at the end of the readings for a wide-ranging and fascinating discussion about themes raised in their collections.
To order copies of the poets' books direct from Bloodaxe, please click on these links (available via the Bloodaxe website from early March). If you are in Ireland or elsewhere in the EU, you can pre-order via Books Upstairs in Dublin:
Moniza Alvi: Fairoz
Amali Gunasekera: The Golden Thread
Jessica Traynor: Pit Lullabies
For details of the poets' previous books, click on these links:
*
Moniza Alvi: Fairoz
Fairoz is a book-length poetry sequence in which Moniza Alvi explores an imagined teenage girl's susceptibility to extremism. The book's fragmented, collaging narrative draws together fairytale elements, glimpses of Fairoz's thoughts, and pieces of dialogue. A folkloric representation of God and the devil acts as a wry counterpoint, touching on questions of morality. Fairoz is a powerful portrayal of human vulnerability.
Moniza Alvi was born in Pakistan and grew up in Hertfordshire. Her most recent poetry titles are Fairoz (2022), Blackbird, Bye Bye (2018); her book-length poem, At the Time of Partition (2013); Homesick for the Earth, her versions of the French poet Jules Supervielle (2011); Europa (2008); and Split World: Poems 1990-2005 (2008), which includes poems from her five previous collections, The Country at My Shoulder (1993), A Bowl of Warm Air (1996), Carrying My Wife (2000), Souls (2002) and How the Stone Found Its Voice (2005). The Country at My Shoulder was shortlisted for the T.S. Eliot and Whitbread poetry prizes, and Carrying My Wife was a Poetry Book Society Recommendation. Europa and At the Time of Partition were selected as Poetry Book Society Choices in 2008 and 2013 respectively and both were shortlisted for the T.S. Eliot Prize.
*
Amali Gunasekera: The Golden Thread
Blending the sacred and the everyday, Amali Gunasekera's second collection The Golden Thread is a search for grace through the deep process of transmuting emotional trauma into peace. She takes up Muriel Rukeyser's famous line: 'What would happen if one woman told the truth about her life? The world would split open.' Her book's central sequence, Nine [Miscarried] Methods, considers the challenge of asserting a woman's equal status within a patriarchal objectified culture.

Approaching the polemic or the existential with a gentle touch, this is poetry as lyric essay, mysterious and shapeshifting as sunlight on water. Formally, the poems explore the instability of the lyric 'I' and the addressed 'You'. Often there is no static vantage point; instead, the 'I' and 'You' are verbs in a state of becoming. Their very unfixity reflects dynamic systems in the natural world where elements are constantly interacting and altering their natures.

Amali Gunasekera was born and grew up in Sri Lanka. She works in the field of Archetypal Psychology. After living in Mozambique, Kenya and India, she is now based in Cumbria. Her first collection, Lotus Gatherers, was published by Bloodaxe in 2016 (under her former name of Amali Rodrigo).
*

Jessica Traynor: Pit Lullabies
These intimate, visceral and often wickedly funny poems journey through the darker days of new parenthood, teasing out the anxieties which plague us when night falls. Violence against women, the destruction of our environment, the poisons and pitfalls of 21st-century living are explored here in poems by turns lyrical and earthy, yearning and angry. They mine gold from the darkness and seek luminescence in the deepest oceans.
Jessica Traynor was born in Dublin in 1984 and is a poet, essayist and librettist. Her debut collection, Liffey Swim (Dedalus Press, 2014), was shortlisted for the Strong/Shine Award and in 2016 was named one of the best poetry debuts of the past five years on Bustle.com. Her second collection, The Quick, was a 2019 Irish Times poetry choice. Her third collection, Pit Lullabies (Bloodaxe Books, 2022), is a Poetry Book Society Recommendation. She has received awards including the Hennessy New Writer of the Year, the Ireland Chair of Poetry Bursary, and the Listowel Poetry Prize. In 2016, she was named one of the 'Rising Generation' of poets by Poetry Ireland.
[01 March 2022]