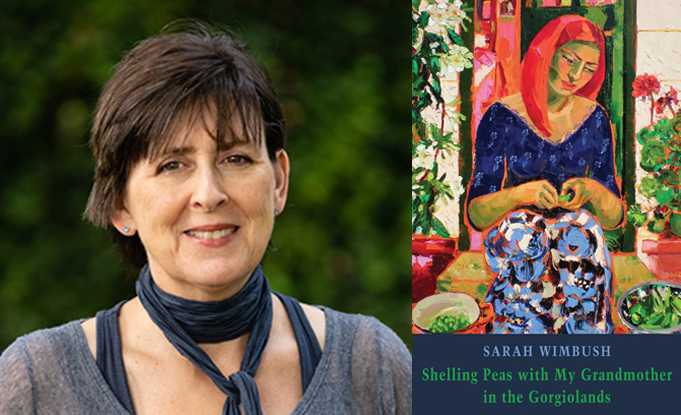 Sarah Wimbush Readings
Sarah Wimbush is a Leeds poet who was brought up in Doncaster. She has published two pamphlets: Bloodlines (Seren, 2020), winner of the Mslexia/PBS Poetry Pamphlet Competition 2019, which was also shortlisted in the Michael Marks Awards, and The Last Dinosaur in Doncaster (Smith|Doorstop, 2021), a winner of the Poetry Business Book and Pamphlet Competition in 2020.
In Shelling Peas with My Grandmother in the Gorgiolands, her first book-length collection, Sarah Wimbush journeys through myth and memory with poetry rooted in Yorkshire. From fireside tales of Romany Gypsies and Travellers, through pit villages and the haunt of the Miners' Strike, to the subliminal of the everyday – including poems about typists, pencil sharpeners and learning to drive in a Ford Capri. This highly accomplished debut collection explores what it means to belong, what it means to be on the margins. This is poetry written in praise of family and community and those qualities which make us human: love, language and, most of all, resilience.
FORTHCOMING EVENTS
Tuesday 31 May, 7pm
Online launch reading by Jo Clement, Sarah Wimbush and Clare Shaw
Join Bloodaxe Books for this launch reading by Jo Clement, Sarah Wimbush and Clare Shaw celebrating the publication of their new poetry collections.
More details, including the YouTube link and Eventbrite booking page, can be found here.
Wednesday 8 June, 7pm (online)
Cheltenham Poetry Festival 2022
Sarah will be reading via Zoom with Jo Clement. More event details available here.
Saturday 18 June, 3pm, Words on the Wall, The County Hotel, Hexham, NE46

Sarah Wimbush will be reading at Words on the Wall alongside Rowan McCabe and Judi Sutherland.
2.30pm for 3pm start, plus open mic.
More details on facebook here.
Friday 24 June, 7-9pm
Yorkshire Arboretum
Join guest poets Stuart Pickford and Sarah Wimbush, plus Poet-in-Residence and Arboretum Trustee Chris Bridge, for a midsummer's evening of poetry reading in the stunning surroundings of the arboretum.
More details here.
Sunday, 3rd July 2022, 3:00 pm - 4:00 pm, Ledbury Poetry Festival

Burgage Hall, Ledbury, HR8 1DW, United Kingdom
Jo Clement, Raine Geoghegan and Sarah Wimbush

Hear three poets with new collections read and hold conversations about their work with [Ledbury Critic]. Dr Jo Clement has published and broadcast her works with The Travellers' Times
and BBC Radio. Her first book-length collection, Outlandish confronts Romantic impressions of British Gypsy ethnicity and lyrically lays them to rest. Raine Geoghegan is a UK-born poet, writer and playwright of Romany descent with two pamphlets, Apple Water: Povel Panni and they lit fires: lenti hatch o yog and full a collection forthcoming The Talking Stick: O Pookering Kosh. Sarah Wimbush's poetry is rooted in Yorkshire with tales of childhood, colliery villages and Gypsies and Travellers. Her first collection is Shelling Peas with My Grandmother in the Gorgiolands.

Tickets £10 (in-person)
£10 (online via Zoom - available to Ledbury Poetry Members)
Book via the Ledbury Poetry website: https://www.poetry-festival.co.uk/events/22-24/
Saturday 15 October, 2pm

Berwick Literary Festival 2022
Sarah will be reading alongside John Challis and Jo Clement. Further details to be announced here.
[18 May 2022]