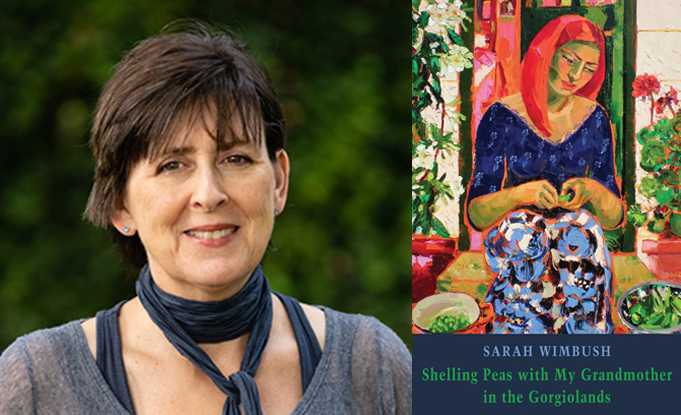 Sarah Wimbush Readings
'I loved this stunning and substantial collection that enfolds us into the lives and experiences of Roma communities and explores mining heritage in Yorkshire.' - Will Mackie, New Writing North (New & recent poetry from the North)


Sarah Wimbush is a Leeds poet who was brought up in Doncaster. She has published two pamphlets: Bloodlines (Seren, 2020), winner of the Mslexia/PBS Poetry Pamphlet Competition 2019, which was also shortlisted in the Michael Marks Awards, and The Last Dinosaur in Doncaster (Smith|Doorstop, 2021), a winner of the Poetry Business Book and Pamphlet Competition in 2020. Her debut collection Shelling Peas with My Grandmother in the Gorgiolands was published by Bloodaxe on 26 May 2022, and launched online on 31 May (video below) and at Cheltenham Poetry Festival.
In Shelling Peas with My Grandmother in the Gorgiolands, her first book-length collection, Sarah Wimbush journeys through myth and memory with poetry rooted in Yorkshire. From fireside tales of Romany Gypsies and Travellers, through pit villages and the haunt of the Miners' Strike, to the subliminal of the everyday – including poems about typists, pencil sharpeners and learning to drive in a Ford Capri. This highly accomplished debut collection explores what it means to belong, what it means to be on the margins. This is poetry written in praise of family and community and those qualities which make us human: love, language and, most of all, resilience.
Four poems from the book are featured on Atrium Poetry here. Shelling Peas with My Grandmother in the Gorgiolands was Atrium's featured publication for May-June 2022.
FORTHCOMING EVENTS
Sunday, 3rd July 2022, 3:00 pm - 4:00 pm, Ledbury Poetry Festival
Burgage Hall, Ledbury, HR8 1DW, United Kingdom
Wagtail Women

Hear three poets with new collections read and hold conversations about their work. Raine Geoghegan is a UK-born poet, writer and playwright of Romany descent with two pamphlets, Apple Water: Povel Panni and they lit fires: lenti hatch o yog and full a collection forthcoming The Talking Stick: O Pookering Kosh. Sarah Wimbush's poetry is rooted in Yorkshire with tales of childhood, colliery villages and Gypsies and Travellers. Her first collection is Shelling Peas with My Grandmother in the Gorgiolands.

Tickets £10 (in-person)
£10 (online via Zoom - available to Ledbury Poetry Members)
Book via the Ledbury Poetry website: https://www.poetry-festival.co.uk/events/22-24/
Friday 5th August, 8-10pm, Leeds Poetry Festival

Left Bank Leeds, Cardigan Road, Burley LS6 1LJ
Fractured Roots

Explore stories of myth and folklore with poets Sarah Wimbush and Matthew Stoppard as they take us on a journey across the Northern landscapes. Through the eyes of Roma and travellers, figures from myth and folktales, and their place in a fractured society.
Tickets: £8-£14
Booking via Eventbrite here.
Saturday 15 October, 2pm

Berwick Literary Festival 2022
Sarah will be reading alongside John Challis and Jo Clement. Further details to be announced here.
JOINT LAUNCH EVENT ON 31 MAY 2022

Tuesday 31 May 2022, live-streamed launch reading by Jo Clement, Sarah Wimbush and Clare Shaw
Bloodaxe's joint launch reading by Jo Clement, Sarah Wimbush and Clare Shaw celebrating the publication of their new poetry collections was live-streamed on 31 May 2022, and is now on YouTube. They were reading from and discussing their new collections with the host, Bloodaxe editor Neil Astley, and with each other. All three poets have won Northern Writers' Awards for poems included in these collections.
Jo Clement read first in each set, followed by Sarah Wimbush. They were reading from their first full collections Outlandish and Shelling Peas with My Grandmother in the Gorgiolands. Clare Shaw was reading from their fourth collection, Towards a General Theory of Love. Passionate, mesmerising readings from all three poets, followed by a wonderful discussion during which they drew out the connections between their three books.
[18 May 2022]