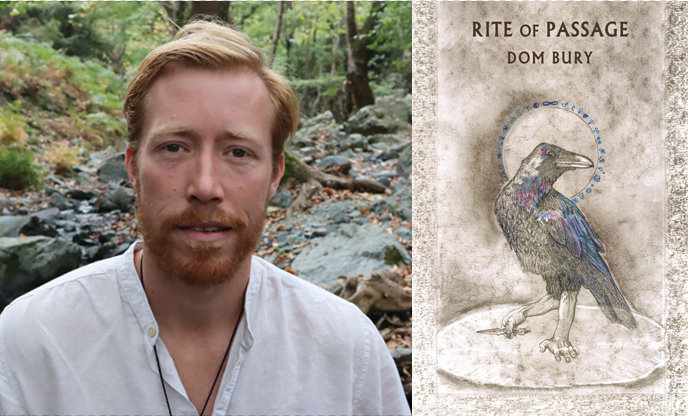 Dom Bury Readings
'Dom Bury's first book… has an otherworldly feel about it, an almost mystically tender earthrootedness… A remarkable debut, to say the least.' – Michael Glover, The Tablet (Poetry for Summer 2021)
Dom Bury is a writer and environmental activist whose first collection Rite of Passage (2021) was longlisted for the 2021 Laurel Prize. He was given an Eric Gregory Award in 2016, and won the 2017 National Poetry Competition with his poem 'The Opened Field', which was made into a film by the Poetry Society.
JOINT LAUNCH EVENT

Dom Bury launched his debut collection Rite of Passage alongside Jenna Clake and Tishani Doshi. This international launch reading b was live streamed on 20 April 2021. It is now available on YouTube - see below.
Owing to the time difference, Tishani Doshi's two readings and her discussion with Dom Bury were prerecorded at her home in India. Dom Bury joined live from Devon, and Jenna Clake from Newcastle upon Tyne, with editor Neil Astley hosting from his home in Northumberland. Their readings were followed by a separate live discussion between Dom and Jenna.
Jenna reads first in each set, followed by Dom, then Tishani.
[19 May 2022]