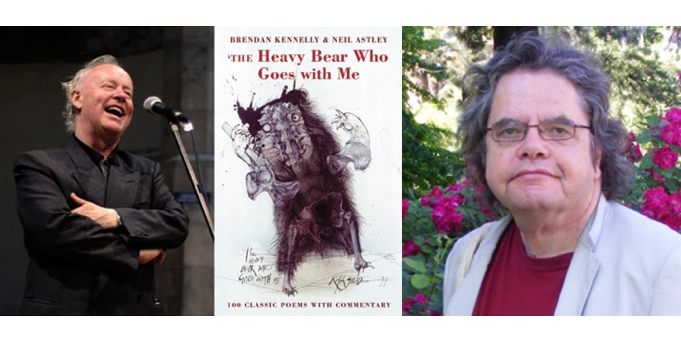 Brendan Kennelly & Neil Astley's Heavy Bear at Listowel Writers' Week
'In completing the task first begun with his old Irish friend, Neil Astley has given us one of the most inspiring teaching instruments that writing teachers could ever hope to have as they stand before a class, wondering how to begin. Well, they can begin here.' - Thomas McCarthy, Dublin Review of Books
The Heavy Bear Who Goes with Me: 100 Classic Poems with Commentary, an anthology co-edited by Brendan Kennelly and Neil Astley, was published by Bloodaxe Books on 17 April 2022 to mark what would have been Brendan Kennelly's 86th birthday. This long-awaited anthology was 25 years in the making.
Neil Astley will be taking part in a launch event for the anthology at Listowel Writers' Week on Saturday 4 June at 4.30pm. Tickets for Brendan Kennelly - We Forever Begin can be booked via Eventbrite here. Neil will be joined in Listowel by poets John McAuliffe and Victoria Kennefick, who will read from the anthology and also read their favourite poems by Brendan.
Brendan Kennelly was one of Ireland's best-loved poets, as well as being a renowned teacher and communicator. He knew many of the poems chosen for this anthology by heart. His friend and publisher of nearly 40 years, Neil Astley of Bloodaxe Books, worked with Brendan on all his books from 1987 onwards, and is the editor of the Staying Alive series of world poetry anthologies.
The anthology covers five centuries of poetry, with each poem accompanied by commentaries by Brendan Kennelly and introductions by Neil Astley. The writers included are 100 key poets from the 16th to the 20th century. They include some of the major figures in Irish poetry. Brendan Kennelly knew the later Irish poets personally, some as friends: Austin Clarke, Patrick Kavanagh, Seamus Heaney, Michael Longley, Derek Mahon, Eavan Boland. There are also other poets he knew from times in his life spent outside Ireland, such as W.H. Auden, Geoffrey Hill and Ken Smith.
'In a very real sense this anthology, the feel and soul of it, has everything of Kennelly's warmth, bigness of heart and generosity of spirit.' – Thomas McCarthy, Dublin Review of Books
[18 May 2022]