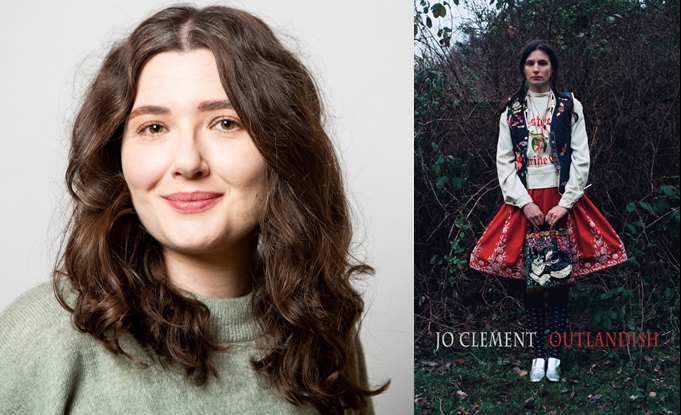 Jo Clement Readings
'… an exciting new voice in poetry… The rhythms and allusions are enchanting, the imagery fresh, clear and strong.' - Anna Picard, Times Literary Supplement (Summer Books 2022)
Jo Clement's first full-length collection Outlandish confronts Romantic impressions of British Gypsy ethnicity and lyrically lays them to rest. From Wordsworth to Top Gear, her poems invite us to consider notions of otherness, trespass and craft. Compelled by a brutal Gypsy, Roma and Traveller diasporic legacy, Outlandish tenderly praises the poem-as-protest and illuminates a hidden and threatened culture.
Jo Clement was a guest on BBC Radio 4's Start the Week on Monday 13 June 2022. Jo features at 11:47 and again at 17:08. Listen here.
PAST EVENTS
JOINT LAUNCH EVENT ON 31 MAY 2022

Tuesday 31 May 2022, live-streamed launch reading by Jo Clement, Sarah Wimbush and Clare Shaw
Bloodaxe's joint launch reading by Jo Clement, Sarah Wimbush and Clare Shaw celebrating the publication of their new poetry collections was live-streamed on 31 May 2022, and is now on YouTube. They were reading from and discussing their new collections with the host, Bloodaxe editor Neil Astley, and with each other. All three poets have won Northern Writers' Awards for poems included in these collections.
Jo Clement read first in each set, followed by Sarah Wimbush. They were reading from their first full collections Outlandish and Shelling Peas with My Grandmother in the Gorgiolands. Clare Shaw was reading from their fourth collection, Towards a General Theory of Love. Passionate, mesmerising readings from all three poets, followed by a wonderful discussion during which they drew out the connections between their three books.
[24 May 2022]