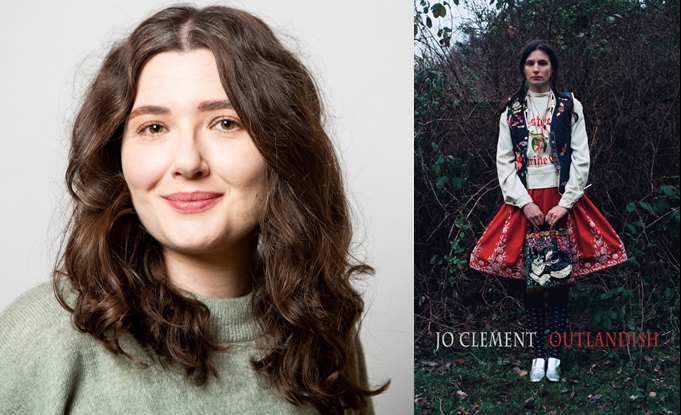 Jo Clement Readings
'As vivid as engravings, the poems in Jo Clement's debut collection Outlandish braid together a richness of language and a precision of imagery to illuminate Traveller identity and Roma culture. These are poems of clarity and lyricism that sing of people, places, and the beauty of what is passed down.' - Kris Johnson (Poetry Society Books of the Year 2022)
Jo Clement's Outlandish, a powerful first full collection exploring Gypsy, Roma and Traveller identity and culture, was published by Bloodaxe Books in May 2022. It was shortlisted for the John Pollard Foundation International Poetry Prize 2023, an award which recognises outstanding debut collections, and longlisted for the 2023 Michael Murphy Prize for a distinctive first volume of poetry.
Jo launched Outlandish at a joint livestreamed event on hosted by Bloodaxe on 31 May 2022 - see video below - and online at the Cheltenham Poetry Festival. She read at StAnza International Poetry Festival in St Andrews in March 2023.
Jo Clement was a guest on BBC Radio 4's Start the Week on Monday 13 June 2022. Jo features at 11:47 and again at 17:08. Listen here.
FORTHCOMING EVENTS

Poetry at the LexIcon, Monday 9 October 2023 19:00 BST - online event

Sara Berkeley, Dylan Brennan and Jo Clement

Jo Clement will be reading at this online event for Poetry at the LexIcon.
In poems which are as dynamic as they are expansive, Sara Berkeley, Dylan Brennan and Jo Clement look at the power of art to shape our perceptions of the world. Drawing on influences ranging from the eighteenth-century printmaker Thomas Bewick, to Mexican myth and to the sudden uprooting of Covid, and engaging with the history of colonialism, these poets look at otherness, displacement, and the meaning of home. Though always aware of the threat of violence, their work is also infused with magic and craft that allows their readers to witness the joy and strangeness of being alive.
Tickets available from 27 September, 9am. Free, but booking required.
Booking via Eventbrite here.
PAST EVENTS
Jo Clement reads from Outlandish at the 2022 Newcastle Poetry Festival
Jo Clement reads from her 2022 collection Outlandish. She reads: a section from "Vault"; 'Self-portrait as 100 Travellers'; 'Vardo'; 'Teesdale Erratics'; 'Larch'; 'Haunt' and 'At Eildon'. Filmed by Peter Hebden. Special thanks to Newcastle Centre for the Literary Arts.
JOINT LAUNCH EVENT ON 31 MAY 2022

Tuesday 31 May 2022, live-streamed launch reading by Jo Clement, Sarah Wimbush and Clare Shaw
Bloodaxe's joint launch reading by Jo Clement, Sarah Wimbush and Clare Shaw celebrating the publication of their new poetry collections was live-streamed on 31 May 2022, and is now on YouTube. They were reading from and discussing their new collections with the host, Bloodaxe editor Neil Astley, and with each other. All three poets have won Northern Writers' Awards for poems included in these collections.
Jo Clement read first in each set, followed by Sarah Wimbush. They were reading from their first full collections Outlandish and Shelling Peas with My Grandmother in the Gorgiolands. Clare Shaw was reading from their fourth collection, Towards a General Theory of Love. Passionate, mesmerising readings from all three poets, followed by a wonderful discussion during which they drew out the connections between their three books.
[24 May 2022]