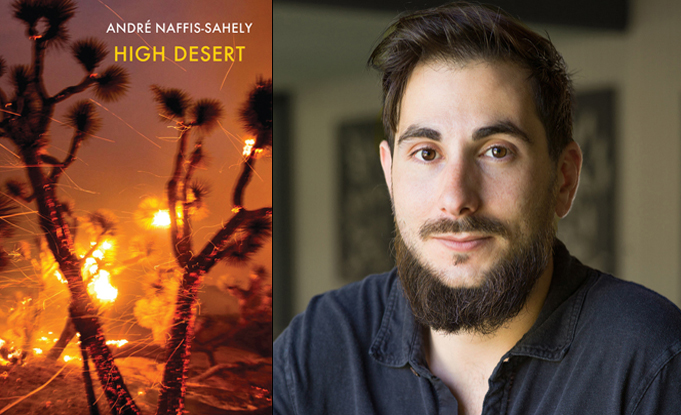 André Naffis-Sahely Readings
'This is fierce writing too: litanies of the lost, dispatches from desperate outposts and borders... in an inert and supine world, these are impeccably upright poems.' - David Wheatley, The Guardian

Andre Naffis-Sahely is a poet, editor and translator whose second collection High Desert was published by Bloodaxe in June 2022. He gave pre-publication readings from the collection at StAnza and Newcastle Poetry Festivals in March and May 2022.
High Desert is a psychedelic journal of end-times and an ode to the American Southwest. Exploring such key events as the First Red Scare, the Tulsa Race Massacre and the West Coast's wildfire epidemic, Naffis-Sahely's reflections on class, race, and nationalism chart the region's hidden histories from the Spanish Colonial Era to the recent pandemic.
Read a poem from the collection in the May/June 2022 issue of The London Magazine and on their website here.
An in-depth interview with André Naffis-Sahely was featured on DURA (Dundee University Review of the Arts) ahead of his reading at StAnza International Poetry Festival in March 2022.
Poetry as Acts of Resistance: An Interview with André Naffis-Sahely: read the interview here.
David Wheatley's review in The Guardian best recent poetry round-up of 2 July 2022 is here.
André Naffis-Sahely spoke in depth about his second collection in an interview with Literary Hub, 2 June 2023, available here. High Desert is distributed in the USA by Consortium Book Sales.
PAST EVENTS
JOINT ONLINE LAUNCH FOR HIGH DESERT
Andre Naffis-Sahely read alongside Anne Rouse and Thomas Lynch at this joint Bloodaxe online launch event. This took place on Tuesday 21 June 2022, 7pm, and is now available to watch on YouTube.
LONDON REVIEW BOOKSHOP PODCAST

A podcast of André Naffis-Sahely's in-person launch event from 15 June 2022 at London Review Bookshop is now available. André was reading with Victoria Adukwei Bulley, who was launching her debut collection Quiet. Their readings were followed by discussion (from 31:24)
André read from High Desert from 12:06. The podcast is available in full here.
[17 May 2022]