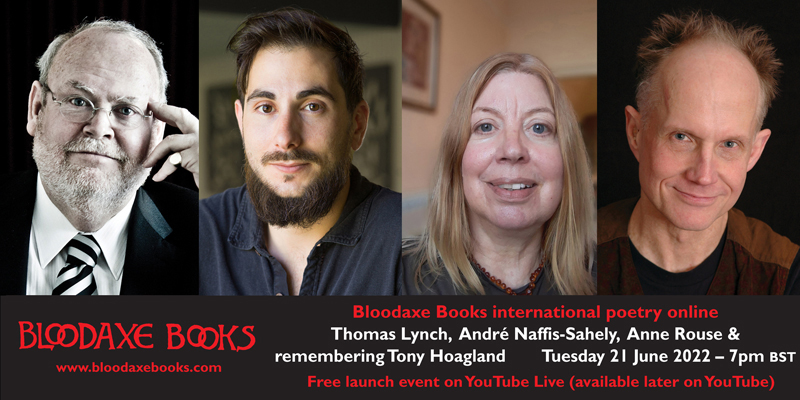 Launch reading by Thomas Lynch, André Naffis-Sahely & Anne Rouse plus Tony Hoagland
They read their poetry and discussed their new collections with the host, Bloodaxe editor Neil Astley. They also paid tribute to Tony Hoagland, whose final collection Turn Up the Ocean was also published by Bloodaxe in June.
To order copies of the poets' books direct from Bloodaxe, please click on these links. If you are in Ireland or elsewhere in the EU, you can order via Books Upstairs in Dublin:
Thomas Lynch: Bone Sanctuary: New & Selected Poems
André Naffis-Sahely: High Desert
Anne Rouse: Ox-Eye
Tony Hoagland: Turn Up the Ocean
*
Thomas Lynch: Bone Rosary: New & Selected Poems
America's much celebrated poet-undertaker Thomas Lynch is renowned for his thought-provoking poems on life, faith, doubt and death. He spent his working life as an undertaker in Midwest America, becoming in his off-hours a writer of exceptional insight with much to say about life's questions and mysteries – big and small. Drawing on his own daily routine, he transforms the mundane task of preparing the dead into life-affirming accounts of how we live our lives. His lyrical, elegiac poems describe the dead citizens of his home town, his own family relationships, and scenes and myths from his Irish Catholic upbringing.
Poet, essayist and funeral director Thomas Lynch has published five critically acclaimed collections of poetry (four from Cape and one from Salmon), four books of essays and a book of short fiction. His memoir The Undertaking: Life Studies from the Dismal Trade (1997) won the Heartland Prize for Non-Fiction, the American Book Award, and was a finalist for the National Book Award. He worked as a funeral director with the family firm Lynch & Sons in Milford, Michigan from 1973 until his recent retirement, and now divides his time between his home on Mullett Lake in Northern Michigan and his ancestral home in Moveen, Co. Clare, Ireland, from where he joins us for this event.
*
André Naffis-Sahely: High Desert
High Desert is an ode to the American Southwest. Exploring such key events as the First Red Scare, the Tulsa Race Massacre and the West Coast's wildfire epidemic, Naffis-Sahely's reflections on class, race, and nationalism chart the region's hidden histories from the Spanish Colonial Era to the recent pandemic. The poems in High Desert also revel in their rootlessness, as the author shifts his gaze outside of the US, travelling from Venice and Florence to Chittagong and St Petersburg, tackling our turbulent times and the depths of its problems in searing, extraordinary poems of witness and vision.
André Naffis-Sahely is a poet, editor and translator whose many publications include two collections, The Promised Land: Poems from Itinerant Life (Penguin Books, 2017) and High Desert (Bloodaxe Books, 2022). He grew up in Abu Dhabi, but was born in Venice to an Iranian father and an Italian mother. As well as being the new editor of Poetry London, he is a Visiting Teaching Fellow at the Manchester Writing School in the UK, and a Lecturer at University of California, Davis in the US.
*
Anne Rouse: Ox-Eye
Anne Rouse is a keenly observant writer of spiky satirical portraits and shapely lyrics of the ordinary and the bizarre. Her perspective in Ox-Eye – the term for a small cloud presaging a storm – is one of apprehension in poems relating to personal and social change. Ranging from her native east coast of America to her adopted home on the south coast of England, these incisive but often amused poems question how we view past and present, dismantling obsolete nostalgia, and casting a critical eye on what we wish for and what may happen instead.
Anne Rouse was born in Washington, DC, and grew up in Virginia. She has lived in England since 1974, was a mental health worker in London for many years, and now lives in East Sussex. Ox-Eye is her fifth collection from Bloodaxe, appearing 14 years after her previous book, The Upshot: New & Selected Poems, which included the new poems of The Divided (2008), along with selections from her first three critically acclaimed earlier collections, Sunset Grill (1993) and Timing (1997) – both Poetry Book Society Recommendations – and The School of Night (2004).
*
Tony Hoagland: Turn Up the Ocean
America's Tony Hoagland was known for provocative poems which interrogate human nature and contemporary culture with an intimate and wild urgency, located somewhere between outrage, stand-up comedy, and grief. The poems in his final collection Turn Up the Ocean examine with an unflinching eye and mordant humour the reality of living and dying in a time and culture that conspire to erase our inner lives.
Tony Hoagland (1953-2018) lived in Santa Fe, New Mexico, and was married to the writer Kathleen Lee. His first UK book of poems, What Narcissism Means to Me: Selected Poems (Bloodaxe Books, 2005), drew upon the first three collections he published in the US, and was followed by Unincorporated Persons in the Late Honda Dynasty (2010) and Application for Release from the Dream (2016). The final two collections he published in his lifetime were a small collection, Recent Changes in the Vernacular (Tres Chicas Press, 2017), and Priest Turned Therapist Treats Fear of God (Graywolf Press, 2018). The Bloodaxe UK edition of Priest Turned Therapist Treats Fear of God (2019) also includes some poems from Recent Changes in the Vernacular. His posthumously published final collection, Turn Up the Ocean (2022), was assembled by Kathleen Lee from the poems he was writing in the year before his death from cancer.

'Among so much that is bland, conformist or impregnably academic, there is something bracing about his disobliging wit. His last poems, which have been gathered in Turn Up the Ocean, are typically wry: "When my doctor asks what my symptoms are, I tell her/self-pity and the desire to apologise."… readers should be inspired to seek out more from this unique American voice.' – Graeme Richardson, The Sunday Times (Notable new poetry books of 2022)
[19 May 2022]