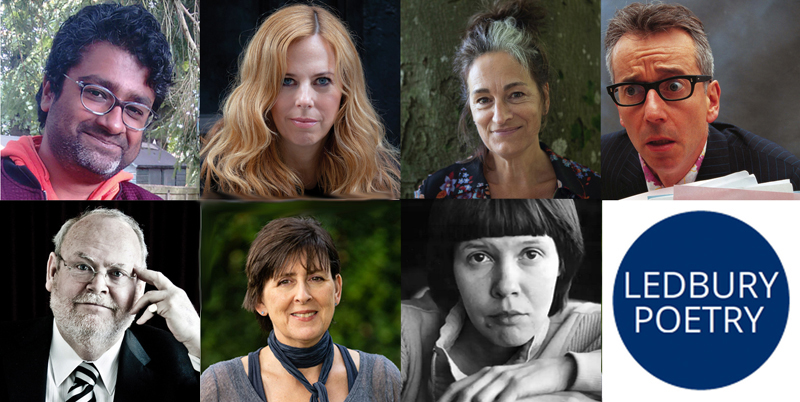 Bloodaxe Poets at Ledbury Poetry Festival 2022
Several Bloodaxe poets will be appearing at Ledbury Poetry Festival this year (1st - 10th July), in a mixture of in-person and hybrid events.
On Sunday 3rd July at 1pm, Deborah Landau will be reading alongside Alex Dimitrov in an in-person and livestreamed event. More details and ticket booking van be found here. Deborah Landau's latest collection, Soft Targets (Bloodaxe Books, UK, 2020) follows two other Lannan Literary Selections from Copper Canyon Press in the US, The Uses of the Body (2015) and The Last Usable Hour (2011).
Sarah Wimbush will be reading with Raine Geoghegan at the Wagtail Women event, which features work exploring Gypsy, Roma and Traveller identity. This event will be in-person and livestreamed on Sunday 3rd July at 3pm. Sarah Wimbush's Shelling Peas with My Grandmother in the Gorgiolands was published by Bloodaxe in May 2022.
Also on Sunday 3rd July, Thomas Lynch will be reading with John Murillo (in person and livestreamed) at 7pm. More details of this event here. Thomas Lynch's most recent books are The Depositions: New and Selected Essays (W.W. Norton, 2019), and Bone Rosary: New & Selected Poems (Godine, USA, 2021; Bloodaxe Books, UK, 2022). Thomas will also be hosting a Death Salon at 11am on Monday 4th July (in-person only), where he will be discussing his work and his unique perspective as a poet who is also an undertaker.
On Friday 8th July there will be an event celebrating the life and work of the Russian poet Irina Ratushinskaya with Daphne Astor, Sasha Dugdale and Claire Armitstead. Bloodaxe's publication of No, I'm Not Afraid (translated by David McDuff) helped secure her release from a Soviet labour camp in 1986.
John Hegley will be appearing at two events during the festival, both in-person only. Biscuit of Destiny: Inspired by the life and work of John Keats will be taking place on Friday 8th July at 4pm and I am a Poetatoe is the next day, Saturday 9th July, at 11am. I am a Poetatoe is a children's poetry event, while Biscuit of Destiny is aimed at adults (though still suitable for children).
Also on Saturday 9th July at 11am, Greta Stoddart will be taking part in The Power of Endings, an event exploring the challenge of when and how to end a poem, along with Elaine Beckett, Gill Barr and Helen Evans. Greta Stoddart's fourth collection, Fool, is published by Bloodaxe in September 2022.
And finally, at 3pm on Sunday 10th July, Vidyan Ravinthiran and Seni Seneviratne will be taking part in an event on Sri Lankan and Diasporic Poetry, which will be taking place in person and livestreamed. Vidyan Ravinthiran teaches at Harvard Univsersity and has two collections with Bloodaxe: Grun-tu-molani (2014) and The Million-petalled Flower of Being Here (2019).
The full programme of events can be found at: https://www.poetry-festival.co.uk/events-grid/
[07 June 2022]