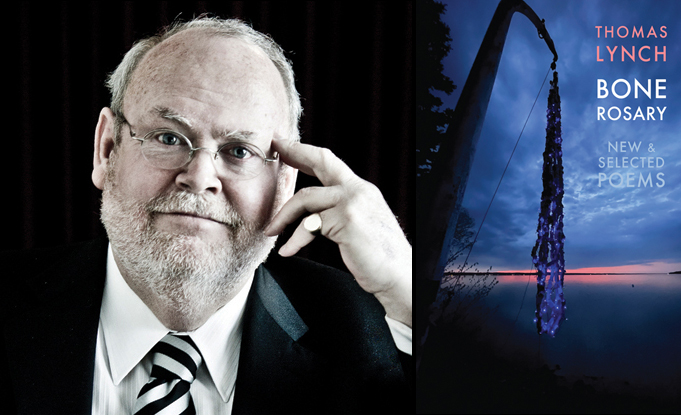 Thomas Lynch Readings
Poet, essayist and funeral director Thomas Lynch has published five critically acclaimed collections of poetry, four books of essays and a book of short fiction. His latest book Bone Rosary was published by Bloodaxe in June 2022. This new retrospective shows the passage of his work over time, 'a pilgrimage of sorts through growing old and facing death – subjects that caregivers know all too well. Lynch's upfront, unvarnished style is likely to resonate with many who have come face to face with life's most important questions' (Mary Plummer, New York Times).
Thomas Lynch is based in the USA, but was in the UK to launch Bone Rosary: New & Selected Poems at the Ledbury Poetry Festival in July. This was followed by a series of readings in Ireland. His joint live-streamed launch event with Bloodaxe Books is now on YouTube. See below for the YouTube and Ledbury recordings.
An interview with Thomas Lynch was broadcast on BBC Radio 4's Front Row on 25 July 2022. He was speaking to Shahidha Bari down the line from County Clare.
Listen via the Front Row website here. Thomas features from 22:30.
PAST EVENTS
Online launch event for Bone Rosary
Thomas launched his collection Bone Rosary alongside fellow Bloodaxe poets Anne Rouse and André Naffis-Sahely at the online launch event for our June 2022 titles on 21 June 2022.
IN PERSON LAUNCH EVENT AT LEDBURY POETRY FESTIVAL, JULY 2022
Thomas launched Bone Rosary in person at the Ledbury Poetry Festival in July 2022. Audio of the event is available on Ledbury Poetry Player here. Thomas features from 26:00.
[12 August 2022]