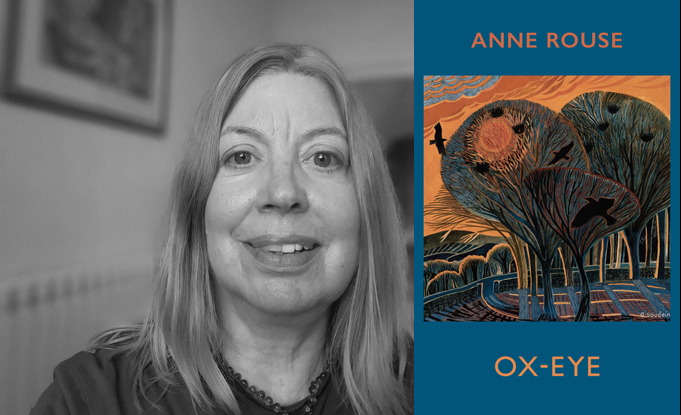 Anne Rouse Launch Readings
'Anne Rouse's poems are watchful and amused, sardonic and appalled. They are also in the best sense political: the big picture of our whole society informs her miniatures of city life where dossers and shopping jostle for attention alongside love and death.' – Ruth Padel & Sean O'Brien, PBS Bulletin
Anne Rouse is a keenly observant writer of spiky satirical portraits and shapely lyrics of the ordinary and the bizarre. Ox-Eye is her fifth collection from Bloodaxe, appearing 14 years after her previous book, The Upshot: New & Selected Poems, which included the new poems of The Divided (2008), along with selections from her first three critically acclaimed earlier collections, Sunset Grill (1993) and Timing (1997) – both Poetry Book Society Recommendations – and The School of Night (2004).
Her perspective in Ox-Eye – the term for a small cloud presaging a storm – is one of apprehension in poems relating to personal and social change. Ranging from her native east coast of America to her adopted home on the south coast of England, these incisive but often amused poems question how we view past and present, dismantling obsolete nostalgia, and casting a critical eye on what we wish for and what may happen instead.
Anne Rouse was recently featured on The Friday Poem as their 'Castaway Poet', where she chose three poems to take to a desert island. Find out which poems she chose and why here.
An excellent review of Ox-Eye was posted on the poetryparc blog on 15 July 2022. Read in full here.
'It may be 14 years since her last published collection but her grip on the language of storytelling through poems is secure and satisfying for this reader.'
FORTHCOMING EVENTS
Thursday 29 September 2022, 6pm
Over The Edge: Open Reading
Galway City Library
Anne Rouse will be reading alongside Fiona Hanley and Jim Ward as part of the Over The Edge series at Galway City Library. The evening will also see the launch, by Anne Rouse, of issue sixteen of perhaps Ireland's most exciting, informative, and accessible poetry magazine Skylight 47. There will also be readings by contributors to this issue. The event will also be livestreamed on Facebook.
Free event - more information, plus a link to the livestream, here.
Sunday 23 October 2022, 4pm
Found Outside of Heaven's Gate
Twelve Hundred Postcards, 80 Queens Road, Hastings, TN34 1RL
Anne Rouse will be reading from Ox-Eye as part of "Found Outside of Heaven's Gate", a session of poems and music at Twelve Hundred Postcards in Hastings, alongside the Other Band, Alison Young, Brian Docherty and others. More information coming soon.
PAST EVENTS
They read their poetry live and discussed their new collections with the host, Bloodaxe editor Neil Astley. They also paid tribute to Tony Hoagland, whose final collection
Turn Up the Ocean
was also published by Bloodaxe in June. This free Bloodaxe launch event is now available to watch on this YouTube page:
https://www.youtube.com/watch?v=H6jg0t_r9wk
[13 September 2022]