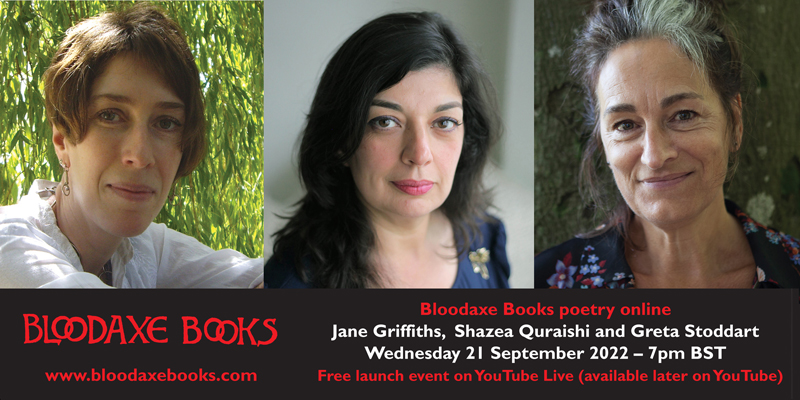 Launch reading by Jane Griffiths, Shazea Quraishi and Greta Stoddart
This launch reading by Jane Griffiths, Shazea Quraishi and Greta Stoddart celebrating the publication of their new poetry collections is now available on YouTube.
The poets read live and discussed their new collections with the host, Bloodaxe editor Neil Astley.
This launch event was streamed on YouTube Live and is now available on this YouTube page:
https://youtu.be/nCjJTC9-MU8
(or via the video below).

To order copies of the poets' books direct from Bloodaxe, please click on these links. If you are in Ireland or elsewhere in the EU, you can order via Books Upstairs in Dublin:
Jane Griffiths: Little Silver
Shazea Quraishi: The Glimmer
Greta Stoddart: Fool
Jane Griffiths: Little Silver
The recurrent themes of Little Silver are inheritance, loss, and the relationship between real and imagined lives. Moments of crisis – a near-drowning, a fall down a mine-shaft, the death of a friend – prompt reflection on the stories 'we tell ourselves about our / selves', and on the sheer strangeness of existing in our bodies and in time. The book's title sequence responds to the recent demolition of Jane Griffiths' childhood home. Other poems centre on the theme of childlessness and the relationship between that and other kinds of making; a sequence centred on conversations between an artist and her imaginary children concludes when the daughter asks 'So if we existed the tree could stand alone?' The emphasis in these poems is on inventiveness and endeavour, on lifelines and human traces.
Jane Griffiths was born in Exeter and brought up in Holland. She worked as a book-binder in London and Norfolk before completing her doctorate on the Tudor poet John Skelton. After working on the Oxford English Dictionary for two years, and teaching English Literature at St Edmund Hall, Oxford, and at the universities of Edinburgh and Bristol, she now teaches at Wadham College, Oxford, and is literary editor of the Oxford Magazine. Her early retrospective Another Country: New & Selected Poems was shortlisted for the Forward Prize for Best Collection in 2008, and followed by Terrestrial Variations (2012) and Silent in Finisterre (2017), a Poetry Book Society Recommendation. Little Silver is her sixth collection.
*
Shazea Quraishi: The Glimmer
The Glimmer is a meditation on the time-span of life illuminated by many voices. In an artists' colony in Mexico, a taxidermist tends animals in their after-life, contemplating what remains of us after death. Among the artists she encounters are a painter of miniatures, a war photographer, a light artist, a ghazal singer, and dancers from Tanzteater Wuppertal, as they reflect on the impulse to make work and meaning in a world where value is increasingly monetised. Within the extended narrative are self-contained poems ranging in form from syllabics and ghazals to OULIPO-inspired anagram poems, drawing on found text and verbatim speech to bring a choir of voices to life. The title work is followed by two elegies.
Shazea Quraishi is a Pakistani-born Canadian poet and translator based in London. A selection of her work was included in the Bloodaxe anthology Ten: new poets from Spread the Word in 2010 and her first pamphlet, The Courtesans Reply, was published by flipped eye in 2012. The Art of Scratching, her first book-length collection, published by Bloodaxe Books in 2015, is now followed by her second, The Glimmer. She received a Brooklease Grant from the Royal Society of Literature in 2015 and an award from the Artists International Development Fund of the British Council and Arts Council England in the same year.
*
Greta Stoddart: Fool
When knowledge is ours at the tap of a key, what is it we're accumulating, and is it at the expense of another, more intuitive, kind of knowing? The word 'fool' derives from the Latin follis, one of whose meanings is 'empty-headed person'. Such mindlessness is not quite imaginable, but perhaps it is possible that by unknowing a thing we can start to see it differently. There's a lot the fool doesn't know – otherwise they wouldn't be a fool – but can anyone be trusted to know anything? A low-level hum of discordance runs through these poems: between inner and outer worlds, between the sceptical and the wondering mind. Ideas of belief and truth play out in various ways, often through lone figures, fools maybe, thinking aloud, continually distracted by the necessary performance of being.
Greta Stoddart studied drama at Manchester University and the École Jacques Lecoq in Paris. She co-founded the theatre company Brouhaha. Her first collection, At Home in the Dark (Anvil Press, 2001), won the Geoffrey Faber Memorial Prize and was shortlisted for the Forward Prize for Best First Collection. Her second, Salvation Jane (Anvil, 2008), was shortlisted for the Costa Poetry Award. Her third collection, Alive Alive O (Bloodaxe Books, 2015), was shortlisted for the Roehampton Poetry Prize. Her radio drama Who's There?, broadcast on Radio 4's The Echo Chamber in 2017, was shortlisted for the Ted Hughes Award. Fool is her fourth collection.
[16 August 2022]