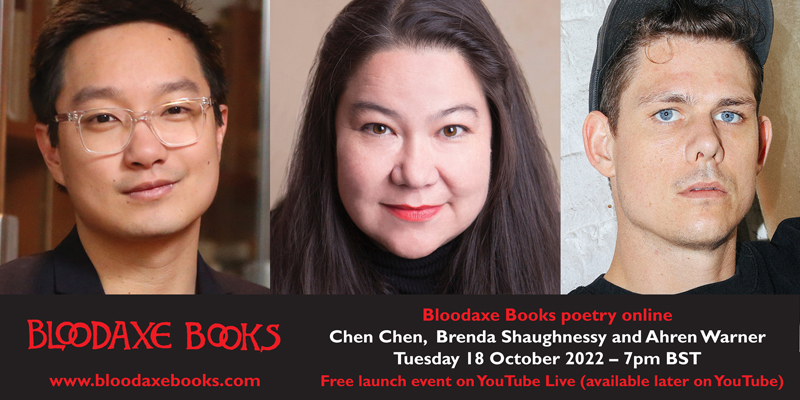 Launch reading by Chen Chen, Brenda Shaughnessy and Ahren Warner
This launch reading by Chen Chen, Brenda Shaughnessy and Ahren Warner is now available on YouTube.
The poets read live and discussed their new collections with the host, Bloodaxe editor Neil Astley. This free Bloodaxe launch event was streamed on YouTube Live is now available to watch below, or on this YouTube page:
https://www.youtube.com/watch?v=CWZdrTAuxVI
To order copies of the poets' books direct from Bloodaxe, please click on these links. If you are in Ireland or elsewhere in the EU, you can pre-order via Books Upstairs in Dublin:
Chen Chen: Your Emergency Contact Has Experienced an Emergency
Brenda Shaughnessy: Liquid Flesh
Ahren Warner: I'm totally killing your vibes
*
Chen Chen: Your Emergency Contact Has Experienced an Emergency
What happens when everything falls away, when those you call on in times of need are themselves calling out for rescue? In his highly anticipated second collection, Chen Chen continues his exploration of family, both blood and chosen, examining what one inherits and what one invents, as a queer Asian American living through an era of Trump, mass shootings and the COVID-19 pandemic. With unexpected playfulness and irrepressible humour, these anarchic poems celebrate life, despite all that would crush aliveness. Hybrid in form and set in New England, West Texas and a landlocked province of China, among other places,
Your Emergency Contact Has Experienced an Emergency
refuses neat categorisations and pat answers. Instead, the book offers an insatiable curiosity about how it is we keep finding ways to hold one another. Chen Chen's debut
When I Grow Up I Want to Be a List of Further Possibilities
was published in the UK by Bloodaxe in 2019.
Chen Chen was born in 1989 in Xiamen, China, and grew up in Massachusetts in the US. His debut collection, When I Grow Up I Want to Be a List of Further Possibilities (BOA Editions, US, 2017; Bloodaxe Books, UK, 2019), was long-listed for the National Book Award and won awards including the Thom Gunn Award for Gay Poetry. The book was also a finalist for the Lambda Literary Award for Gay Poetry and named a Stonewall Honor Book. He was featured in Poets & Writers Magazine in their Inspiration Issue as one of 'Ten Poets Who Will Change the World'. His second collection Your Emergency Contact Has Experienced an Emergency is published by Bloodaxe in the UK and by BOA Editions in the US.
*
Brenda Shaughnessy: Liquid Flesh
Spanning twenty years and five collections, Liquid Flesh introduces UK readers to one of America's most audacious and thrilling poets. Brenda Shaughnessy has honed a poetic voice rich with contradictions: her poems are simultaneously tricky and blindingly honest, sensual and grief-stricken, coy and utterly self-possessed. She is a moralist with a profound sense of play, taking the patriarchy and the malevolent powers-that-be to task. Shaughnessy is omnivorous and fearless, even as she stares down her terrors, whether the blaze, fizzle, or explosion of wild love between women, or the unquenchable pain of a son's birth injury. She celebrates, too, revelling in the pleasures and powers of the body and the transcendence of art.
Brenda Shaughnessy is an Okinawan-Irish American poet who grew up in Southern California. She has published five collections in the US, including The Octopus Museum (2019), a New York Times Notable Book, and Our Andromeda (2012), a finalist for the Griffin International Prize, the PEN/ Open Book Award, and the Kingsley Tufts Prize. Liquid Flesh: New & Selected Poems (Bloodaxe Books, 2022) is her first UK publication. Recipient of a 2018 Literature Award from the American Academy of Arts and Letters and a 2013 Guggenheim Foundation Fellowship, she is Professor of English at Rutgers University-Newark. She lives in New Jersey.
*
Ahren Warner: I'm totally killing your vibes
I'm totally killing your vibes is one-part phantasmagoria, one-part brutal document, with equal measures of irony and sincerity. It is a book compulsively drawn to a world in which identity and performance have become indistinguishable, where the squelch and seep of feelings frustrate our safety nets of logic and ethics, and violence and inadequacy are so often the corollaries of love. It is a book of poems concerning the exuberant performance, and the manic dissolution, of the self. It moves through the slow, fragmented dissolve of a relationship, via a tableau vivant of assorted, itinerant characters, and an extended, darkly comic dialogue with the feedback of literary, academic, and everyday life. A final, long-form prose poem extends the book's interrogation of consumption as our contemporary mode of self-construction, of masculinity, and of desire.
Ahren Warner has published four books of poetry – including Hello. Your promise has been extracted (Bloodaxe Books, 2017) – for which he has received three Poetry Book Society Recommendations and awards including an Arts Foundation Fellowship. He works across writing, photography and moving image, with an intermedia project, The sea is spread and cleaved and furled, published by Prototype in 2020, and a film, I'm thinking what would sound sincere but also, like, oh, that's super cute, selected for Bloomberg New Contemporaries (2020).
[20 September 2022]