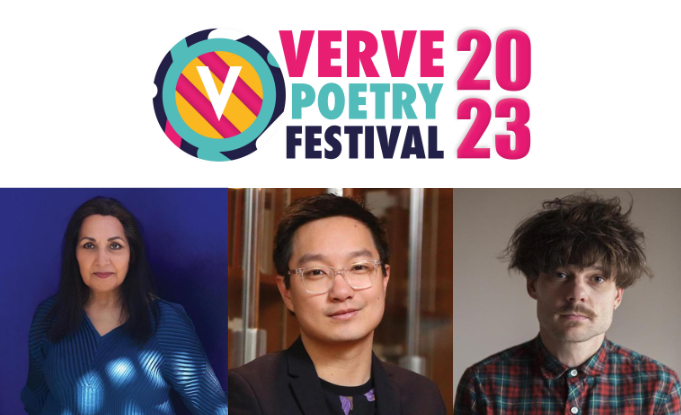 Bloodaxe Poets at Verve Poetry Festival 2023
Verve Poetry Festival recently announced the line-up for their 2023 festival, which will be taking place in Birmingham 15th-19th February. Three Bloodaxe authors are among the poets scheduled to appear, either in person at Birmingham Hippodrome or online. A list of all poetry events taking place at Verve 2023 can be found on their website here.
On Saturday 18th February at 4.30pm, Wayne Holloway-Smith will be the featured poet at Verve's inaugural Long Poem event, at which he will be reading his new long poem Rabbitbox. His book-length sequence Love Minus Love was published by Bloodaxe in 2020 and was shortlisted for the T.S. Eliot Prize. Wayne recently became the new Editor of Poetry Review.
Later on 18th February, at 5.30pm, Imtiaz Dharker will join Helen Mort and Hannah Sullivan for the Saturday Night Headline event, hosted by Jo Bell. Imtiaz has published six collections with Bloodaxe, all illustrated with her own drawings, the most recent of which is Luck is the Hook (2018).
Chen Chen will be joining the 100 Queer Poems event via Zoom on Sunday 19th February at 1pm. The event will be hosted in person by Andrew McMillan and Mary Jean Chan and will include several poets featured in the anthology 100 Queer Poems (Vintage, 2022). Bloodaxe published the UK edition of Chen Chen's second collection Your Emergency Contact Has Experienced an Emergency in October.
All of these events take place in the Patrick Studio at the Birmingham Hippodrome and are also being live-streamed. Links to book tickets can be found on the Verve Poetry Festival website.
[24 January 2023]