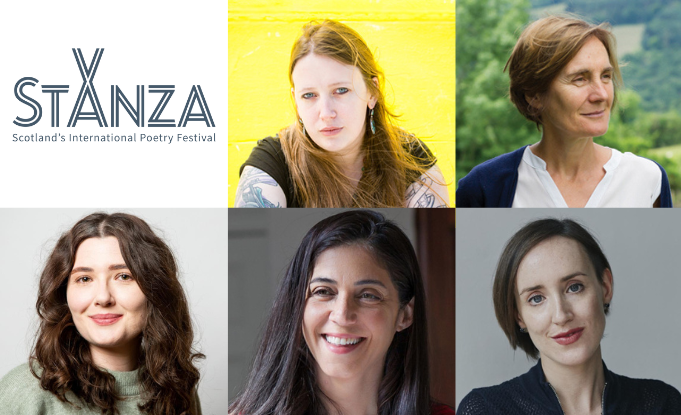 Bloodaxe Poets at StAnza 2023
StAnza, Scotland's International Poetry Festival, returns this year with the theme of WILD: Forms of Resistance. The festival is running from Thursday 9th March to Sunday 12th March, with both in-person events in St Andrews and online/hybrid events. The full festival programme is available on the StAnza website here, Links to events featuring our poets are below.
Marjorie Lotfi, whose debut collection The Wrong Person to Ask is published by Bloodaxe in October, will be welcoming everyone to the festival at an online event on the morning of Thursday 9th March. Marjorie will be leading an online creative writing workshop at 3pm on the Thursday for Open Book, of which she is the founder. On the morning of Saturday 11th March, Marjorie will also be providing an online writing prompt for festival attendees. Later on the Saturday, at 5pm, Marjorie will be chairing the Scotland's Young Makars event, which is taking place in person at The Byre Theatre and live-streamed online.
Jo Clement will be reading alongside Meryl Pugh, Tim Cresswell, and Mina Gorji at an eco-poetry Poetry Cafe event at 10am on Friday 10th March, which is taking place at The Byre Threatre. That afternoon, at 3.30pm in Parliament Hall, Jo will be joined by fellow Bloodaxe poet Claire Askew for a joint reading. Claire will also be taking part in the Tea-Time Debate with Alice Tarbuck, which is an online event on Saturday 11th March at 6.15pm. Jo Clement's debut collection Outlandish was published by Bloodaxe last year and Claire Askew's second collection How to burn a woman was recently named Scottish Poetry Book of the Year.
Jane Clarke, whose third Bloodaxe collection A Change in the Air is published in May, will be taking part in a Round Table Reading, which will blend performance and discussion, on Friday 10th March in The Byre Theatre. She is also reading at a Poetry Cafe event on Saturday 11th March at 1pm in The Byre Threatre, where she will be reading alongside David Kinloch, and Eòghan Stiùbhart.
Jessica Traynor will be reading with Rebecca Tamas, Stephanie Sy-Quia and Fran Lock at a Breakfast at the Poetry Cafe event on the morning of Saturday 11th March. She will also be taking part in a joint reading with Safiya Kamaria Kinshasa at 3.30pm on Sunday 12th March in the The Byre Theatre. Jessica Traynor's third collection, Pit Lullabies, was published by Bloodaxe last year.
[31 January 2023]