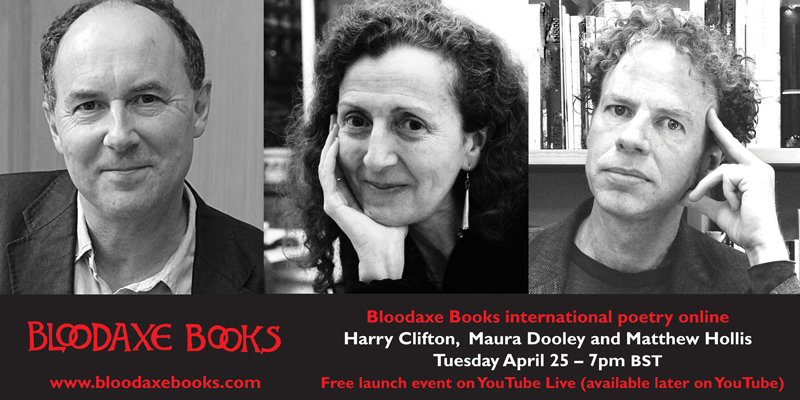 Launch reading by Harry Clifton, Maura Dooley and Matthew Hollis
Bloodaxe Books hosted an online launch reading by Harry Clifton, Maura Dooley and Matthew Hollis celebrating the publication of their new poetry collections.
Each of the poets read live and discussed their new collections with each other and with the host, Bloodaxe editor Neil Astley. The event was streamed on YouTube Live and is now available to watch on YouTube: https://youtube.com/live/7Zl2Sy9rzLk
To order copies of the poets' books direct from Bloodaxe, please click on these links. If you are in Ireland or elsewhere in the EU, you can pre-order via Books Upstairs in Dublin:
Harry Clifton: Gone Self Storm
UK: https://www.bloodaxebooks.com/ecs/product/gone-self-storm-1319
Ireland & EU: https://booksupstairs.ie/product/gone-self-storm/
Maura Dooley: Five Fifty-Five
UK: https://www.bloodaxebooks.com/ecs/product/five-fifty-five-1321
Ireland & EU: https://booksupstairs.ie/product/five-fifty-five/
Matthew Hollis: Earth House
UK: https://www.bloodaxebooks.com/ecs/product/earth-house-1320
Ireland & EU: https://booksupstairs.ie/product/earth-house/
*
Harry Clifton: Gone Self Storm
For half a century of ever-broadening vision, award-winning poet Harry Clifton has addressed what the Irish Times calls 'his large concerns and his angular relationship to Ireland, one that produces extraordinary verbal and emotional effects'. His latest book is a quest, through origin and migration, South America to the North of Ireland, Khao I Dang refugee camp to Glasnevin graveyard, for a lost maternal ground.
Harry Clifton has published ten other books of poetry, most recently The Winter Sleep of Captain Lemass (2012), The Holding Centre: Selected Poems 1974-2004 (2014), Portobello Sonnets (2017) and Herod's Dispensations (2019). Harry Clifton has held many teaching positions at universities including Bremen in Germany and Bordeaux in France, as well as University College Dublin and Trinity College in Ireland. In 2008 he won the Irish Times Poetry Now Award for Secular Eden: Paris Notebooks 1994-2004, and The Winter Sleep of Captain Lemass – which was shortlisted for the same award – was the Irish Times Book of the Year for 2012. He served as the fifth Ireland Professor of Poetry in 2010–2013,
*
Maura Dooley: Five Fifty-Five
Maura Dooley's poetry is remarkable for embracing both lyricism and political consciousness, for its fusion of head and heart. Five Fifty-Five is her first new collection since The Silvering (2016). These are quizzical poems concerned with time and mortality which ask fundamental questions about our lives, such as Where have you gone? and Who were you anyway? She tries to find out through conversations with, among others, Louisa M. Alcott, Hokusai, Jane Austen, Buzz Aldrin, Anne Tyler and the Great Uncle and Grandfather she never knew.
Maura Dooley was born in Truro, grew up in Bristol, worked for some years in Yorkshire, and has lived in London for the past 25 years. She is a freelance writer and lectures at Goldsmiths' College. Her selection, Sound Barrier: Poems 1982-2002, was published by Bloodaxe in 2002, drawing on collections including Explaining Magnetism (1991) and Kissing a Bone (1996), both Poetry Book Society Recommendations. Kissing a Bone and her later collection Life Under Water, a Poetry Book Society Recommendation in 2008, were both shortlisted for the T.S. Eliot Prize. Her translation (with Elhum Shakerifar) of Azita Ghahreman's Negative of a Group Photograph was published by Bloodaxe Books with the Poetry Translation Centre in 2018 and shortlisted for the Warwick Prize for Women in Translation 2019. Her latest collection, Five Fifty-Five, is published by Bloodaxe in April 2023.
*
Matthew Hollis: Earth House
In Earth House, Matthew Hollis evokes the landscape, language and ecology of the isles of Britain and Ireland to explore how our most intimate moments have resonance in the wider cycle of life. Beginning in the slate waters of the north, the book revolves around the cardinal points and the ancient elements: through the wide skies of the east and the terrain of a southern city, to the embers of places lost to us, to which we can no longer return.
What emerges is a moving meditation on time and the transformative phases of nature. Subtly attuned to the rhythms of the turning world, these poems bravely work the seam between the present and the past, between destruction and renewal, humanity and our environment, and make Earth House a timeless exploration of our timed encounter with the remarkable lives of our planet.
Earth House is Matthew Hollis's long awaited follow up to Ground Water (2004), shortlisted for the Guardian First Book Award, the Forward Prize for Best First Collection and the Whitbread Poetry Award. He is the author of Now All Roads Lead to France: The Last Years of Edward Thomas (2011), winner of the Costa Award for Biography and Sunday Times Biography of the Year, and The Waste Land: A Biography of a Poem (2022).
[09 March 2023]