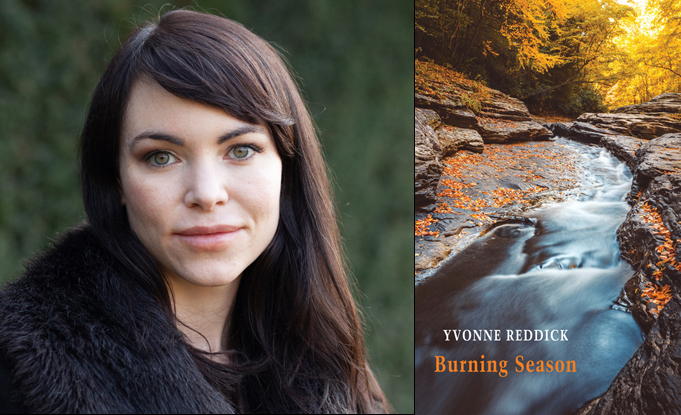 Yvonne Reddick Launch Readings
'This first book-length collection from Reddick is as lyrical as it is defiant. A collection that confronts climate change, a world in flames and societies on the verge of collapse, told through an exploration of family history. This is an incredible exploration of the oil industry.' – Mairi Oliver of Lighthouse Bookshop, The Bookseller (Scottish books preview)
Yvonne Reddick's first book-length collection Burning Season builds on the achievement of her pamphlets Translating Mountains (Seren, 2017), winner of the Mslexia Women's Pamphlet Competition, and Spikenard (Laureate's Choice, 2019), which was a poetry recommendation for early 2019 in the London Review of Books.
Burning Season is a book about fire and survival, climate change and nature's defiance. Yvonne Reddick's understanding of climate change is uniquely personal: her father was a petroleum engineer, and many members of her family worked in the fossil fuel industry. The collection speaks of the paradox that her Dad's gift to her was her love of nature and mountain landscapes. Burning Season includes a series of vivid, moving and heartfelt poems that explore her grief following her father's death in a hiking accident.
Yvonne gave a dramatic in-person launch reading at Newcastle Poetry Festival on 12 May 2023. A video of the event will be available soon. Scroll down to see a video of Bloodaxe's live-streamed launch reading and discussion event.
FORTHCOMING EVENTS
Sunday 2 July, 2pm

Climate Writing Workshop, Burnley Words
Passionate about climate change? Join author Yvonne Reddick to hear her read some of her eco-poetry and write a climate change letter! You can write to a politician, the CEO of an oil company, a person from the past to the Earth or even an animal, plant or place you really care about. Be creative! Yvonne will show you examples of climate change letters and give you some fun, creative prompts. If you like, you can even send your letter to the world on Twitter and Instagram!
Suitable for ages 16+. You don't need to have any previous writing experience to attend.
More information here.
Details for the following events coming soon:
Thursday 29 June

Festival of the Humanities, University of Central Lancashire
Saturday 12th August, 6pm
Open Eye Gallery, 19 Mann Island, Liverpool, L31BP.
Yvonne will be reading and in discussion with poet Maria Isakova Bennett and photographer Ron Davies.
More information here soon.
Saturday 16 September

Bolton nature writing panel
12-15 Oct

Berwick Literary Festival
PAST EVENTS

LIVE-STREAMED LAUNCH EVENT, 23 MAY 2023
Tuesday 23 May 2023

Online Bloodaxe launch
Yvonne launched her first full collection Burning Season alongside Kris Johnson, who was also launching her first full collection Ghost River, and Irish poet Jane Clarke, who was publishing her third full-length collection A Change in the Air. This wonderful reading and discussion event was livestreamed on 23 May 2023, hosted by Bloodaxe editor Neil Astley.
Yvonne, Kris and Jane joined from Manchester, North Shields and Co Wicklow. They read from their new books and discussed them with each other and with host Neil Astley. Stunning readings and fascinating discussion of poetry, nature, home and memory. Yvonne read last in each set.
Now available on YouTube. Click on the arrow below to view the video.
[19 April 2023]