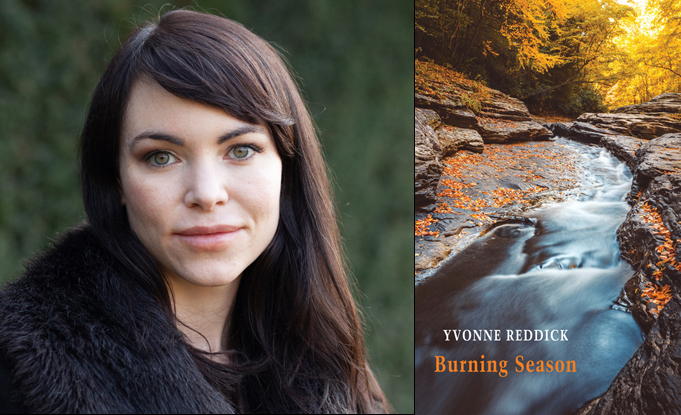 Yvonne Reddick Readings
'This first book-length collection from Reddick is as lyrical as it is defiant. A collection that confronts climate change, a world in flames and societies on the verge of collapse, told through an exploration of family history. This is an incredible exploration of the oil industry.' – Mairi Oliver of Lighthouse Bookshop, The Bookseller (Scottish books preview)
Yvonne Reddick's first book-length collection Burning Season was published by Bloodaxe Books in May 2023. It won the Best UK First Collection category of The Laurel Prize 2023 for nature writing and ecopoetry and is on the shortlist for Scottish Poetry Book of the Year 2023 in Scotland's National Book Awards. The title poem from Burning Season won third prize in the Ginkgo Prize for Ecopoetry 2022.
Burning Season is a book about fire and survival, climate change and nature's defiance. Yvonne Reddick's understanding of climate change is uniquely personal: her father was a petroleum engineer, and many members of her family worked in the fossil fuel industry. The collection speaks of the paradox that her Dad's gift to her was her love of nature and mountain landscapes. Burning Season includes a series of vivid, moving and heartfelt poems that explore her grief following her father's death in a hiking accident.
'Reddick takes the deeply personal and maps out a geography of grief, for both father and planet: near and elusive as a hare, distant and huge as an oil rig. Loss illuminates loss, reminding us exactly what it is that we, and our descendants, stand to lose in the face of climate crisis.' - Ellora Sutton, Mslexia, on Burning Season
Yvonne gave a dramatic in-person launch reading at Newcastle Poetry Festival on 12 May 2023. Scroll down to see a video of that and of Bloodaxe's joint live-streamed launch reading and discussion event.
FORTHCOMING READINGS & WORKSHOPS

March 2024

Yvonne Reddick will be reading from Burning Season in Liverpool at a Coast to Coast to Coast event in March 2024.
Details to follow.

PAST EVENTS

LIVE-STREAMED LAUNCH EVENT, 23 MAY 2023
Tuesday 23 May 2023

Online Bloodaxe launch
Yvonne launched her first full collection Burning Season alongside Kris Johnson, who was also launching her first full collection Ghost River, and Irish poet Jane Clarke, who was publishing her third full-length collection A Change in the Air. This wonderful reading and discussion event was livestreamed on 23 May 2023, hosted by Bloodaxe editor Neil Astley. All three collections were later longlisted for The Laurel Prize 2023, and Burning Season went on to win the Best First UK Collection category.
Yvonne, Kris and Jane joined from Manchester, North Shields and Co Wicklow. They read from their new books and discussed them with each other and with host Neil Astley. Stunning readings and fascinating discussion of poetry, nature, home and memory. Yvonne read last in each set.
Now available on YouTube. Click on the arrow below to view the video.
Reading from Burning Season at Newcastle Poetry Festival
In this reading at the 2023 Newcastle Poetry Festival, Yvonne Reddick reads five poems from Burning Season: 'The Flower that Breaks Rocks', 'The Gift', 'Burning Season', 'Ptarmigan', 'Rime' and 'Waterland'.
[19 April 2023]