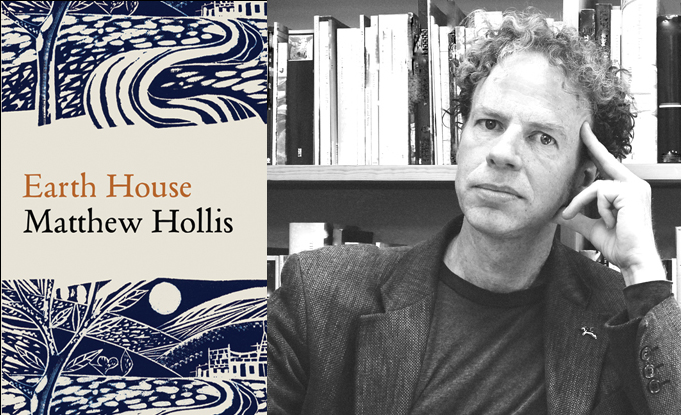 Matthew Hollis Readings

'It's taken Matthew Hollis 19 years to produce a successor to his debut collection, Ground Water, but Earth House was worth the wait. Well-nigh elemental in their evocation of time and landscape, the poems can have the effect of making their human protagonists look frail, marginal visitants to an indifferent world.' – D. J. Taylor, The Tablet (Summer Reading)

In Earth House (Bloodaxe Books, April 2023), Matthew Hollis evokes the landscape, language and ecology of the isles of Britain and Ireland to explore how our most intimate moments have resonance in the wider cycle of life. Beginning in the slate waters of the north, the book revolves around the cardinal points and the ancient elements: through the wide skies of the east and the terrain of a southern city, to the embers of places lost to us, to which we can no longer return. Earth House was longlisted for The Laurel Prize 2023 for nature and ecopoetry.
Matthew Hollis' debut Ground Water (Bloodaxe Books, 2004) was shortlisted for the Guardian First Book Award, the Whitbread Poetry Award and the Forward Prize for Best First Collection, and was a Poetry Book Society Recommendation. He is co-editor, with W.N. Herbert, of Strong Words: Modern Poets on Modern Poetry (Bloodaxe Books, 2000) and 101 Poems Against War (Faber & Faber, 2003), and editor of Selected Poems of Edward Thomas (Faber & Faber, 2011). He is the author of The Waste Land: A Biography of a Poem (Faber & Faber, UK, Norton, US, 2022) and is Poetry Editor at Faber & Faber.
Matthew gave an in-person launch reading at Newcastle Poetry Festival in May 2023, and has since read from Earth House at a number of festivals including Ledbury Poetry Festival and Winchester Poetry Festival.
~~~~
Matthew Hollis's poem 'The Diomedes' from Earth House was featured by Carol Rumens in her online Poem of the Week column in The Guardian of 9 October 2023. Read here.
'Hollis's collection is impressively structured, each of its four sections composed as an itinerary that always comes "home" to anchor in an original translation from The Exeter Book. The places and insights the poet experiences at the cardinal points are fluid, interconnected, never insular. Longlisted for the 2023 Laurel prize, Earth House represents the ecological imagination at its most multi-layered and persuasive.' - Carol Rumens, Poem of the Week, The Guardian
An essay review of Earth House is featured online in The London Magazine here.
'There were 19 years between Hollis's first collection and his second, born almost a generation apart... In a world of noise, collapse and change, he finds Eliot's 'still point of the turning world'. His quietly dignified, wise and elegant poems, on the earth and our fluid, unsettled place in it, are always a pleasure to spend time with.' - Nicola Healey, The London Magazine

Earth House was given a very warm review online in London Grip on 22 August 2023. Read in full here.

'Myth and language keep the past ever-present for Hollis: his work is steeped in allusions to Anglo Saxon, Celtic and Norse myth, and richly textured with regional discourse, anchoring language both to history and place … a stunning collection.' - Paul McDonald, London Grip, on Earth House
PAST EVENTS
Matthew Hollis reads from Earth House at Newcastle Poetry Festival 2023
In this reading at the 2023 Newcastle Poetry Festival, Matthew Hollis reads five poems from Earth House: 'A Harnser for James', The Diomedes', 'A Red Hairband in Iveragh', 'Deor' and 'Causeway'.
Bloodaxe Books online launch reading, April 2023
Launch reading with Harry Clifton, Maura Dooley and Matthew Hollis celebrating the publication of their new poetry collections. Matthew read last in each set.
The poets read live and discussed their new collections with each other and with the host, Bloodaxe editor Neil Astley. This free Bloodaxe launch event was streamed on YouTube Live and is now available to watch via this YouTube page: https://youtube.com/live/7Zl2Sy9rzLk
[22 April 2023]