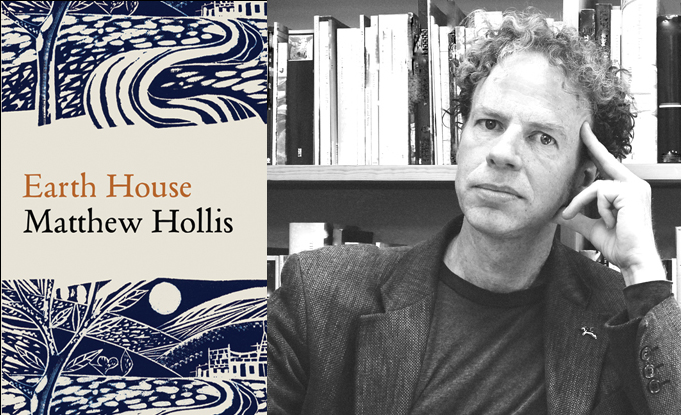 Matthew Hollis Readings
'A magical combination of the delicate and the intense.' – Julia Blackburn, author of Time Song
In Earth House (Bloodaxe Books, April 2023), Matthew Hollis evokes the landscape, language and ecology of the isles of Britain and Ireland to explore how our most intimate moments have resonance in the wider cycle of life. Beginning in the slate waters of the north, the book revolves around the cardinal points and the ancient elements: through the wide skies of the east and the terrain of a southern city, to the embers of places lost to us, to which we can no longer return.
Matthew Hollis' debut Ground Water (Bloodaxe Books, 2004) was shortlisted for the Guardian First Book Award, the Whitbread Poetry Award and the Forward Prize for Best First Collection, and was a Poetry Book Society Recommendation. He is co-editor, with W.N. Herbert, of Strong Words: Modern Poets on Modern Poetry (Bloodaxe Books, 2000) and 101 Poems Against War (Faber & Faber, 2003), and editor of Selected Poems of Edward Thomas (Faber & Faber, 2011). He is the author of The Waste Land: A Biography of a Poem (Faber & Faber, UK, Norton, US, 2022) and is Poetry Editor at Faber & Faber.
~~~~
Matthew Hollis's poem 'Call' from Earth House was featured as Poem of the Week in The Telegraph of 22 April 2023. Read the poem viaThe Telegraph's Culture newsletter here.
'Some poets take their time. Matthew Hollis's second collection Earth House arrives this week 19 full years after his acclaimed debut Ground Water. In the meantime, Hollis has written a well received biography of Edward Thomas, whose poetry is a marked influence on his own. Like Thomas, Hollis writes with an unsentimental love of the natural world, in poems where landscapes he knows well are charged with a personal significance that's often only hinted at.' – Tristram Fane Saunders, The Daily Telegraph (Poem of the Week)
'The Long Snow' from Earth House was featured as Steve Whitaker's Poem of the Week in the Yorkshire Times of 23 May 2023. Read the feature online here.
'The journey of body and mind in Matthew Hollis' fine octet is as compelled and driven as a pilgrimage.' – Steve Whitaker, Yorkshire Times, Poem of the Week
FORTHCOMING EVENTS
Saturday 1st July, 2pm
Ledbury Poetry Festival
Matthew will be reading from Earth House alongside Maya C Popa. The two poets will be in conversation with Bloodaxe editor Neil Astley. This event will also be livestreamed.
Matthew will also be discussing The Waste Land: A Biography of a Poem (Faber, 2022) at an event at 10am.
Details of these events are available here.
Matthew will also be discussing The Waste Land: A Biography of a Poem (Faber, 2022) at:
Tuesday 19th September (time TBC)
Highgate Literary and Scientific Institution
Sat 4 November 2023, 3.45pm
Wells Festival of Literature
PAST EVENTS
Bloodaxe Books online April 2023 launch reading
Launch reading with Harry Clifton, Maura Dooley and Matthew Hollis celebrating the publication of their new poetry collections. Matthew read last in each set.
The poets read live and discussed their new collections with each other and with the host, Bloodaxe editor Neil Astley. This free Bloodaxe launch event was streamed on YouTube Live and is now available to watch via this YouTube page: https://youtube.com/live/7Zl2Sy9rzLk
[22 April 2023]